Living Outside The Frame
"A Photograph Is Not An Accident—It Is A Concept."
"The still must tease with the promise of a story the viewer of it itches to be told."
--Cindy Sherman
Two quotes again this month: The first by Ansel Adams, the second by Cindy Sherman. There are six photographers in Time magazine's list of the 100 most influential artists and entertainers of the 20th century: Henri Cartier-Bresson, W. Eugene Smith, Paul Strand, Edward Weston, Robert Frank, and Cindy Sherman. I would guess regular readers of this column would be familiar with these names, but the ranking of Sherman ahead of such luminaries as Ansel Adams, Gordon Parks, or even Diane Arbus surprised me. If you would like to know more about Sherman, visit a tribute site (www.cindysherman.com) that was created by a fan.

Plug-In Of The Month
PixelGenius' (www.pixelgenius.com) PhotoKit Color 2.0 is an Adobe Photoshop plug-in for applying automatic color balance, color corrections, and creative color effects to your image files. The indispensable Dodge and Burn filter sets (see Shutterbug's January 2005 issue) that were part of the original PhotoKit plug-in are also included. The Special Effects series contains new filters, including color infrared, sunshine, and color transfer effects. You can mimic the look of a faded color print or recreate the look of certain color movie processes. (Tony Scott's film Domino? Yes, if you layer several filters.)
PhotoKit Color 2.0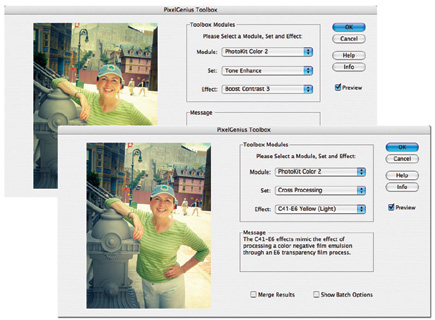 Film Effects is optimized for Photoshop's RGB color work spaces and emulates the color palette and contrast of different transparency film emulsions. This set also includes grainy pastel and contrast effects that simulate high-speed color film. PhotoKit Color 2.0 lets you recreate creative effects like monochrome split toning and 14 different kinds of cross processing. Color Enhance lets you selectively modify an image's colors. The Blue Enhance effect creates two layers that let you darken the blues in an image and adjust blue saturation. The Green Enhance effect lets...you get the picture. Color Enhance contains 14 effects, including Blue/Amber gradients and Warm/Cool filters. PhotoKit Color 2.0 is available for Mac OS X and Windows and costs $99.95. PhotoKit Color 1.0 users can upgrade for $29.98. Like all of PixelGenius' software products, this is as good as it gets.
Clean Color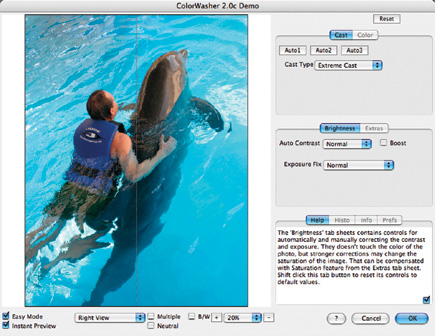 ColorWasher (http://thepluginsite.com/products/photowiz/colorwasher/index.htm) is a Photoshop compatible plug-in for correcting color, contrast, exposure, and saturation of 8-bit and 16-bit images and incorporates an Easy Mode with detailed step-by-step instructions in the manual (not that anybody will actually read it). ColorWasher offers a Romulan "Cloak" mode for processing batches of images. The dialog box is re-sizable but only in the Windows version. Its Saturation feature lets you adjust the image file using 10 different saturation methods and a "Histo" tab displays 10 histogram types in four different styles. The Log Settings feature uses the image file's name to automatically save preset effects that can later be automatically applied when processing the same or similar images.
Noise Prevention
Noise, as they say, happens. It's endemic to the small chips (no matter the megapixel rating) found in most digital point-and-shoot cameras and is an almost unavoidable side effect of reduced light levels, high ISOs, and long exposures. One of my favorite Digital Noise Reduction (DNR) plug-ins has recently been upgraded. The Imaging Factory's (www.theimagingfactory.com) Noise Reduction Pro 3.0 for Mac OS X has a new, interactive interface and uses a noise reduction engine based on the extremely fast split 5 level redundant wavelet algorithms. If you would like to know more about wavelets and aren't frightened by references to Fourier analysis, read "A Really Friendly Guide to Wavelets"
(http://perso.wanadoo.fr/polyvalens/clemens/wavelets/wavelets.html#section1).


LATEST VIDEO

SPONSORED VIDEO
Testing Tamron's SP 150-60mm G2 lens while capturing birds and alligators in Apalachicola, Florida.