Lighting Kits And Add-On Accessories; Studio & Shoe-Mount Gear Page 2
The new Canon Speedlite 270EX succeeds the 220EX, taking its place as the compact and lightweight dedicated external flash option for Canon cameras. The new Speedlite uses only two AA batteries and features bounce flash. Flash control by way of the camera's LCD monitor is possible in combination with the EOS-1Ds Mark III, EOS-1D Mark III, EOS 40D, EOS Rebel XSi, EOS Rebel XS, EOS Rebel T1i, PowerShot G9, PowerShot G10, PowerShot SX1 IS, PowerShot SX10 IS, PowerShot SX200 IS, or PowerShot S5 IS. The flash also features a quick-lock mechanism and a metal mounting foot for secure, reliable footing.
Dot Line RPS Studio Speed Bracket
New from Dot Line are the RPS Studio Mini Softbox and Speed Bracket (this item is identical to the one introduced by APV/Tristar)—both for shoe-mount strobes. The Mini Softbox ($19) folds down to about a 1⁄2" in thickness, making it easy to carry anywhere, and it opens in a snap. The box's four sides are stiffened and silver is on the inside, so they are truly reflective and hold their shape. And everything holds together with touch-fasteners. There is a white diffuser panel measuring 3.5x3.5" on the face of the box. A stretchable elastic band adapts itself to virtually any shoe-mount flash head.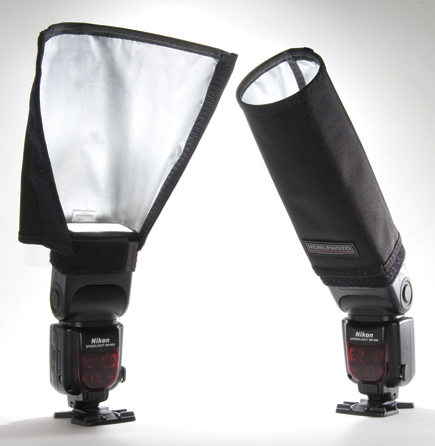 ExpoImaging Honl Photo Speed Snoot
ExpoImaging's Honl Photo shoe-mount light modifiers are designed to fit all shoe-mount strobes. They include the range of tools usually used by pros with studio lighting, namely grids, snoots, and gobos—all designed to shape the light, as well as gels to give it a distinctive flavor. They attach quickly and easily via the Speed Strap, a simple, nonslip touch-fastener strap that wraps around the flash head, so you're not dealing with annoying adhesives. And because you can use these accessories with a shoe-mount, that means you can apply a more sophisticated approach to your lighting even outdoors. Individual items range in price from $10-$30.
Grin&Stir, a new product line, brings together the creative and marketing talents of two individuals with a vast amount of photo experience from Lightware (the company overseeing distribution of the new product) and Plume. Their first product in this new venture is the FourSquare speedlight mounting system, which is a hard anodized aluminum block that's designed to handle up to four flashes. The strobes can be mounted into a softbox, umbrella, or an umbrella dome setup to provide a well-shaped light of suitable quality without seriously sacrificing light output. The system includes the LightSquare light bank that can also be converted into a soft white reflector by removing the front diffusion panel. You can also readily attach the FourSquare to a light stand with various adapters. You can adjust each flash separately to tailor the look to your needs. The unit's design allows the user to freely rotate any of the four flash heads to fire directly into the light bank's front diffuser or into the box's side panels or any position in between.
Interfit has Strobies, a series of light-shaping tools. The new system is based around a specially molded Flex Mount, which is individually tailored for a secure fit on shoe-mount strobes, without the aid of rubber bands, touch-fasteners, or adhesives, at $8 each. A complete portrait kit is available for $169, which includes a beauty dish, a globe diffuser, a barn door set, a snoot, and a honeycomb grid—several firsts for a shoe-mount—and I'm looking forward to trying them all.
Kata Elements Cover (KT E-705)
Kata (Bogen Imaging Inc.) has come up with a different sort of flash accessory: a rain cover, the Elements Cover (KT E-705). Why do you need it? Shoe-mounts store a lot of energy in those capacitors, and if you get the flash wet, you may be in for a nasty shock. This may prevent that from happening, while protecting the flash and the D-SLR with up to a 70-200mm lens attached. I know numerous times when I'd wished for something like this. And the real beauty of it is that it doesn't get in the way of your shooting. Admittedly a bit pricey at $100, but it could make the difference between sitting out a shower and losing valuable photo ops or remaining out there and taking pictures.
Leica's SF 58 flash is for Leica M, R, and S systems. As with an increasing number of high-end shoe-mounts, this one is USB firmware-upgradable. But it largely differs from those by the incorporation of a secondary reflector, often used for fill with bounce flash. In addition to full swivel and normal tilt operations, a -7? tilt facilitates use in close-up photography (provided the lens or shade doesn't intrude). The flash also features a backlit LCD and four-key control interface to simplify operations. Depending on the camera and mode, the SF 58 will automatically register focal length, aperture, and ISO and display the information on its screen. A built-in wide diffuser covers an 18mm lens' field of view. The flash sports a very healthy GN of 190 at ISO 100, and supports all the features you'd expect of a high-end strobe, including auto-zoom (24-105mm), kicker card, second-curtain sync, high-speed sync, and stroboscopic flash, while automatically recognizing the sensor format.
Metz Mecablitz 15 MS-1 digital
The enticing macro flash that Metz (Bogen Imaging Inc.) debuted at photokina has reached our shores. The Mecablitz 15 MS-1 digital ($399 street) is a wireless macro ring flash (GN 50 in feet, ISO 100). It is said to intelligently link the flash to each camera's dedicated digital TTL system, whether Canon, Nikon/Fujifilm, Pentax/Samsung, Olympus/Panasonic, or Sony. Where applicable, it can be operated as a TTL slave unit that is controlled by the camera's built-in Commander mode, an external flash with master capabilities, or from a Metz 58 AF-1. Manual flash operation can also be carried out by using a sync cable. It is equipped with two individually controllable, swiveling reflectors integrated in the housing.

This ring flash attaches to most lenses via a screw-in lens attachment, and comes with 52, 55, and 58mm adapter rings, a carrying case, and diffuser disc (for softer light). The flash can be firmware-upgraded via USB.
Olympus FL-BK04 Flash Bracket
Olympus FL-BKM03 Twin Flash Bracket
Olympus introduced the FL-BK04 Flash Bracket and FL-BKM03 Twin Flash Bracket (each $199 street) for their shoe-mount strobes, designed to work with the E-30 and E-3's Live View LCD monitor. Of the two brackets, the FL-BKM03 appears the more intriguing. You can configure the bracket with the FL-50R/FL-36R electronic flash for wireless flash with two strobes, while doing away with the need for cables. And to facilitate carrying it where needed, it folds down for easy storage.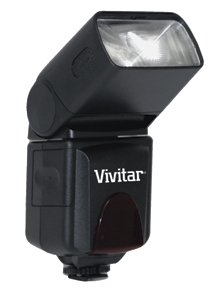 Vivitar Series 1 VIV-DF-283
The Vivitar 283 flash had long been a favorite among old-school photographers, each of whom mourned its loss, I'm sure, when the flash was retired. And the Series 1 name has been around for a long time as well, more closely associated with lenses, however—and then sadly disappeared. Now Sakar has brought both back, in this instance blending them into the Vivitar Series 1 VIV-DF-283. Whether or not this model will be true to its forebears is yet to be seen (there's also a 383 version), except that now it's a dedicated strobe (for Canon, Nikon, Sony, Olympus, Pentax, and Panasonic). This shoe-mount features a respectable GN of 137.8 at the 85mm zoom position (GN 147.6 for the 383), four zoom positions (28/35/50/85mm), and swivel and tilt (to 270 and 90?, respectively). It comes with a kicker panel and wide diffuser. Prices for the new shoe-mounts are up to $199 MSRP.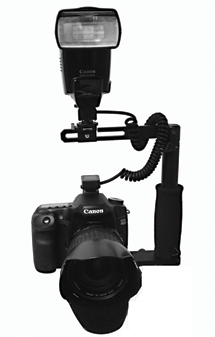 Flash brackets are used to keep a light off-axis with the eyes and thereby prevent redeye, and perhaps to prevent an entirely flat look in on-camera-strobe shots. And we have numerous choices in this category. But we'll always welcome another one, in this case Stratos (HP Marketing Corp.). What sets this bracket apart from many others is a built-in Arca-compatible base plate and extruded aluminum construction. There are folding and non-folding models, with foam or rubber grips. They feature adjustable flash shoe positioning. Flip and rotating versions are available. Prices range from $24-$144, depending on the model.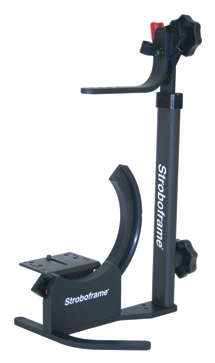 Stroboframe (The Tiffen Company) is a venerable name in flash brackets. The new U-Pro Universal Professional Flash Bracket ($269) has been specifically engineered to fit almost every D-SLR out there. It features an ultra-smooth camera rotating system with a stainless steel roller bearing design, and locks firmly in place while providing a smooth and virtually silent 90? rotation. The exclusive TiltTrigger lets you adjust the flash up or down with click-stop precision. And if you want more, there's the U-Pro Universal Professional Flash Bracket-2. Here the flash arm is reversible and can be mounted on either side of the rotation device to accommodate lefties and righties. Sliding vertical support provides rapid control of flash height, while oversized control knobs ensure a tight grip. The Universal Camera Mounting Plate comes with a customized scale and adjusts to fit any D-SLR. A removable support arm lets you set the bracket on a table. The U-Pro is constructed of aircraft aluminum and includes a QR Plate, removable kickstand, and cork pad.
Westcott's Mini-Apollo Flash Kit gives you a 16" Mini-Apollo and L-bracket that is suitable for any shoe-mount flash ($130 MSRP). The Mini-Apollo Speedlight Kit includes the same contents as the Flash Kit along with a Micro Apollo and an 8-foot light stand ($149). The Apollo Speedlight Kit gives you a larger light modifier, namely a 28" Recessed Front Apollo, for use with any shoe-mount ($149). The square shape of the Apollo allows you to scrim or control the light more readily, and the recessed front gives directional control with easy feathering of the light.
Zeikos announced the ZE-680X dedicated TTL shoe-mount for the Canon EOS ($149 MSRP). Boasting a GN of 185 at ISO 100, it features a backlit LCD display, bounce and swivel head, and kicker card for fill. This flash offers variable output and automatic power zoom with manual override, and supports all current TTL and E-TTL versions of Canon EOS cameras. Models for Nikon and Sony will be available soon.