Lighting Directions: It's All About How You Use The Tools
"I always kept my equipment down to a minimum two cameras…a flash that would clip onto the camera body, and one assistant. I did not want to spend time thinking about hardware."—Helmut Newton
Richard Avedon once said, "I think all art is about control—the encounter between control and the uncontrollable." That's what a dedicated studio, no matter what size it may be or where it may be located, provides a photographer. It is a safe haven from the real world where, like the Outer Limits voice says, you can control the lighting, the background, and the subject. When working in this kind of environment, I control everything from the subject's pose to their clothing and makeup and the resulting photographs tend to be as much a portrait of me as they are of my subjects. What often emerges from all that control is a style. Photographic style is not something I'm conscious about when shooting but the truth is that over time we all develop a signature way of shooting. The danger is, of course, that we keep shooting that same way or different versions of the same shot for the rest of our lives, so any style you develop must grow and change as you learn. To get you started, here are a few tools that will help enhance or define your style.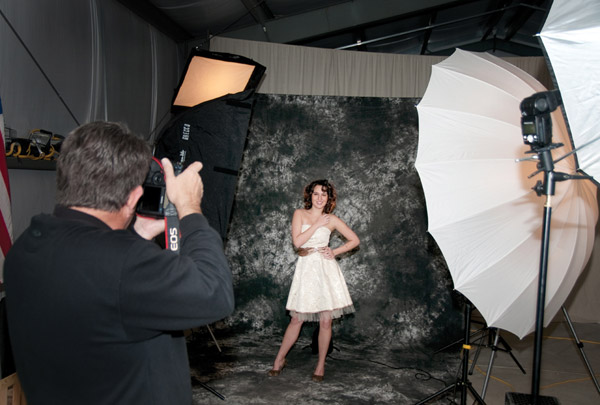 Plug-In Of The Month
While manufacturers may state that their studio lights are daylight-balanced (and they may be), what happens when you attach a light bank or umbrella that may not be so perfectly balanced? While perfectionists may prefer to do a custom color balance for each studio session, the shoot-and-scoot wedding and event photographer doesn't always have time to do it "day of." My favorite postproduction solution has been PictoColor's (www.pictocolor.com) iCorrect EditLab Pro and a 32/64-bit version is now available for the Mac OS as well as the Windows version of Adobe Photoshop.
Take a look at the example image shot in my studio where I first used iCorrect EditLab Pro 6.0's eyedropper tool to color correct the background, which then automatically corrected the subject's skin tone. Then I tweaked the saturation, sharpness, and if this image wasn't shot at ISO 100 I could have used the plug-in to control digital noise as well. If you need to edit an image that doesn't contain any colors that should be neutral (it happens) or if you want to add a color cast to your image, you have the option of using either two (temperature, tint) or three (C, M, Y) sliders. PictoColor has also done a major overhaul of the Preferences (although I hope they make the interface resizable in the next version) that lets you customize how the plug-in functions in your particular workflow.
Nomad Case Protects WD Hard Drives
Western Digital's (www.wdc.com) Nomad case is designed to protect the company's My Passport portable hard drives from drops as high as 7 feet, moisture and spills, and other misfortunes that might befall outdoor photographers, adventurers, and other road warriors. Or maybe you're just a doofus like myself. The WD Nomad has a polycarbonate exterior and ashock-absorbing elastomeric cushion inside and conforms to military ruggedness standards (MIL-STD-810G). A heavy-duty latch and silicon liner seal out dirt, dust, and moisture. There's even an opening for the drive's USB connector, so you can access the drive while it remains safe inside the case. In addition, a molded exterior ring allows users to attach a carabiner, cable, or nylon strap for convenient accessibility. The Nomad case is compatible with WD's My Passport drives, including My Passport Essential, My Passport Essential SE, My Passport Elite, My Passport for Mac, and My Passport SE for Mac. The case is less than $30, which is cheap insurance against the unexpected.
Green Screen Portraiture
Green or blue screen photography a.k.a. Chroma Key lets you place a portrait subject anywhere your imagination takes you. Chroma Key is a video term for electronically inserting an image from one camera into the picture produced by another. That's how The Weather Channel shows Uncle Dave standing in front of an animated map that's not really there.
We photographers can do that, too. Simply shoot your portrait against a Chroma Key (blue or green) backdrop, import the image into digital editing software, extract the Chroma Key background and replace it with another image using compositing software.
One of the best available is Digital Anarchy's (www.digitalanarchy.com) Primatte 5.0 that lets photographers automatically remove the background, add custom backdrops, and color correct the image—all within its new interface. When batch processing large numbers of photographs, a redesigned AutoMask tool produces a high success rate and easier functionality. Smarter algorithms help Primatte identify the background color, automatically key it out and remove color spill without user interaction. New Backdrop and Overlay features let you add custom backgrounds and logos directly from inside Primatte. The new version includes a new Fix Lighting tool that helps with better keying around wrinkles, hotspots, and shadows in unevenly lit backgrounds, all of which are a challenge when shooting green screen portraits.
Paper For Unique Portraits
Looking to give your portraits a completely different style? Designed for photographers seeking to enhance their images with a metallic look, Moab's (http://moabpaper.com) Slickrock Metallic Pearl 260 paper/media has a high gloss and unique sheen that's reminiscent of the ultra-smooth and slick sandstone surface of the famous bike trail that loops through the desert plains of Moab. Slickrock Metallic Pearl 260 is a microporous, pearlescent metallic paper featuring a glossy surface with instant dry time. A scratch-resistant coating produces vivid color on a medium-weight 12 mil metallic paper stock. The paper is designed to be printed using Photo Black ink sets. Slickrock Metallic Pearl 260 is available in 50-sheet boxes in sizes 5x7", 8.5x11", 13x19", A2, and A4, plus rolls sized 17, 24, and 44 inches wide by 100 feet long.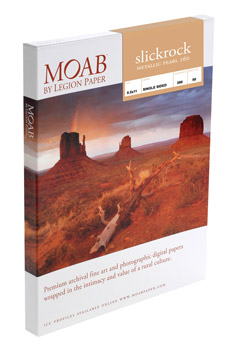 Photoshop Action/Presets Of The Month
One of the oft-overlooked ways of applying effects to a portrait is by using presets. They're similar to Photoshop Actions and are a tiny bit more complicated to install but are available to run within Adobe Camera Raw, Adobe Bridge via the (right-click/Control-click) Develop Setting menu, or within Adobe Lightroom as Presets in the Develop module. Presets are typically tiny (4K) .XMP files in Photoshop and Gavin Phillips has put together three different sets, including Fashion FX, Chic BW, and Retro Passion. The name of specific effects such as Color Bump Vignette, Color Fade 1, 2, 3, Mist, and Moonlight give you a pretty good idea of what they look like, but visit Phillips's website (www.photoeffects.biz/fashionfx.html) to see a few before and after examples.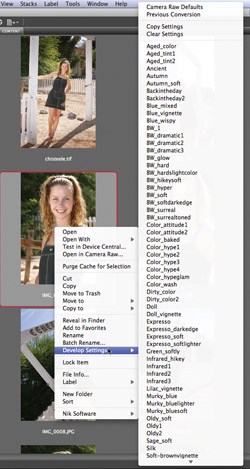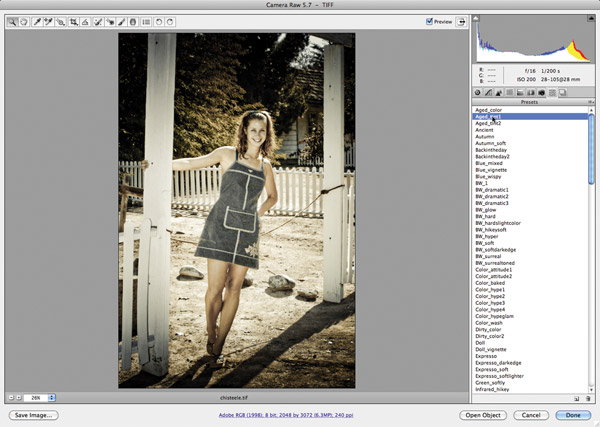 As always, keep in mind one of Farace's immutable laws of the computing universe: all actions—and presets, too—are subject dependent and what looks good with one image may not look so hot with another one. Each set costs $89.95 or you can purchase all three for $179.95. (Note: These were the prices at deadline.) If you have been looking for ways to quickly apply effects to your portrait and wedding photography, check out Phillips's presets.

LATEST VIDEO