Leica Digilux 2; A Super Smooth Operator
Leica Digilux 2 Quick Look
· 5 million effective pixels
· $1850 -- US
Further Information
Leica Digilux 2
http://www.leica.com
I was walking down the boardwalk of a nature preserve in south Florida with the new Leica Digilux 2 slung over my shoulder. It being the time of day when birders were thicker than the egrets, I noticed quite a few eyes darting in the direction of the camera. I assumed they were amused by such a short lens in those telephoto circumstances, until one of the hardy souls said, "Hey, it's a Leica." Yes, I nodded, but had to add, "Yeah, but it's digital." That drew a few souls, who diverted from the displaying giant blue heron (or whatever it might have been) to flock around to take a look at this Leica rangefinder looking body with the pixelated innards.

At first glance the Digilux 2 is sort of like a Leica M series camera (albeit with a thicker frame). But this Leica is a 5-megapixel digital camera that uses the tiny SD on MMC memory cards and yields its own raw file and various JPEG image format options. Rated at ISO 100 (with options up to ISO 400) the integral lens is a Leica DC Vario-Summicron 7-22.5mm focal length (28-90mm equivalent). Constructed with four aspherical surfaces, it's a bit different than the power zoom models you might associate with digicams--you actually turn a zoom ring to change focal length. It is autofocus with no possibility of manual override. The body itself is constructed of "ultra-light" magnesium with a rubberized coating.
The Leica Digilux 2 delivers rich colors and sharp images right out of the camera. The metering system, here set on "multifield" does a great job under a wide variety of lighting conditions.
Photos © 2004, George Schaub, All Rights Reserved
Reading The Light
There are three metering modes--something Leica calls "multi-field" (evaluative), center-weighted and spot, with four exposure modes--the usual Program, AV, TV and Manual. The combo mechanical/electronic shutter operates with stills from 8 to 1/4000 sec. There's a built-in flash that kicks out a pleasing fill when required, with a 7 sec recycle time. There's also a hot shoe that allows for auxiliary lighting, but no PC (flash) terminal. The large 2.5" monitor on the back is a welcome sight, although switching to the electronic viewfinder (you can't use both at the same time) gets you a less pleasing, somewhat contrasty view of things when working outdoors.

Although tech specs tell part of the tale, one expects a Leica to, perhaps most importantly, feel like a Leica. In that regard the Digilux 2 passes the test, albeit without the pleasure of advancing to the next frame with that soft and lovely stroke. That will be left to the clone RF digicams that have popped their hybrid heads up of late. But in many handling regards you feel as if the Leica experience has at last been translated to a digicam.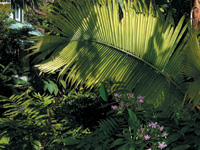 The range of highlight to shadow in this scene gives you an idea of how the Digilux 2 handles contrast. Even with bright light and deep shadows I found that the camera could deliver the goods.
Making Settings
Most of the photo options are located on the camera body itself. This is where you can change metering patterns, choose single or continuous shooting mode, work with EV compensation, switch between the LCD and EVF display and evoke the flash. To get to the various exposure modes takes a good reading of the instruction book, but in essence it just takes setting a dial on the camera top and on the lens ring. To get to Program you put the shutter dial on A and the lens ring on A. You can do Program shift by pressing down the shutter release lightly and turning the thumb ring on the back of the camera. This is, to me, the simplest way to get the desired aperture and shutter speed combo.

If you want to work in shutter-priority you keep the lens ring at A and set the desired speed using the shutter speed dial. Of course, if the light is too low for a fast shutter speed you need an underexposure warning, and the Digilux 2 gives it by highlighting the resultant settings in red, but it will not prevent you from making the picture. The same goes for aperture-priority, which you set by making the appropriate move on the lens ring (from f/2 at the wide setting and f/2.4 at the 90mm setting). Interestingly enough, the variable aperture is not set in stone as with some cameras, going for example from an f/4 to f/5.6 with no intervening settings. At 28mm it's f/2; at 50mm it's f/2.1; at 70mm it's f/2.2 and at 90mm it's f/2.4. A true Leica touch.

Flash can be evoked by pressing the "Flash" button on the camera back, with flash modes toggled through by pressing the lightning bolt symbol atop the camera. You can force flash (for fill) or cancel it with ease, simply by continual pressing of the lightning bolt button. I found that fill flash worked like a charm with this camera. I worked with center-weighted metering and a shutter speed of 1/15 sec to bring in some additional ambient light and every fill flash shot was on the button. On top of it you can use flash exposure (output) compensation to really fine-tune those fill flash shots.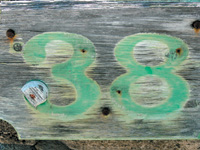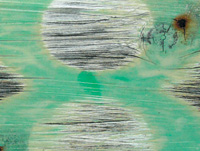 As you might expect, the DC Vario-Summicron lens is tack sharp, with great color and contrast delivered in every scene. This detail of a faded sign proves the point.
Leica Raw
As mentioned, the Digilux 2 offers its own raw mode and a few JPEG options. To get to this you unfortunately have to access the menu on the LCD--no sweat really, but I've gotten spoiled by some digital SLRs that allow me to switch around my file formats and size with an on-body control. Perhaps the full-range shutter speed dial could have been swapped out for some of the menu only options. But then again you might think that this would interfere with the manual type controls this camera is so good at. You win some and you lose some, I guess.

A recent upgrade on Adobe raw (go to www.adobe.com for the free download) allows you to open the Leica Digilux 2 raw files in Photoshop CS. If you don't have CS you can use the included SilverFast DC-SE6 utility. It's your call, but having used the Adobe raw for many other digital cameras I must say it's one of the best, if not the best way to handle raw files. The only catch on using raw with the Digilux 2 is the quite slow write speed. On a fairly fast card my write time was over 10 seconds. The highest JPEG quality image is no speed demon either, coming in at just under 5 seconds. Raw is not the way to go when the shooting is hot and heavy, to say the least, although I now recommend raw for any and all that have it as an option.
Happily, there's an excellent software bundle that comes along with the camera. Aside from the mentioned SilverFast raw converter (which also includes an excellent Virtual Light Table) there's ACDSee 6 PowerPack (Windows), lowly ACDSee 1.68 for Mac (sorry Mac folks, ACDSee has yet to deliver the goods for you), Leica USB Remote Control (for remote operation and interval timer) and Apple QuickTime for the movies you can make with the camera (it's already in Mac systems--this is for the Windows folks).


In bright, harsh light the fill flash can help you balance color and shadow. You can even compensate flash exposure when working close-up, as was done with this banana plant.
There are many, many more functions on this camera, outlined well but sometimes cryptically in the detailed instruction book. But let's face it--at about $1850 street price you're into this camera because of the Leica name and reputation for excellent lens quality and smooth operation. In that respect the Digilux 2 doesn't disappoint. It starts with the large LCD screen that not only reads out most if not all the pertinent exposure information but also makes viewing outdoors easier than most. It extends through exposure control where you can manipulate light to your heart's content. And it ends up with image quality that I believe rivals the 6Mp and early returns even on the 8Mp cameras we've looked at so far.
Are there any disappointments? Well, the slow write speed is surprising, especially with raw files. And, never having been a fan of EVF viewing anyway, the Leica electronic viewfinder still doesn't convince me that it's a viable way to make critical compositional decisions. True, in low light it is actually very good, but get it outdoors and any contrast seems to get in the way of seeing what's going on in the scene.

But for general photography, and for top image quality in a 5Mp digicam, the Digilux 2 is both a pleasure to hold and to use. It harkens to the M Leica rangefinders in general appearance and operation. And that's a very good thing indeed.

Facts
· CCD: 2/3 in sensor, 5.24 megapixels, 5 million effective pixels
· Memory Card: SD or MMC
· ISO: Auto at ISO 100; 200, 400
· White Balance: Auto, daylight, cloud, halogen, flash, manual
· Lens: Leica DC Vario-Summicron 7-22.5mm (28-90mm equivalent) f/2-2.4; Digital zoom, 2x or 3x
· Exposure Modes: Program (with Shift possible), AV, TV Manual
· Flash: Built-in, flash modes include Auto, Force, Defeat,
Slow Sync
· Exposure Compensation: AE and Flash, +/-2EV
· Connections: USB 2.0
· Power: Lithium ion, charger included
· Size: 5.3x3.2x4.0"
· Price: Street, about $1850
Contact
Leica Camera Inc.
(800) 222-0118
www.leica.com

LATEST VIDEO

SPONSORED VIDEO
Testing Tamron's SP 150-60mm G2 lens while capturing birds and alligators in Apalachicola, Florida.