Leica and Lensbaby Intro New Lenses at Photokina: Leica 50mm f/1.4 Summilux SL & Lensbaby Twist60
Photokina 2016 may have ended, but we have a couple more interesting lens introductions to share with you: Leica's 50mm f/1.4 Summilux SL ASPH, and the Lensbaby Twist60 announced earlier in the U.S.
Leica's widely rumored upgrades to the Leica T mirrorless compact system and the flagship full-frame Leica M (Type 240) failed to materialize at Photokina, but Leica did have something really new and exciting up their sleeve—a brand new, brilliantly innovative 50mm f/1.4 Summilux SL ASPH lens designed for the formidable full-frame mirrorless Leica SL (Type 601).
The Leica SL is an awesome machine but it's on the hefty side, and that's why the newly designed Summilux looks right at home on the camera and balances nicely. This is one great honking lens—it's a lot wider, longer, and heavier than the diminutive 50mm f/1.4 Summilux-M for Leica rangefinder cameras, and I wondered why. The only person who could really tell me was the guy who came up with it, namely Peter Karbe, one of the world's top lens designers.
It turns out that the design of the 50mm f/1.4 Summilux SL is completely different from that used in the acclaimed 50mm f/1.4 Summilux-M. The basic reason: It has to be an autofocus lens that works perfectly with the contrast-based AF system used in the Leica SL. This requires a stepping motor and an internal focus design, and that, in turn, means that the moving optical group used to focus the lens must be extremely light for optimum responsiveness, and also extremely well corrected—which is why it's a 3-element design.
Karbe explained, "The goal of this lens is to deliver the highest degree of optical perfection not only at infinity, but over the entire focusing range, and at all apertures, even wide open." He adds that, "As a result, the front part of the 11-element formula resembles a retro-focus wide-angle, employing two molded aspheric elements to minimize chromatic aberrations, and it has an enlarged entrance pupil.
"At 82mm in diameter it's pretty big, and it has a rounded 11-bladed diaphragm, but these things enhance both its performance and its bokeh." After this amazing explanation, maybe you can understand why the European price of this optical gem is a cool 4,800 euros, or a bit over $5,400.
Lensbaby, that wonderfully wacky American company that has cooked up an astonishing array of creative optical gadgets, is at it again with the Twist60. First released in the U.S earlier this year, but making its international debut at Photokina, this metal-bodied, fully coated 60mm f/2.5 lens with gold anodized accents can deliver compelling portraits by spotlighting your subjects with a visual vignette, softening the edges and corners of the frame, and freeing them from their surroundings with a swirly bokeh.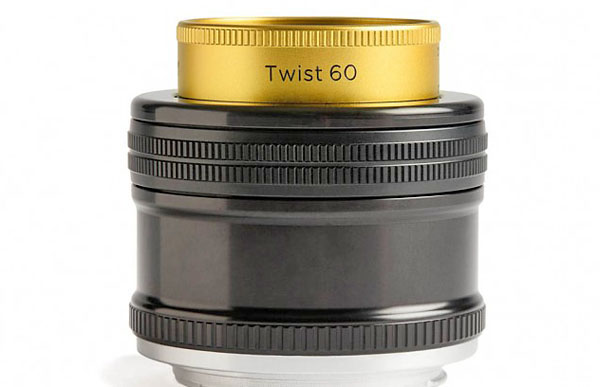 The wider the aperture, the greater the swirl, and the more pronounced the vignette.
The Twist60 is true to a design pioneered by Joseph Petzval who created the original f/3.7 lens bearing his name back in 1840 to allow shorter exposures when shooting portraits on the ISO 1 to 2 (!) plates of the day.
"The Twist 60 embodies our love of old lenses and their unique ways of helping photographers discover creative possibilities," said Craig Strong, Lensbaby Co-Founder & Chief Creative Officer. Why didn't they simply call it the Petzval, you ask? Well, the folks at Lomo offer a Russian retro-look version that does carry the Petzval, name but the Twist60 hews closer to the original design and seems to yield smoother, more natural looking effects based on the pictures I've seen.
Lensbaby's back-to-the-future classic is priced at $279.95 in Canon, Nikon, or Sony mount.

FEATURED VIDEO