LaCie's 320 LCD Monitor; Three New Professional Display Models From LaCie Page 2
So, I set those values into the calibration and profiling software as the target aim points, along with a target of 6500K color temperature and a gamma of 2.2. This is consistent with contemporary standards for digital photography and the use of Adobe's Photoshop for digital photography processing and editing. By the way, the CCFL tubes that provide the backlight illumination for a standard LCD produces 6500K color temperature light, according to ANSI standards. Using another color temperature aim point like 5000K requires a compensating adjustment in calibration which will result in a decrease in the performance range and a possible negative effect on the color gamut the display can reproduce.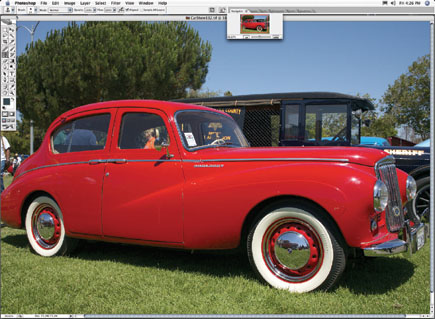 A large color gamut is one feature that makes working with digital camera files a success.
My workflow now is to begin with the monitor at the default setting and then launch the calibration and profiling software. I then input my choice of target aim points in the software and calibrate and profile to those aim points. This adjusts the display for use as part of the calibration and profiling process. It all takes less time than it took to write this, and you're then ready to work with the display.

About the same time as I received the LaCie 320 display I also received delivery of a new high-performance, wide format printer for test and evaluation. The tests involved a set of images made with my Canon EOS 5D and a selection of scanned film images. I won't go into the details of handling all of these very different kinds of images other than to say that working with the LaCie 320 resulted in excellent quality digital files. Indeed, 100 percent of the images printed with satisfactory results.
Digital photographic image color correction, adjustment, and editing is done entirely on a perceptual basis. If you cannot see what is in the image file reproduced on screen you cannot adjust it effectively or accurately. In that, the LaCie 320 fully and accurately did the job.

Evaluation And Recommendation
Over the last couple of years I have had the opportunity to use quite a few new LCD displays. All of them have provided good support for photographic image processing, editing, and printing. However, when I finished my test work with these displays and it was time to return them to the manufacturers, I was perfectly happy to re-install my 21" Sony G520P CRT. With this LaCie 320, however, I found I was obtaining more effective work and was enjoying better results from my work than I had with my Sony, so I decided it was time to demote the Sony CRT to use with another computer and keep the LaCie 320 as my primary display.

Some small part of this good experience, I am sure, is due to the very convenient hood that comes with the LaCie 320, which enhances the display's performance. I can say that the images displayed by the LaCie 320 are smoother, yielding even a satiny appearance compared to other LCDs I've used.
Although the LaCie is not the most spectacular and impressive LCD display I have used, it is the small, subtle refinements that are most important to me. In all, the refined, precisely accurate reproduction that is the highlight of the LaCie performance should make it a good choice for every discriminating photographer, and at a $1349 list price it is well worth the investment.
Choosing An LCD Display
The 300 Series LaCie display specifications do not seem to be that different from many other makes and models. And if you visit a computer or office supply store you won't get much help either as most only display the price leaders in business and home computer LCD models. If the store does have a high-performance pro-graphic model it's often in a sealed carton and not on display. Even if models like the LaCie were displayed it is dubious they would be adjusted for photographic use, calibrated and profiled, so what you would see on screen would probably be misleading one way or another.

However, once installed, calibrated, and profiled running Photoshop, the LaCie 320 I used was clearly distinguished from most LCD displays. It reproduced photographic images with precise refinement, making it easy to control and adjust image values. But would this same display in a store running at default values be as impressive? Not on your life!

So, if neither specifications nor what you see displayed in a store are any indication of what to choose for an LCD display to use for digital photography, what does one look for?

First, pay careful attention to how the manufacturer describes their market and the kind of use the display is intended. That is how I have selected the makes and models I have tested and reported on over the last couple of years, and it has proved to be a reliable indicator. If the language describing a display refers to professional graphics, pre-press, or content creation, those are pretty good clues. But don't depend on a manufacturer referencing digital photography or professional photography. While they want to be in that market, photography still seems to be below the radar of computer companies and display manufacturers, at least this year.

For more information, contact LaCie USA, 22985 NW Evergreen Pkwy, Hillsboro, OR 97124; (503) 844-4500; www.lacie.com.

For a full list of Technical Specifications, visit the Instant Links section of our website at: www.shutterbug.com/currentissuelinks/.