Konica Minolta's Maxxum 5D; Compact, Affordable 6-Megapixel Digital SLR With Built-In Anti-Shake (Stabilizer) System
PROS
· Oversized LCD monitor, ease of basic use, and great versatility
· Anti-Shake system provides effective stabilization with most Maxxum lenses
· Quick response, fast 3 fps framing rate, and competitive burst depth
· Excellent image quality; digital noise and JPEG artifacts are very well controlled
CONS
· Slightly larger/heavier than some competitors
· Some of the numerous menu items are complicated and not all are well explained in the instructions
· At 6 megapixels, resolution is lower than with some competing model
The second digital SLR to incorporate the Anti-Shake system that provides Image Stabilization with virtually all Maxxum lenses, the Maxxum 5D is a relatively compact, lightweight model. Roughly 22 percent smaller and 6 oz lighter than the more rugged Maxxum 7D, it also sports fewer analog controls for greater apparent simplicity. More importantly perhaps, the 5D sells for $200 (street price) less, in spite of a recent 7D price reduction.

Even so, this is certainly not a stripped-down model intended only for snapshooting. In fact, the 5D is a very fast, versatile digital SLR that produced excellent image quality while I was shooting stock in British Columbia, Canada. It also includes most 7D capabilities plus some new features and employs the same technology. The primary differences between the two models are listed in our comparison chart for quick reference.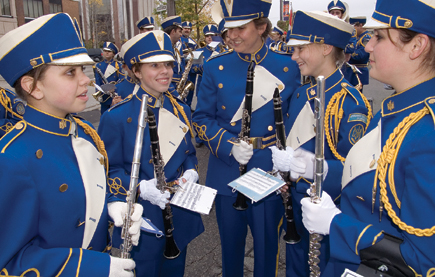 One of the advantages of the Maxxum 5D over the Maxxum 7D is wider coverage with the built-in flash unit, suitable for focal lengths as short as 18mm vs. 24mm. That's a definite advantage for anyone who buys the 18-70mm kit lens and does not want to buy an optional Dynax Program Flash for wide angle photography. (Portrait Program; ISO 400; built-in flash.)
All Photos © 2005, Peter K. Burian, All Rights Reserved
Design And Features
Compared to some other models in its price range, this is a moderately large/hefty camera with an oversized (rubberized) handgrip; it should be adequately rugged for most potential buyers. The huge 2.5" LCD monitor offers a real advantage over the more typical smaller screens. While the monitor's resolution is not particularly high, it's certainly adequate and competitive in the sub-$800 category. There's no need for a secondary data panel, because the color monitor displays all data (with oversized numerals) in addition to image playback. The new roof-mirror penta-prism, plus an Acute Matte screen, combine to provide a bright view, with just enough magnification to prevent a "tunnel-vision" effect.

Because some first-time digital SLR buyers are intimidated by a mass of analog controls, the 5D sports fewer buttons, dials, and switches than the 7D. Surprisingly, the many White Balance (WB) options are now accessed with a large knob; that control could have been dedicated to more frequently needed features. To minimize the need for hunting and pecking through the vast electronic menu, the 5D is equipped with a new [Fn] button for access to a submenu with four frequently needed functions (plus the many Color modes). While some of the menu items are complicated, I found the 5D just as quick, easy, and convenient to use as the most basic digital SLR in other respects.

Like the 7D, the 5D employs Konica Minolta's latest image processor, CxProcess III, for high-definition, natural-looking images and pleasing skin tones. The processor's Advanced LSI engine assures great speed and responsiveness. However, because of reduced buffer memory, the new camera cannot shoot as many frames in a single burst. Frankly, that's really not a problem when using a fast CompactFlash card. During testing, I found that the 5D could capture 10 Large/Fine JPEGs in 3.5 seconds or six Large/Extra Fine JPEGs in 2 seconds; afterward, the camera kept firing although the framing rate slowed noticeably. In my estimation, this performance level will satisfy most photo enthusiasts.

The 5D is quick in other respects, too, with 1 second start up time. In most outdoor situations, I found that the camera set focus and captured the image almost instantly, in about 1/3 sec, great for candid picture taking and street photography. Continuous autofocus performance was quite fast, too, except in low light, making the camera suitable for shooting amateur sporting events in daylight. Indoors, the autofocus system was quick and reliable with static subjects; in very dark locations; I needed to use flash, with the focus-assist feature, as with virtually any camera.

Evaluation: This may not be the best-looking digital SLR in the world but its large controls, oversized handgrip, and 2.5" LCD screen (with large data read-outs) make it convenient to operate. The 5D targets the entry-level buyer so it's simple to use, particularly with one of the subject-specific Programs that provide "intelligent" automation. And yet, the 5D should satisfy many experienced shooters as well, because it includes nearly every capability that they demand. Anyone with digital camera experience should be able to start shooting without opening the Owners Manual. Still, it's worth spending an hour reviewing the instructions to fully appreciate the many menu items for modifying camera operation and the appearance of your images.
Maxxum 5D Vs. Maxxum 7D
Employing the same technology as the Maxxum 7D, including the award-winning stabilizer that shifts the entire CCD module for camera shake compensation, the Maxxum 5D is similar in many other respects as well. While it does not include all 7D features, the newer model offers some new capabilities that make it more suitable for a broader variety of experience levels. After an extensive comparison of the Specifications lists, I compiled the following chart of the primary differences. Note that some favor the 7D, while others make the 5D more desirable.
Feature
Mannum 5D
Maxxum 7D
Construction
Mostly glass-fiber plastics; steel lens mount
More rugged; many magnesium-alloy parts
2.5" LCD Monitor
115,000 pixel resolution
Higher 207,000 pixel resolution
Penta-Prism
Roof mirror
All glass
Viewfinder
95 percent field of view; only 0.83x magnification; diopter correction, -2.5 to +1
95 percent field of view; 0.9x magnification; diopter correction, -3 to +1
PC Cord Socket (For Studio Flash Systems)
Requires optional PCT-100 accessory
Built-in
White Balance Control
Unusually extensive; gains WB Bracketing and color compensating (green to magenta) feature
Extensive but missing extra options
Color Modes
Same as 7D but gains Black & White plus Night, Landscape, Sunset, and Portrait sRGB Color modes
Two sRGB plus Adobe RGB options
Operating Modes
P, A, S, M plus five subject-specific Program modes
P, A, S, M
AE Bracketing And Exposure Compensation
AEB: Three frames at 0.3 or 0.7 EV increments; EC: from
-2 to +2 EV in 0.3 EV steps
AEB: Three or five frames in 0.3 or 0.5 EV; EC: -3 to +3 EV in 0.5 EV steps or -2.0 to +2.0 EV in 0.3 EV steps
(Built-In) Flash Coverage
Suitable for lenses as short as 18mm
Narrower; suitable for 24mm or longer lenses
Burst Depth
Five raw or nine Large/Extra Fine JPEGs
Nine raw or 12 Large/Extra Fine JPEGs
Automatic Vertical Image Rotation And Enlarged Raw Image Playback
Yes
Not available; enlarged playback only for JPEGs
Start-Up Time
1 second
2 seconds
Included Raw Converter Software
Extremely versatile (new) DiMAGE
Master Lite
Versatile DiMAGE Viewer
Vertical Battery Grip
Not compatible with such accessories
Accepts optional VC-7D
Connectivity
USB 2.0 Full Speed (comparable to USB 1.1)
Faster USB 2.0 Hi-Speed
Battery Life (CIPA Standard)
550 frames
400 frames
Size/Weight
5.1x3.6x2.6"; 20.8 oz
5.91x4.17x3.05"; 26.8 oz
Street Price (Body)
$719
$899
Anti-Shake Technology
Because the Anti-Shake stabilizer system has been available for over a year in the 7D, most readers are familiar with this device. Quite different in principle than the Optical Stabilizers used in some brands of lenses, Anti-Shake achieves a comparable effect by shifting the camera's CCD sensor module to compensate for camera shake. That action produces sharp images in handheld shooting at longer shutter speeds than conventional (non-stabilized) equipment. And there's no need to buy new lenses with stabilizing devices because Anti-Shake is effective, with any Maxxum lens ever made, with only two exceptions: the 16mm Fisheye and the 3x-1x Macro Zoom. (The system should also work well with many Maxxum mount lenses of other brands.)

A five-step LED indicator in the viewfinder keeps the user informed of the extent of Anti-Shake activity. The more of the blue LEDs that are illuminated, the greater the amount of camera shake compensation that is ocurring. When all five are lit, maximum CCD shift is under way.

This system is certainly useful but it's not perfect in every respect. As Konica Minolta warns, "Anti-Shake is less effective with moving subjects or when the camera is panned, at shutter speeds of 1/4 sec or longer, or at short object distances [as in macro photography]." The company also recommends turning the Anti-Shake system off when the 5D is mounted on a tripod. That's not a drawback because there's no need for shake compensation when using a firm support. Remember, too, that no stabilizer system can "freeze" a moving subject; fast shutter speeds are required unless you want to make photos with motion blur for creative effects.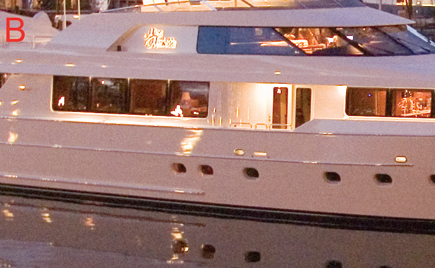 While we usually think of the Anti-Shake device as useful for sharper photos with telephoto lenses, this device is also useful in wide angle photography when a tripod is impractical or prohibitied. To prove that point, I made these images handheld at a 24mm (36mm equivalent) focal length at 1/5 sec and found that the Anti-Shake system produced a significant technical benefit. (Maxxum 17-35mm zoom; ISO 800; full frame plus small portions of each image reproduced here; Victoria, British Columbia.)

LATEST VIDEO