Konica Minolta's Maxxum 5D; Compact, Affordable 6-Megapixel Digital SLR With Built-In Anti-Shake (Stabilizer) System Page 2
Evaluation: While the Anti-Shake system cannot solve every possible problem, I found it to be valuable with every situation that I encountered during extensive testing. When shooting outdoors at night with a 35mm focal length (52mm equivalent), I was able to make many sharp images at a 1/10 sec exposure time. With a longer zoom at 200mm (300mm equivalent), I was consistently able to make razor-sharp images at a shutter speed of 1/80 sec; over half of my shots made at 1/40 sec are equally sharp. These tests confirmed that the Anti-Shake system provides at least a two-step advantage over a camera/lens without a stabilizer. The primary benefit? We can work at much lower ISO settings for superior image quality, without worrying about blur from camera shake.
The DiMAGE Master Lite converter software provides a wealth of options for optimizing MRW format images. This program offers extensive control over contrast, white balance, hue, saturation, exposure, lightness, color temperature, sharpness (with Unsharp Mask) plus features including Curves, dust removal, and 8- or 16-bit conversion.
Hint: To be absolutely certain of sharp images, assume that the Anti-Shake system provides a two shutter speed step advantage. For long exposures--especially when the Anti-Shake system is operating at maximum--brace the camera against some firm support.
Image Quality
The 5D offers three JPEG size and quality options plus raw capture for recording data from the CCD sensor in a proprietary MRW format. Images made in JPEG capture--at the camera's default settings--exhibit moderately high sharpness, snappy contrast, and rich color saturation with particularly vibrant reds and blues. (All three factors can be adjusted in camera if desired.) When using a polarizer--which I recommend for most outdoor photography--saturation is sometimes excessive in the deepest red hues. The test sample camera tended to overexpose bright scenes by about 2/3 EV, easily solved with exposure compensation.

In JPEG Large/Extra Fine mode, image quality is first rate: suitable for making gorgeous 11x17" prints or very good 13x19" glossies. Because compression is minimal, there's no evidence of JPEG artifacts or jagged edges even at 200 percent magnification on a monitor. A higher compression ratio is used in JPEG Fine mode, but image quality is still very good at 100 percent magnification on a monitor or in 11x17" prints.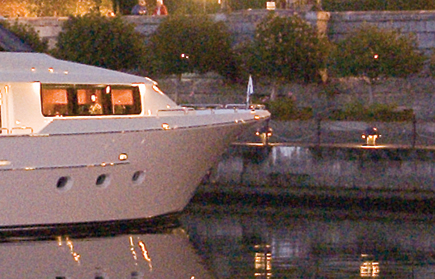 The camera's processing engine does a great job in controlling high ISO digital noise, without making images appear to be "plasticky" or "mushy." My ISO 1600 images exhibit a visible noise pattern, but it's not particularly colorful or prominent and it does not obliterate intricate detail. This level of performance makes the Maxxum 5D competitive with the best cameras in its league. (Large/Fine JPEG capture at ISO 1600; f/4 at 1/8 sec; full frame and small portion of the image shown here; Victoria, British Columbia.)
Switching to Raw Capture mode is useful, too, for the very finest image quality and for the vast range of image correction possibilities before conversion to TIFF. The bundled DiMAGE Master Lite software is surprisingly versatile and sophisticated; it also produces better color quality than the older DiMAGE Viewer and is acceptably fast. Anyone who shoots numerous raw images might want to consider the optional DiMAGE Master 1.1 program or an after-market converter for greater speed and even more extensive adjustment options.

Digital noise is very well controlled, making ISO 400 suitable for all-purpose use in serious photography. The camera proved to be great for low-light shooting as well, because ISO 800 images are surprisingly clean and richly detailed. At the ISO 1600 that I used for some city scenes at night, colored specks are visible only at high magnification; the Large/Extra Fine JPEGs made for fine 8.5x11" prints. An ISO 3200 option is available, too, and it's quite useable in spite of a prominent and colorful noise pattern. For the best results at ISO 3200, shoot in Raw Capture mode and activate noise reduction in the converter software.

Evaluation: The 5D offers a full slate of overrides, and yet, it often produced pleasing photos at the default settings. Auto WB worked well in many outdoor situations, but the camera includes a multitude of options for adjusting the color balance, including some that are complicated and unnecessary. When using the Presets (for specific conditions) and the Custom WB option (for unusual artificial lighting) I was able to achieve any desired effect. Photographers who absolutely must get perfect WB might want to try the new WB Bracketing feature. When selected, the camera takes one shot and makes three copies, each with a slightly warmer or cooler effect.
On a calm day, I waited for a long time for a puff of wind to unfurl the flags. At that moment, I really appreciated the very quick response provided by the Maxxum 5D. It was quick to wake from "Sleep" mode and very fast to focus and take this shot. That level of responsiveness also makes it a fine choice for capturing a fleeting gesture in candid people pictures. (Aperture-Priority Autoexposure mode at f/10; ISO 100; Hoya polarizer; Large/Extra Fine JPEG capture; Toronto, Ontario.)
Final Assessment
Priced to compete in the entry-level category, the 5D offers excellent value with its built-in Anti-Shake mechanism. More affordable than the 7D, the newer model is a fast and convenient digital SLR that's easy to use in point-and-shoot modes. This is definitely a more suitable camera for families than the 7D and yet, it's a fine choice for serious photographers, too, due to a remarkable versatility. Offering the best of both worlds, this Konica Minolta model deserves to become a best seller.
For more information, contact Konica Minolta Photo Imaging U.S.A., Inc., 725 Darlington Ave., Mahwah, NJ 07430; (800) 285-6422, (201) 574-4000; http://konicaminolta.us.
A long-time "Shutterbug" contributor, stock photographer Peter K. Burian (www.peterkburian.com) is the author of several books, including "Magic Lantern Guides to the Maxxum 7D and Maxxum 5D" (Lark) as well as "Mastering Digital Photography and Imaging" (Sybex). He is also a digital photography course instructor with BetterPhoto.com.

LATEST VIDEO

SPONSORED VIDEO
Testing Tamron's SP 150-60mm G2 lens while capturing birds and alligators in Apalachicola, Florida.