Kodak DCS 760 Professional Digital Camera
Despite its size and weight, the DCS 760 works well as a photojournalism camera. (Big Dog parade in Santa Barbara.)
Photos © 2001, John Rettie, All Rights Reserved
For serious photographers the holy grail of digital SLR cameras will be the one that produces images as good as those obtained in a high-end camera using 35mm film. Currently, there's little dispute that digital images obtained by digital imaging backs on medium format cameras can produce images with resolution that matches or even surpasses that of film. However, in most cases, these cameras are unwieldy or even impossible to use outside a studio setup. Indeed, some of the best ones can only be used for still life shoots under very controlled situations, as they require three separate scans to create one color image.
Digital SLR Evolution
For the last decade Kodak has been at the forefront in the development of high-end digital cameras based on 35mm format SLR cameras. The company started with the DCS 100 in 1991, which was based on a Nikon F3 but was tethered to a big external pack that weighed several pounds and contained the electronics and storage drive. It was really the introduction of the 1.5-megapixel DCS 420 in 1994 that first gave a true inkling that digital cameras could be used by photojournalists as a camera in tough shooting conditions. This camera was based on Nikon's N90S body with the addition of a hefty battery and electronics. It cost around $10,000. Within a year another version came out based on a Canon EOS body with a 2-megapixel CCD. In 1995 the DCS 460 hit the market with a 6-megapixel CCD and a whopping $30,000 price tag. I remember trying one of those cameras and was impressed by the quality of the image, but it was quite slow in operation and lacked a LCD for viewing the captured image. It was not very practical away from a studio.
The introduction of the fourth generation Canon EOS-1 V-based DCS 520 and 560 models really established the value of Kodak's professional digital cameras in 1998. Three Nikon bodied versions followed within the year so that Kodak offered no less than six professional digital cameras based on three different bodies.
When Nikon introduced the D1 digital camera in 1999 it shook up the marketplace. In order to remain competitive Kodak had to lower its prices, which it did by bringing the 2-megapixel models down to around $7000. The 6-megapixel models dropped more slowly from $30,000 in stages to $8000.
With Nikon's entry in the professional market many people expected Kodak to drop its Nikon based versions and concentrate on Canon bodied cameras. Instead the opposite has happened. Kodak has stopped making any Canon based cameras and has continued with two versions of the Nikon based cameras, the 2-megapixel 720x (which replaces the 620x) and the 6-megapixel DCS 760, which has just come to market with a sticker price of $6995. That might seem a lot, but considering its immediate predecessor was $29,995 one year ago, it's a competitive price for professional photographers who earn their living using the latest tools of the trade.
Jen Chau, a Brooks School photo student, tries out the DCS 760 as she photographs Sarah Green with a Nikon D1.
The Body
Anybody familiar with Nikon's top of the line F5 will immediately feel at home with the DCS 760. Essentially it's an overgrown F5 body with what feels like an extra battery pack added to the base. It is not just screwed on the bottom of the regular film camera. Instead, Kodak manufactures an entirely new one-piece magnesium alloy frame that replaces the main part of the F5. The top panel for camera settings and the camera's internal picture-taking components remain the same as in the F5.
This, of course, means that the DCS 760 is able to accept all the lenses and accessories that can be used on an F5, with just a handful of exceptions. Lenses that have a rear element that protrudes outside the mounting ring cannot be mounted on the DCS 760 if it is fitted with either the standard IR (InfraRed) filter or the optional anti-aliasing filter. The CCD is physically smaller than a 35mm frame so there is a magnification factor of 1.3x when using regular Nikon lenses.
AF & AE Features
The DCS 760 includes the same autofocusing system with focus tracking and the five focus points that can be changed using the four position rocker switch on the back of the body. Exposure is via the same 1005 pixel 3D color matrix metering system with three different settings. TTL flash metering enables the camera to work with Nikon Speedlight flashes and a regular PC connection allows hook up to studio flash systems.
The back of the body contains two LCD screens and several extra buttons. The big screen is an improved color LCD for reviewing images after they have been captured. For the first time it is possible to zoom in on an image to check focus and details. A histogram is quickly available and images can be tagged and viewed as thumbnails. Moving around the options takes a bit of getting used to but they are much more versatile and easier to access than before. The smaller LCD screen shows the "digital" settings for white balance; the number of images that can still be captured and a flashing icon shows when the storage card is being accessed.
An additional feature, which is all but unique to Kodak, is the ability to capture short voice notes via a microphone on the back of the camera. This can be invaluable to event photographers who need to make notations while photographing.
A long slender Ni-MH rechargeable battery fits in a slot at the base, which is alongside the two PC card slots. These are hidden behind a hinged door along with a video out and a serial port. On the other side of the base, a rubber cover hides the FireWire (IEEE-1394) port and the socket for the AC adapter.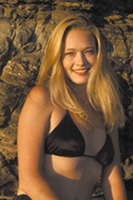 The DCS 760 is an ideal portrait camera as this image of Santa Barbara model Sarah Green demonstrates.
Digital Capture
What sets the DCS 760 apart from other digital SLR cameras is its 6-megapixel (3032x2008) Indium Tin Oxide (ITO) CCD. This whopping CCD produces an image 10.1x6.7" at 300dpi, without any interpolation, which is more than adequate for a high quality print at this size. Indeed, it's sufficient resolution for a very good 11x14 or 16x20 print. The camera captures images in a proprietary Kodak DCR format and each file is anywhere from 5-7MB in size.
Despite the size of each image file the camera has a powerful computer processor on-board and a hefty 256MB memory buffer. This allows the camera to fire at 1.5 fps for up to 24 frames before the user has to stop shooting and wait for all the images be written to storage disk. Talking of storage, the camera has two PC card slots, which allow for a wide variety of storage cards with varying capacity. It will accommodate Type I, II, or III PC cards and, with a PC Card adapter, one can use an IBM Microdrive, CompactFlash (Type I or II) or even SmartMedia or Sony Memory Sticks.
The problem, of course, is that as each image file is 6MB one needs a fairly large amount of storage for most photo shoots. PC Card drives are available in capacities of 1GB as is the Microdrive, but CompactFlash and other smaller media are more limited in total capacity. I tried a 340MB PC Card, a 1GB Microdrive, and a 128MB CompactFlash. I managed to get 62 images on the 340MB card in one shoot. Although I never filled up the 1GB Microdrive in one session, it should be good for around 180 images. I did not get my stopwatch out to time the speeds of the various cards but they all seemed fine, as not once was I forced to stop shooting while waiting for the data to be written to the cards.
With the PC hard disk card I found that if I held the shutter down it fired off 10 shots in about 4 sec before the rate of firing slowed down as images were written to the disc. I am sure that the speed at which one can shoot would be determined by the type of storage cards, though in most cases I don't think it would be a significant difference.
Previous Kodak digital cameras have had the white balance, which is a critical measurement for getting accurate colors, read by a small sensor on the outside of the camera. On the DCS 760 this measurement is taken off the CCD, which is more accurate as it represents the image seen by the camera through the lens. The camera has an automatic white balance setting, as well as one for daylight (only one), tungsten, fluorescent, and flash.
Software
Once images have been captured and written on the storage card they obviously need to be transferred to a computer. The DCS 760 offers two ways of transferring data, a serial port or the FireWire port, but I still prefer removing the cards and using a card reader attached to a computer or transferring them via a PC card slot on a laptop. It avoids having to tether the camera to the computer. It's also possible to use an optional wireless modem on a PC card inserted in one of the slots for transferring the data via a mobile phone, but that's another story.
Because the images are stored in a unique format one has to use Kodak's DCS Photo Desk software to "process" the images before they can be opened in Photoshop or any other image-editing program. Photo Desk is a fully featured program that offers a wide variety of options for post capture modification of images. One can adjust exposure, white balance, color, and lighting after the fact. Unless an image is completely wrong it's like having a second chance to get the exposure or colors right. In addition, the images can be rotated, sharpened, and cropped. Once any changes have been made the image can be saved in a TIFF or JPEG format, which can be read by other programs. Each rendered image has a file size of 17.5MB with 8 bits per color or 35MB with 16 bits. In most cases 8 bits provides more than enough information. On my Mac G4 the program opened a folder with 62 images and displayed a contact sheet containing all the images in about 12 sec. It takes about 7 sec to open an image and render it at full size. It can then be saved in a standard TIFF format, which takes another few seconds. Individual images can be tagged and then they can be converted in a batch mode.
Another piece of software included with the camera is called DCS Camera Manager, and as its name suggests, it is used to manage the camera from a computer. Once the camera is tethered to a computer via a FireWire cable data can be downloaded directly from the camera and stored on the computer. Better yet, all the functions including the custom settings on the camera can be controlled by the computer via drop-down menus. The camera can even be fired from the computer although there is no preview image available. However images can be displayed within seconds via the Photo Desk software. Currently the software is only available for use on a Mac but Kodak says it will be available for Windows users later in the summer.
In Operation
The first thing you notice when you pick up the DCS 760 is that it's a heavy beast. It tips the scales at 4.1 lbs with battery and storage card but without a lens. Add a decent big zoom such as the 80-400 VR, which weighs just under 3 lbs, and you've got a total of 7 lbs to lug around. In practice, of course, if you use two hands to hold the camera and lens it's not too bad.
Kodak has added a very nice large molded rubber grip on the back that holds one's thumb in place much better than the grip on the back of a regular F5. The included hand strap also helps distribute the weight when you're holding the body. Once the camera is switched on it comes to life and is ready for firing in about 5 sec. Taking a picture is then no different from using a regular F5. The shutter button feels the same and the clunking sound as the image is captured, from the mirror going up and down and the camera getting ready for the next shot, even sounds reassuringly the same. I could swear there's a motor drive in there advancing the film, but I know there isn't!
In single shot mode one can take about 10 shots fairly rapidly before the camera hesitates while it waits for the images to be written to the storage card. In any one of the continuous shooting modes, images can be taken at 1.5 fps up until at least 10 images have been captured before the camera slows down. Even after the camera goes to sleep it comes back to life immediately and a photo can be grabbed immediately. This is a tremendous improvement compared to earlier Kodak cameras, which often suffered from an annoying delay before pictures could be shot.
Results
The images captured on this camera are excellent. In the limited time I had the camera for review I was happy with every image it captured. The colors appeared to be correct and pixelization does not start to appear until an image is blown up to 200 percent. Even then it is really only noticeable on sharp edges running at an angle, such as edges on a car. The ISO setting can be adjusted from 80 to 400 on the camera, and it is easy to adjust the ISO during a shoot without "changing film." However, I did notice an increase in noise and also some artifacting at higher ISO settings.
It's also very useful to be able to adjust exposure and tweak colors during processing on the computer after a shoot. Although one can do this with images in Photoshop it is much better to do it on a raw file, as there is so much more information included in the original file.
At the time of my review the camera was only able to capture images in the Kodak's raw format. Kodak says a free firmware upgrade will be available later in the summer that will allow the camera to automatically compress images in the camera and save them as JPEG files. This will allow a user to store many more images on a card and also to be able to open them directly in other programs without having to first "process" them in Kodak's DCS Photo Desk program.
Summary
If you've got a strong right arm and a budget that allows you to spend around $9000 on a camera and storage cards, the DCS 760 might be the ideal digital camera. If you do sports photography and photojournalism the increased quality delivered by the 6-megapixel CCD might be negated by the inevitable slower operation. If you're going to use the camera for studio work or weddings, where fast continuous shooting is not required, this camera is ideal. Is the camera a replacement for a film camera? I'd say yes if you do not plan to produce images bigger than 11x14, based on the fact that a 3-megapixel camera can produce 8x10 prints that are virtually indistinguishable from a print produced by a film camera. By the time you read this I will have tried a Nikon D1x with its 5.4-megapixel CCD. It will be interesting to see how well the two cameras shape up next to each other. One of these cameras will undoubtedly be the champion digital camera, at least for a while.
For more information, contact Kodak at (800) 235-6325 in the US and at (800) 465-6325 in Canada. You can also visit their web site at: www.kodak.com/go/dcs760
Kodak Professional DCS 760 Digital Camera Features
Metal-frame Nikon F5 camera body and familiar SLR functionality
12-bit dynamic range
Composite video out--NTSC or PAL
Internal microphone for voice recording
ISO settings: 80-400
6-megapixel CCD (3032x2008)
18MB finished file size
Bit depth: 36-bit color (12 bits per color) original capture
Removable, rechargeable Ni-MH battery
IR filter included
1.3x focal length
Dual PC card slots, Type II, III
Optional anti-aliasing filter
Size: 7.6" (194mm) tall, 6.2" (158mm) wide, 3.4" (88mm) deep
Weight: 4.1 lbs (1.86 kg) with battery and PC card, without lens
New stand-alone applications--DCS Photo Desk and DCS Camera Manager

FEATURED VIDEO