An Interview With Eddie Tapp; A Photographer's Photoshop Expert
I first met Eddie Tapp when I attended the Professional Photographers of America Judges Workshop in Atlanta in 1997. Flash forward to today when film is a niche in photography, and photographers around the world recognize Tapp as one of the premiere Photoshop/digital imaging experts in the world. He lectures and consults to individuals and corporations around the world and can be found presenting programs in virtually every major photography conference in the US. A soft-spoken gentleman, Tapp is a Canon "Explorer of Light" and a valuable resource for photographers everywhere.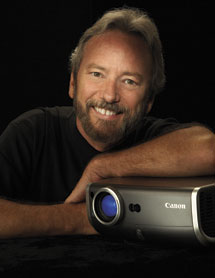 © 2010, Parish Kohanim www.parishkohanim.com, All Rights Reserved
Steve Bedell: What do you consider Photoshop's most valuable features for the portrait and wedding photographer?

Eddie Tapp: Without question, I would say advanced retouching, superb image enhancements along with the ability to blend images together or even create precision montages, edge effects, and the way you can blend vector graphics, textures, and shapes. Photoshop is certainly the tool that we use today where the darkroom was the means years ago. It gives us the ability to create something that is uniquely ours.

SB: What do you consider the most valuable improvements in Photoshop CS5? Do you consider this upgrade a "must-have" for the working pro photographer?

ET: CS5 is the upgrade photographers have been waiting for. You can export files from Lightroom or DPP (Digital Photo Professional) to take advantage of functions such as Puppet Warp, Merge to HDR with multiple exposures, HDR Toning for a single file, and Content-Aware Fill. There are the many Bridge and Mini Bridge functions along with the more advanced but easier to use masking features.
Model Stephanie Savage dances on the beautiful upcountry hills of Polipoli in Maui, Hawaii. Another image created during one of my annual Maui Photo Adventure workshops. The image enhancement was finished using Nik Color Efex Pro, a third-party plug-in for Photoshop. (Canon EOS-1D Mark II, 1⁄500 sec at f/8 at ISO 100, 115mm using a 28-135mm lens.)
© 2010, Eddie Tapp, All Rights Reserved
SB: Tell me about your favorite plug-ins and the type of images you use them for.

ET: My favorite plug-ins include Nik, onOne, LucisArt, Photomatix, and Digital Anarchy. These are tools that reside in my workflow. Sometimes while I'm shooting on assignment I'll know I want to use one of these plug-ins for a specific finish, but most of the time I make that decision during the creative process and many times I'll use Nik, LucisArt, and finish it up with onOne. I also love working with files provided by Graphic Authority. The type of images I use these filters for include fashion, portrait, scenic, and product shots.

These plug-ins are third-party additions to Photoshop and are usually accessible through the Filter menu items once you've installed them. They have a variety of different filters that allow you to enhance images quickly with special effects, apply multiple or advanced enhancements with a click of the mouse or a move of a slider, and make creating images more fun.
Church in Pátzcuaro, Mexico. Photographed near Morelia, Mexico. This is a merge of two images, one is a simple texture you can see in the sky and the primary image was processed using a technique that I call Move It Move It in Adobe Camera Raw. (Canon EOS 5D Mark II, 1⁄350 sec at f/13 at ISO 500, 24mm using an EF 24-105mm f/4L IS USM lens.)
© 2010, Eddie Tapp, All Rights Reserved
SB: What do you think is the biggest mistake photographers make regarding Photoshop and other image-editing software?

ET: Spending too much time trying to figure out what to do. It's much better to have an objective, something you want to do rather than fumbling around trying to do something you have no idea how to do. This can force you to spend way too much time while other important things go to the wayside. Here's my advice: decide what you want to learn, keep that as a focus and from that point you will most likely figure out how to best use your image-editing software. If that approach doesn't work, read the instruction manual or a related book, take a workshop, seminar, or use a consultant to get you to a point of logic so you can master your objective.

FEATURED VIDEO