An Interview With Eddie Tapp; A Photographer's Photoshop Expert Page 2
SB:
What tools should a photographer have to take full advantage of image-editing software?
ET:
Any imaging software that takes full advantage of Raw, 16-bit, ProPhoto RGB (or Wide Gamut RGB). With the release of the XRite ColorChecker Passport, having the ability to quickly and easily create and apply a digital camera profile is a very exciting advancement in making the process easy.
Maui sunset, Maui Photo Festival. This image was created during a seminar directed by Randy Jay Braun at the first Maui Photo Festival last fall. The image was enhanced in Photoshop using Hue/Saturation along with blending the clouds and lens close-up. (Canon EOS 5D Mark II, 1⁄640 sec at f/16 at ISO 125, 50mm using an EF 28-300mm f/3.5-5.6L IS USM lens.)
© 2010, Eddie Tapp, All Rights Reserved
SB: Is processing power and RAM as much of an issue now as previously since even entry-level computers are pretty powerful?

ET: Yes, perhaps even more so than ever before because of what we process today. A 6MB file was the norm 12 years ago; today a 60MB file is more of the norm. RAM and processing power from 12 years ago would absolutely choke, freeze, and burn today. Most all of the software we use today will take advantage of the processing power and RAM and is in fact more lean in doing so, but there is simply 10 times the demand on a processor today than back then. This brings to mind what we used to know as the 18-month cycle—technology would reinvent itself, change, and be at the next level in 18 months while our equipment would be somewhat outdated after three years. That's no longer the case as the cycle is more like four to six months and once you buy into a system, it's pretty much outdated 18 months later for the available processing power. Keeping up with technology today is similar to bringing up a dozen children: you really want to keep them all in view at that same time. Where with technology, we want all of our devices and software to communicate on the same level.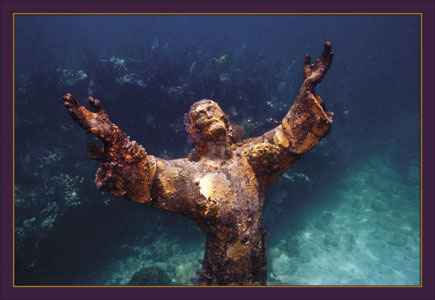 Statue of Christ photographed underwater at the John Pennekamp State Park in Key Largo. This image is one of my first underwater images and was created during one of the workshop dives that I teach with Stephen Frink (www.stephenfrink.com) during the summer. (Canon EOS-1Ds Mark II, 1⁄200 sec at f/11 at ISO 200, 24mm using a 24-70mm lens.)
© 2010, Eddie Tapp, All Rights Reserved
SB: What's the biggest reason an advanced amateur should own Photoshop vs. Elements?

ET: When you're ready to step up to the next level. Elements will get you started efficiently and is certainly fun. Photoshop will allow you to master masking techniques when you're ready for that kind of power along with blending and masking abilities that you won't find anywhere else.
To learn more about Eddie Tapp (M.Photog.,MEI,Cr.,API), visit his website at: www.eddietapp.com. You can also e-mail him at: eddietapp@mac.com.

FEATURED VIDEO