Interview, Amy Arbus
Revealing Human Nature Through Portrait Photography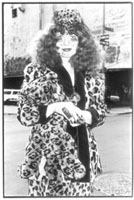 This farm scene was taken with the 70-300mm Vario-Sonnar used on a monopod for stability. I used the Aperture Priority exposure mode with the lens set at f/8.
Photos © 1993, Amy Arbus, All Rights Reserved
Amy Arbus' work is in the collection of the Museum of Modern Art. Dozens of magazines and newspapers use her photographs: The New Yorker, The New York Times, Vanity Fair, Rolling Stone, The Village Voice, and Aperture among them. Her 1986-published book, No Place Like Home, focused on people who live in unusual homes. Her most recent book, a work in black and white titled The Inconvenience of Being Born, examines the extremely emotional expressions of babies. It has been called the most revealing photographic study of infants ever completed.
Like the artist Jamie Wyeth who followed his father into landscape painting, or the musically famous sons of Johann Sebastian Bach, Amy has a distinguished lineage in the photography world. Her mother, Diane Arbus, changed the direction of portraiture more than three decades ago through her haunting mostly black and white images of people at the fringes of society. Diane's photographs such as "Child with a Toy Hand Grenade" (1962) and "Masked Woman in a Wheelchair" (1970) are icons to every serious student of environmental portraiture.
"My mother's work has been an enormous influence on me," said Amy. "But not literally. By that I mean, my photographs don't look like hers. That makes it difficult to compare them. What they do share is an emotional intensity." Amy, now 47 and a resident of New York City, made her first notable image at 14 when she photographed an apple in front of the New York City skyline. Taken from the rooftop of her mother's apartment, the picture drew praise from friends and family; a reaction that embarrassed the young photographer. "Everybody loved what I had done," said Amy, "and I show that picture today and I'm proud of it. But at the time I was embarrassed because it seemed to me that the camera understood what was going on better than I did. I felt as though I had been tricked by photography, that in some way this magic little black box was smarter than I was."
Amy put away her camera for the next seven years. In the interim she studied music at Goddard College in Vermont, and went on to the Berklee College of Music in Boston to play the saxophone and flute. One day at Berklee she fell and broke her two front teeth. Unable to play music for two weeks, she took a camera to a local park. "When I looked through the lens," said Amy, "I knew immediately that this was what I wanted to do. I felt I had an instinct for it. I knew I saw the world in a different way."
Her growth as a photographer quickly followed. After a year's study at the Museum of Fine Art in Boston, Amy apprenticed herself to New York fashion photographer Jean Pagliuso, eventually becoming Pagliuso's studio manager. A major break came in 1981 when The Village Voice began publication of her monthly style page, "On The Street." Magazine work quickly followed, as did work for commercial clients including American Express, Nickelodeon, and Christiano Fissore, among others.
Today Amy is represented by the June Bateman Gallery in New York and the Stephen Cohen Gallery in Los Angeles. She was interviewed for Shutterbug at the Maine Photographic Workshops in Rockport, Maine, where she teaches a course in portrait photography. Dressed casually for teaching, Amy looks younger than 47. Her manner is friendly and engaging; brown eyes surveying her world mirthfully through rimless glasses.
She laughs often.
Shutterbug: What project are you working on now?
Amy Arbus: I've been on assignment for YM, a teen magazine that is extremely popular. I'm photographing teens-most of them girls-who have written first-hand accounts of traumatic experiences they survived.
For example, I photographed a 97 lb girl who was paralyzed in a football accident so that she couldn't move. Now she's got every muscle and all her movement back. This is a perfect assignment for me. I'm attracted to survival stories. People who have passed a test in life. I'm also working on a personal project about teen-agers at their proms. Every once in a while you know there is a photographic subject that is just right for you. This is it for me.
SB: You have had your own challenges. Your mother died as a result of suicide when you were 17. Like your mother, you became a portrait photographer. Did you fear having your work compared to hers?
AA: It's entirely ridiculous and hopeless to try to compete with somebody who made such a huge contribution to photography. I'm enormously proud of what my mother did, and I have no illusion of trying to be her. And if I were going to avoid her subject matter, that would cancel out people in general and that was never an option.
I knew when I went into photography that I would be compared to my mother. I thought to myself, what can I do about that? That's life.
SB: While influenced by your mother's work, your photographs are distinctly your own and unlike hers. How would you characterize differences as to style and content?
AA: My pictures often look like they were made before I was born. Hers, even 30 years after her death, look like they were taken yesterday, or perhaps tomorrow. My work is about theater and illusion. I love fashion and I'm fascinated with celebrity. My photographs are romantic. They have a sweetness, a sadness, and an irony to them. They are full of comedy and tragedy.
SB: How do you get cooperation from your subjects for such wonderful portraits?
AA: When I ask to photograph someone, it is because I love the way they look and I think I make that clear. I'm paying them a tremendous compliment. What I'm saying is, I want to take you home with me and look at you for the rest of my life.
SB: People still talk about "On The Street," the style page that appeared in the The Village Voice between 1981 and 1991. Some of those photographs were a part of your show last fall at the June Bateman Gallery in Manhattan. Why are those images so enduring?
AA: "On The Street" was my first job, and I became known for it. People waited for me to come along and photograph them, and many of those people have gone on to be famous. For example, I photographed Madonna in 1983, the same week that her first single was being released.
I think those photographs documented the feeling of the 1980s which was so creative, experimental, and full of joy. I think we miss that in the 1990s and in the new millennium. We have real concerns now and that child-like attitude about life is gone. Also I think there is something about the style of my work that is nostalgic. Even at the time, those images looked older than they were.
SB: You've done some color work, such as the portraits in your first book, No Place Like Home. But the majority of your photographs are black and white. Why?
AA: I actually love color. I love nothing more than putting together colors that match. But there is a timelessness in black and white, and I haven't found that in color yet. But I'm on to something€ I also enjoy doing my own black and white printing. It's quiet in the darkroom. It's meditative. When I print, I can see what I need to work on next.
SB: For years you worked in 35mm. Now you've switched to 21/4 medium format. What made you change?
AA: I used a 35mm camera for my "On The Street" series because the shape of the 35mm negative works well for full-body portraits. It doesn't work as well for headshots. And over time I became frustrated with its quality. By the mid-90s I had also developed a repetitive stress injury as a result of holding a 35mm camera in that physically taxing position one uses when making vertical photographs.
What I did was spend a year training myself to use a medium format camera as though it were a 35mm. What I do now is hold the camera in my left hand. Although it's heavy, the weight is better distributed for my small wrists. I have a metered prism so the meter is handy in the camera. I'm very happy with the results.
SB: Do you ever use a digital camera?
AA: Two years ago my father gave me a Nikon CoolPix, and I had so much fun with it. I loved watching the action move, and stopping it. To me film and digital are entirely different, much like film and video.
SB: Your most recent book, The Inconvenience of Being Born (published by Fotofolio, 1999) has earned a lot of praise. What made you decide to photograph babies?
AA: All my friends were having babies, and I started making pictures to give them as gifts. Then I realized what I was seeing was something strange and new. My book is not a collection of cute pictures of babies. It deals instead with all the incredible complexity and drama of what it's like to be born. I believe we are all who we are from the moment of conception. While environment is hugely important, character is there from the start. Being an infant is an extremely intense experience. That's what my photographs are about.
SB: Some of your work, such as the prostitute series you photographed in New York City, puts you in dangerous places. Are you ever afraid?
AA: I was raised with no fear. When I see trouble up ahead, I think that it is going to come and get me. Because I know I can't outrun it, I go toward it.
For the prostitute series, I befriended a taxicab driver in New York whose garage was in the Lincoln Tunnel area. He knew a lot of the "girls" and he drove me around every Friday and Saturday night. It was fascinating to me on so many levels. I had never photographed on the sly. In this case I had no choice. But in retrospect, I realize it was quite dangerous. The girls are not supposed to be photographed, and the pimps are not shy about showing you their guns, and telling you they're not afraid to use them.
SB: I think of artists as leaving tracks; people making a kind of record of the era in which they live. What do you hope to leave as your creative legacy?
AA: I think of myself as a social anthropologist documenting our times. But nothing pleases me more than making people laugh. I hope people will say, "she's funny."

LATEST VIDEO