Imaging Software On Parade; Snoochie Boochies, Batman, Here's More Software
"Human mechanisms are made by human hands, Robin. None of them is infallible."—Adam West as Batman
What's in your utility belt? This month, I'll introduce you to some useful Mac OS and Windows imaging software that will enhance productivity, increase your creativity, and often costs just a few bucks. To add some spice I've included a few useful hardware accessories that will make life in the studio safer, better, and will result in fewer interrupted portrait sessions.

HDR 4 U & Me
HDR Express software from Unified Color Technologies (www.unifiedcolor.com) automates some of the more complex aspects of High Dynamic Range (HDR) photography. After merging the multiple exposures required by the HDR process into a single 32-bit image, the software's simplified user interface presents an exposure range preview of the image along with five tone mapping presets. For faster results, you can choose from a series of color and style presets or create your own using the program's adjustment sliders to manipulate brightness, highlight and shadow recovery, black point, contrast, saturation, and white balance. In addition to workflow enhancements, processing algorithms in HDR Express lets you view edits in real time. The software works with JPEG and TIFF files as well as many manufacturers' Raw formats. Bundled plug-ins for Adobe's Photoshop, Lightroom and Apple's Aperture let you "round trip" image files and after the work has been completed, you can save the results as a JPEG, 8-bit or 16-bit TIFF, or preserve the image's full dynamic range by exporting in Unified Color's native 32-bit BEF file. HDR Express costs $99 as a Mac OS or Windows download.
Tether Tools
Managing cables and connections is a challenge in a studio—even a temporary one—and TetherTools (www.tethertools.com) has come up with a clever solution in the form of two inexpensive and must-have accessories. Have you ever had a sync cable suddenly come loose from your camera? I have. Their JerkStopper Camera Support ($16.95) removes the stress and strain from the cord to ensure that the plug stays connected and protected from damage. The JerkStopper provides slack in the cord, preventing damage or dislodging, and after installation a quick disconnect allows future tethering set up in seconds. The JerkStopper supports cable diameters from 3.5mm to 8.5mm and works with any standard A/C power adapter cord, flash sync cord, USB, HDMI, or FireWire cable.

Has a cable ever accidentally been jerked out of your studio laptop and damaged the plug or cord? TetherTools' JerkStopper Computer Support ($7.95), when used in conjunction with the Camera Support, provides a complete tethered setup, removing the stress and strain from the cable and ensuring the plug stays connected and protected from damage. You can choose from four Computer Support models, including a USB port, a RJ11 (telephone modem jack), a RJ45 (network Ethernet jack), or select the Flat Mount design which touch fastens directly to the company's Tether Table (more on that clever product next month).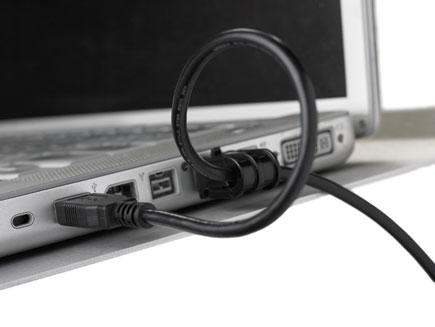 FEATURED VIDEO