How Photographer Stephen Wilkes Compresses Time to Create Startlingly Original Images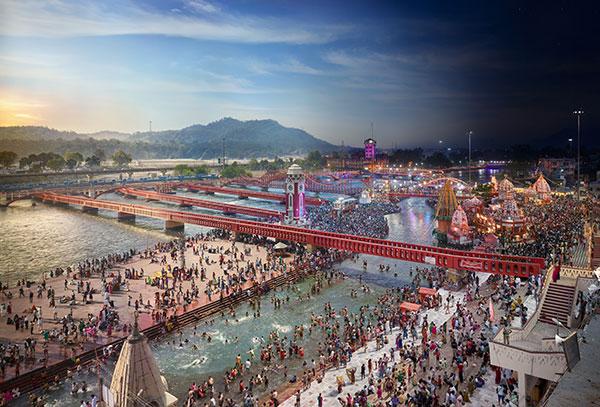 Stephen Wilkes carried the idea of day-to-night images for a long time. The seed was planted when he photographed the cast and crew of Baz Luhrmann's Romeo + Juliet for Life magazine.
"They wanted everyone in one panoramic photo," Wilkes says. "Problem was, the film set was square."
With David Hockney's collages in mind, Wilkes solved the problem by shooting 250 images across the scene, then spending a week gluing prints together.
"I thought, So cool, multiple moments in one picture." Years later, with Photoshop, the idea was even cooler: seamless stitching, no glue needed.
An assignment from New York magazine to photograph the High Line was the catalyst, as it gave Wilkes the opportunity to deliver a single image that captured the breadth and depth of the park over a period in time, from daylight activity to nighttime buzz.
And so was born Day to Night—a project of passion, persistence, and many hours standing behind a tripod-mounted camera 50 feet in the air in bucket trucks or on cranes, rooftops, or balconies. In nine years Wilkes has created 56 composites of worldwide iconic locations—this one's the Kumbh Mela festival in Haridwar, India—from unique perspectives. They are images that capture humanity within the context of a place, evoking collective memory and emotional connections.
It took all his storytelling ability—"It's that street photographer thing, that instinct to capture a moment"—not to mention his stamina, as he spends on average 15 to 18 hours on site, shooting.
These are not time-lapse images; there is no mechanical clicking of frames. "My eye decides what the moment is," Wilkes says. He chooses to make each shot—there can be between 1,500 and 2,000 taken—at the time he chooses for it, as he tracks activity and the changing of the light. "Light in my work is a narrative."
The assembled composites average 50 images. "First I create a background plate, then the best moments of time get layered seamlessly into that background," Wilkes says of the post-processing procedure, which can take four months.
Stephen Wilkes says the project has made him more observant, and his senses more acute. "I know I have greater sensitivity to visual cues, to the subtleties we don't often see, or even look for."
The Fine Art section of Stephen Wilkes's website, stephenwilkes.com, offers an extensive collection of Day to Night images as well as photos from his other projects. Wilkes's book, Day to Night, will be published this spring by Taschen. To see Wilkes talk about the project, Google "Stephen Wilkes TED Talk." A few minutes hunting on the web will turn up the Romeo + Juliet and High Line photos.
Tech Talk: Stephen Wilkes shoots his Day to Night project images with a Linhof 4x5 camera fitted with a Phase One digital back. His lenses range from 28mm wide to 180mm long, depending on his vantage point. He adjusts his shutter speeds to account for movement and changes in the light; the ISOs and f/stops are locked in for the shoot. The f/stops are chosen based on his research and testing for the sweet spot of each lens.