The Horseman 3D; Is It The Most Convenient And Automated 35mm Stereo Camera Ever?
Horseman is a name associated with high-quality, large format Japanese view and press cameras and lenses, but it's also noted for innovative designs. An excellent example is the Horseman 3D, the company's first 35mm stereo rangefinder camera. Basically it's a Hasselblad Xpan II that's been modified by installing a unit containing two 38mm f/2.8 Super Horseman lenses spaced 34mm apart on the front, and modifying the film aperture behind the shutter to provide two side-by-side 24x30mm frames separated by about 4.5mm. What enabled Horseman's designers to convert the Hasselblad Xpan II into an effective and useful stereo camera was its format and shutter--the sadly discontinued Xpan II, which was marketed in the US by Hasselblad but actually made in Japan by Fuji, offered a choice of standard 24x36mm or panoramic 24x65mm images on the same roll. It therefore had a wide enough metal-blade focal plane shutter to cover the Horseman's stereo format. All other Horseman 3D features closely parallel those of the Xpan II tested by Shutterbug. Go to www.shutterbug.com and type Hasselblad Xpan into the search engine for a full rundown on its specs.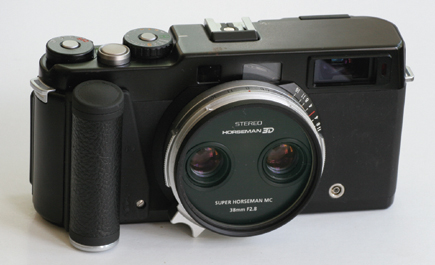 Front view shows surprisingly comfortable cylindrical grip (which holds two CR2 cells to power motor, shutter, and exposure system), conveniently-shaped finger tab on focusing collar, and textured ears on aperture ring. Virtually all-metal camera is hefty, but fairly compact and nicely contoured and balanced for handheld shooting.
As you'd expect from its noble pedigree, the Horseman 3D is beautifully made and finished--in satin black. Its cosmetics, including leather-textured, cylindrically-shaped handgrip, Leica-style focusing tab, and prominent depth of field scale behind the focusing collar, are more traditional in appearance than the gray futuristic-looking Xpan II. It's a solid, hefty, virtually all-metal machine weighing a skosh under 2 lbs and measuring 6.5x3.2x2.6". Unlike most 35mm stereo cameras of the past and present, the 3D has a very wide range of electronically-controlled shutter speeds (8 seconds to 1/1000 sec plus B), motorized film advance at up to 2 frames per second on C (Continuous) setting, and Through The Lens (TTL) Aperture-Priority autoexposure via an angled, rearward-pointing SPD cell in the bottom of the chamber behind the left-hand lens.
View from the back: LCD on back provides ISO, flash, and exposure-compensation settings plus battery status and film-advance indicators. Settings are selected with mode button below, and changed with up-and-down arrow buttons at right. There are also mid-roll rewind and LCD illumination buttons to the left of the mode button and a cartridge ID window at the left-hand end of the hinged back.
The Horseman's coupled range/ viewfinder covers a focusing range from about 2 ft (closest marked distance is 0.7m) to infinity, and there's a true projected parallax-compensating frame line plus basic LCD exposure read-outs in the finder--camera-selected shutter speed in A mode, up-and-down arrows in Manual mode, plus an exposure-compensation icon.

There's a small LCD frame counter nestled in between the knurled shutter speed/A mode dial and the Shooting mode control (Off, S, C, and 2- or 10-second self-timer) atop the camera's right-hand side, right behind the electromagnetic shutter release. The big chrome aperture ring around the lens unit has convenient knurled "ears" for setting the large, legible f/stop numerals and it's detented at half-stop intervals from f/2.8-16. A medium-sized LCD on the back turns on when you press the "mode" button and has read-outs for ISO, exposure compensation, flash, plus read-outs for battery power, wind/rewind (the camera rewinds at the end of the roll), and multiple exposure mode, plus adjacent arrow buttons for selecting and making settings.
For the record, the Horseman 3D shoots 20 stereo pairs per 36-exposure roll, 13 pairs per 24-exposure roll, and six per 12-exposure roll.

FEATURED VIDEO