Holiday Books; For The Traditional Photographer
This has been a wonderful year for photography books and I've had the great pleasure to review a number of fantastic titles to share with you. This time I've saved the best for last and created a terrific collection of titles that will inspire you to the heights of creativity while allowing you to explore a few new techniques that are sure to raise your images to the next level.
Illustra: Portrait Of Rutgers: foreword by Robert Pinsky; Rutgers University Press, 100 Joyce Kilmer Avenue, Piscataway, NJ 08854; hardcover; 174 pages; $39.95; (ISBN 0-8135-3083-0)

With its long and distinguished history, Rutgers has become a place of higher learning as well as great beauty. The tranquil setting of its campus and handsome stone structures certainly make perfect photographic subjects but there is so much more to explore here. The high quality images quietly guide you through the campus and provide a candid look at the student body as they live and learn in their fantastic new environment.

It's certainly obvious that great amounts of loving care were poured into the creation of this charming coffee table book making it the perfect gift for your favorite Rutgers graduate or enthusiast.
Victorian Fashion In America: 264 Vintage Photographs; Edited by Kristina Harris; Dover Publications Inc., 31 East 2nd Street, Mineola, NY 11501; softcover; 88 pages; $12.95; (ISBN 0-486-41814-6)

If you have children or grandchildren then you must be familiar with the wide selection of fanciful titles from Dover Publications.

Victorian Fashion In America is a fascinating and informative collection of 264 vintage images. These Daguerreo-types, Calotypes, Ambrotypes, Tintypes, and Albumen prints provide an educational glimpse of life in Victorian times. This is more than just a simple picture book since it offers children some insight into the great importance of portrait photography and how it progressed during that time.

With all it has to offer, this book would make an inspiring gift for the tiny photographer in your life.
Some Trains In America; by Andrew Cross; Prestel, 175 Fifth Avenue, Suite 402, New York, NY 10010; hardcover; 156 pages; $45; (ISBN 3-7913-2679-1)

Like silver ribbons, they flow through crowded cities and peaceful towns, past lush farms, and into the endless lonely prairies. Railroad tracks are the bright threads that stitch our country together.

Such romantic visions ignited the imagination of photographer Andrew Cross and inspired his unique passion for freight trains. This book was fashioned from an exquisite collection of his images that document his adventure across America in pursuit of these powerful giants as they move across our varied landscape. His high degree of technical skill and keen eye for detail are plainly evident in each photo, which makes this book worth spending a great deal of time exploring.

I recommend adding this charming book to your library as you may find yourself developing the very same passion for trains.
Tokyo X; by Shunji Ohkura; Koda-nsha America Inc., 575 Lexington Avenue, New York, NY 10022; soft cover; 256 pages; $29.95; (ISBN 4-7700-2738-9)

Most people are acquainted with the picture postcard view of Tokyo, but Shunji Ohkura offers a very different look at this famous city, a dark and strange vision of Japan.

More than 250 of his thought provoking black and white images were gathered together for the creation of this unique book. They serve to deftly guide the viewer beyond the usual glitter of the tourist spots and into the gray areas of the city for an unforgettable journey into the bizarre shadows and wild back streets. His expert level of photographic skill and sharp eye for detail are truly inspiring, and this title is an excellent example of his work.

This is a delightful ride that inspires emotions and curiosity on all levels. I highly recommend having a look at this book.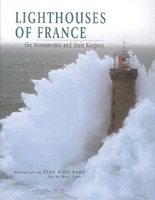 Lighthouses of France: The Monuments and Their Keepers; Photographs by Jean Guichard, text by Rene Gast; Flammarion, 26 rue Racine, 75006 Paris, France; hardcover; 143 pages; $29.95; (ISBN 2-0801-0715-1)

Like majestic and lonely sentinels, lighthouses stand guard between the sea and the shore offering hope of safe passage home to wayward ships.

Such poetic visions are associated with lighthouses both past and present, photographer Jean Guichard and journalist Rene Gast have combined their extensive talents to produce this wonderful book. Its pages are overflowing with amazing images of these important monuments while the text provides a wealth of insight into their rich history. The dramatic shots serve to highlight not only the fine architecture of some of these building but they also stress their important function and supply us with a portrait of their keepers as well.

This splendid combination of words and pictures transform this book into a treasure that should be a valued addition to your library.
Creative Landscape Photography; by Niall Benvie; Watson-Guptill Publica tions, 770 Broadway, New York, NY 10003; soft cover; 160 pages; $29.95; (ISBN 0-8174-3729-0)

While it's simple to grab a camera and head off into the woods in search of that perfect image, capturing the subtle mood of the scene can be a difficult task. Without the proper tools or skills, what your eye sees can be vastly different from what the film records.

With the expert aid of veteran photographer Niall Benvie at your fingertips, you can learn the true secrets behind the creation of stunning landscapes taken in all sorts of lighting and weather conditions. With helpful instructions and over 200 sample images, Benvie covers everything from creativity, to technique, choice of film, exposure, lighting, and composition. He even provides generous tips for digital imaging with information on scanners and printers.

This book is suited for all skill levels and should foster a whole new outlook on landscape photography.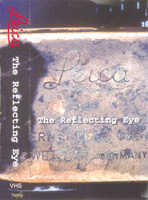 Leica, The Reflecting Eye; directed by Matthew Whiteman, produced by Philip Whiteman; Grasshopper Films, 5B North Street, Thame, Oxfordshire, England, OX9 3BH; Video; $35

The name Leica never fails to conjure fond memories for both collectors and professional photographers alike. In spite of that, it seems that the evolution of Leica equipment has seldom been fully explored but Grasshopper Films has created an engrossing documentary that effectively fills the void.

This well crafted video features professional photographers Hum-phrey Spender, John Bulmer, and Stephen Colover as they discuss the benefits as well as the flaws of the equipment. The video itself is engrossing as it brings to life the fascinating history of Leica. It's also good to point out the fact that the focus of the video was not limited to just rangefinders and important background information is provided on nearly ever topic.

Leica, The Reflecting Eye is an enthralling and informative video that is sure to be the perfect addition to any Leica lovers collection.
Action Photography: A Professional Approach; In Focus Productions Of New York, Inc., PO Box 449, Stony Point, NY 10980; Video; $29.95

Sports events provide a wealth of fantastic opportunities to capture breathtaking images on film. The only problem is knowing exactly how to freeze those dramatic moments to capture great photos and how disappointing it can be to discover that your images don't measure up to your expectations.

With the aid of this video from In Focus Productions' photography series, you won't have to waste valuable time or resources struggling to get that perfect shot. This 55 minute tape skillfully demonstrates plenty of professional tips on the most effective ways to capture action photos under various conditions. The lessons are expertly presented in an easy to understand format that is sure to hold your attention and speed learning.

This video is suitable for the advanced amateur or any professional with a desire to take the best action photos possible every time.
The D1 Generation; by David Cardinal and B. Moose Peterson; Moose Press, PO Box 3628, Mammoth Lakes, CA 93546; hard cover; 250 pages; $29.95; (ISBN 0-9709451-0-8)

By now, nearly every photographer is aware of how complex the operation of a digital camera can be, and the more advanced the model the more gizmos it's sure to contain.

Far from being a simple rewrite of the owners manual, this book is a clear examination of the Nikon D1, D1X, and the D1H. Each camera has its own section that begins with an introduction and then moves on to cover everything from the major features to the body, layout, monitor display and much more. The D1 Generation is packed with well written explanations that are easy to understand and hints that can help you unlock the power of digital technology.

If you have a true passion for these wonderful Nikon cameras then this title is something you must read.
The Art Of Color Infrared Photography; Steven H. Begleiter; Amherst Media, PO Box 586, Buffalo, NY 14226; soft cover; 126 pages; $29.95; (ISBN 1-58428-065-4)

The average roll of color film can produce beautiful results, but if you would like to take your images up a notch then try exploring the surreal world of color infrared film.

Professional photographer Steven H. Begleiter is your expert guide through this strange new world. He deftly explains everything from the electromagnetic light spectrum to the different types of CIR film and how to utilize filters to the best advantage. The text is well written and easy to follow for such seemingly complex subject matter. The unique quality of sample images sprinkled throughout the book are a wonderful incentive to test a few rolls of this film for yourself.

This title is best suited for the advanced amateur or professional photographer who wants to add an exotic twist to their color images.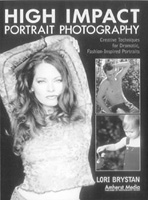 High Impact Portrait Photography: Creative Techniques For Dramatic, Fashion-Inspired Portraits; Lori Brystan; Amherst Media, PO Box 586, Buffalo, NY 14226; soft cover; 123 pages; $29.95; (ISBN 1-58428-062-X)

Why limit yourself to creating the same old portraits for every client? Utilizing the helpful hints contained in this guide can help you deliver unique images that are sure to set you apart from the crowd.

Lori Brystan puts her creative expertise to the test and provides sage advice on how to effectively photograph children, women, men, and families while maintaining that unique style and classic look. The chapters are helpfully broken down by topic to make learning quick and easy. A large amount of sample images are also used to illustrate the lessons while simple diagrams and detailed equipment lists explain how each image was captured. This well crafted book is sure to have a positive affect on the quality of your work.

High Impact Portrait Photography is best suited for the advanced amateur or the professional in search of a new approach to portraits.
Legal Handbook For Photographers: The Rights And Liabilities Of Making Images; Bert P. Krages, Esq.; Amherst Media, PO Box 586, Buffalo, NY 14226; soft cover; 123 pages; $19.95; (ISBN 1-58428-059-X)

Today, important legal issues can arise at any time. To avoid expensive complications or just bad experiences it's a good idea to be prepared, and this handbook can help.

It's a jungle out there, but since Krages is a practicing lawyer, writer and stock photographer, he has a unique understanding of the situation. This perspective has enabled him to craft a well written book about the legal issues that concern the field of photography. He included information on everything from photography in public to privacy issues, restrictions, and even how to effectively deal with the lawful or unlawful seizure of film and equipment.

Every photographer should own a copy of this book, so grab one today.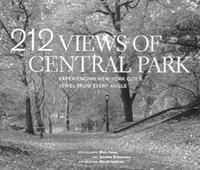 212 Views Of Central Park: Experiencing New York City's Jewel From Every Angle; photographs by Mick Hales, text by Sandee Brawarsky, introduction by David Hartman; Stewart Tabori & Chang, 115 West 18th Street, New York, NY 10011; hardcover; 160 pages; $35; (ISBN 1-58479-224-8)

Central Park is the perfect spot to escape the pressures of modern life and it is always filled with city dwellers and tourists alike. The over 26,000 trees shade peaceful lakes, graceful waterfalls, joyous fountains, and fantastic works of art that dot the tranquil landscape.

The park was founded in the 1850s and has grown to become the virtual center of New York City and a fantastic location to capture some truly beautiful images which is exactly what Mick Hales has done with this book. His high degree of talent as a photographer is evident in each image and Sandee Brawarsky's lively text brings a certain warmth and history to the work. Together they provide an unforgettable look at this natural jewel softly nestled in the heart of the city.

It's a journey I'm certain you will enjoy time and again so why not add this title to your library today.
Women Of Our Time: An Album Of Twentieth-Century Photographs; by Frederick S. Voss, preface by Cokie Roberts; Rizzoli International Publi-cations, 300 Park Avenue South, New York, NY 10010; hardcover; 176 pages; $35; (ISBN 1-85894-169-5)

Here is a book with an intriguing story to tell and it may be one that you have never heard before.

Frederick S. Voss collected 75 stunning portraits from various photographers who were able to capture some of the most important women of the Twentieth Century and he vividly brings them to life with detailed biographical information. It's certainly a fine mix of women who lived their extraordinary lives as the artists, athletes, poets, and aviators who helped to shape the world as we know it today.

This title is much more than just a dry and dusty history lesson, it's an adventure in time and one that should not be missed.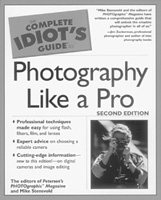 The Complete Idiot's Guide To Photography Like A Pro; Second Edition; by The Editors of Petersen's PHOTOgraphic Magazine and Mike Stensvold; Alpha Books, 201 West 103rd Street, Indianapolis, IN 46290; soft cover; 431 pages; $18.95; (ISBN 0-02-864387-9) & The Pocket Idiot's Guide To Photography; by Roger Woodson; soft cover; 184 pages; $9.95; (ISBN 0-02-862129-8)

Finally, there are informative how-to books for the absolute beginner in almost any subject. The Complete Idiot's Guide series explores everything from photography, to playing the guitar, and even conversational Japanese.

I just had the pleasure to receive their wonderful photography titles and they really are as easy and entertaining as they proclaim to be. Photography Like A Pro leads you along the road to successful 35mm SLR usage to produce fine quality images with ease. It's brimming with professional tips, techniques, and advice that even includes information on setting up your own darkroom.

The Pocket Idiot's Guide To Photography is also quite a treat. Its small size makes it easy to carry along on your adventures and it's also packed with tips, tricks, and valuable advice all at your fingertips.

Why waste time on trial and error when you can start off simply, quickly and effectively with the aide of these fantastic books.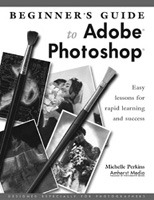 Beginner's Guide To Adobe Photoshop: Easy Lessons For Rapid Learning And Success!; by Michelle Perkins; Amherst Media, 155 Rano Street, Suite 300, Buffalo, NY 14207; soft cover; 128 pages; $29.95; (ISBN 1-58428-071-9)

Photoshop is a wonderful program but navigating past all the technical terms, choices, and special effects can be a daunting task for a beginner. There is hope, because after reading this book the obstacles encountered before can become useful tools you just can't live without.

Designed for the novice, this book is filled with easy step by step instructions, helpful before and after examples, along with fully labeled palettes, and dialog boxes. All of these elements combine to form a fantastic guide that simplifies the Photoshop process from start to finish. The 15 chapters range from basic topics and gradually move forward to more advanced techniques. It leads the reader through the levels with ease while building skill and confidence.

This book is suitable for photographers of all levels and I would highly recommend it for anyone who wants to explore the amazing possibilities of Photoshop.
Fine Art Nature Photography; Advanced Techniques And The Creative Process; by Tony Sweet; Stackpole Books, 5067 Ritter Road, Mechanicsburg, PA 17055; soft cover; 107 pages; $19.95; (ISBN 0-8117-2750-5)

This is a wonderful title for any photographer who desires to experience the magic of nature photography. A great way to get you stared in the right direction, the book is packed with various hints on creating the perfect image along with helpful information on the proper type of gear to use for each shot. This rich blend of technical advice and sample images combine to form a unique educational experience for all skill levels.

LATEST VIDEO