Holiday Books; For The Traditional Photographer
I must say that this past year produced a truly wonderful assortment of titles and since it's holiday time, I present a collection of a few of the finest photography books of 2003 as my gift to you. I hope you find them to be as inspiring and creatively enlightening as I did.
Micro Art; by Roberto Dabdoub; Pelican Publishing Company, PO Box 3110, Gretna, LA 70054; hard cover; 128 pages; $19.95; (ISBN 1-58980-073-7)
Roberto Dabdoub will guide you beyond the confines of normal photographic processes to view the strange world found on the other side of a microscope's lens. The vividly colored images are the product of his highly innovative electro-imaging technique that reveals the unearthly beauty of chemicals, plants, bone, and metal. With a spark of electricity, these somewhat mundane substances take on an ethereal quality formed of wild geometric shapes and rich vibrant colors straight from nature's imagination. There are 117 unique images to enjoy and they make this book a treat for the eyes as well as the mind.
Passing Gas And Other Towns Along The American Highway: Portraits From The Heartland; by Gary Gladstone; Ten Speed Press, PO Box 7123, Berkeley, CA 94707; soft cover; 144 pages; $19.95; (ISBN 1-58008-456-7)
Award-winning photographer Gary Gladstone transformed an adventure across America into a truly delightful book. His journey brought him to such noteworthy places as Nothing, Arizona; Embarrass, Illinois; Looneyville, West Virginia; and Greasy Corner, Arkansas, to capture warm hearted portraits of randomly chosen residents. Each image is paired with a caption that reflects a friendly sense of humor as it tells the tale of how the shot was taken and reveals a bit of information about the town itself. This book is a pleasure to read so why not have a copy on your coffee table.


Chinatown Dreams: The Life and Photographs of George Lee; by Geoffrey Dunn, Lisa Liu Grady, Tony Hill, James D. Houston, Sandy Lydon, Morton Marcus, and George Ow, Jr.; Capitola Book Company, 1601 41st Ave., Capitola, CA 95010; hard cover; 140 pages; $39.95; (ISBN 0-932319-06-8)
This wonderful title is a delight on so many levels because it not only documents the life's work of an accomplished photographer, but it also sheds light on a part of America's past as seen through the eyes of Chinese immigrants. In the years before World War II, George Lee called the Chinatown section of Santa Cruz, California, home and his well-crafted black and white images capture the essence of that moment in time. There are plenty of excellent examples of Lee's impressive body of work that are carefully interspersed among loving text provided by his friends and fellow artists. Together, they make this book a pleasure to explore.


Searchings: Secret Landscapes of Flowers; photographs by Barbara Bordnick; Welcome Books, 6 West 18th St., New York, NY 10011; hard cover; 128 pages; $40; (ISBN 0-941807-74-6)
Flowers are perfect examples of nature's ability to create beauty and photographer Barbara Bordnick has an extraordinary talent for capturing the soft curve of a petal and delicate shifts of color on film. Each close-up image of a blossom is taken on a stark white background which does an excellent job of focusing the viewer's attention on every tiny detail. The result is a study in form and color like none other which makes this title a refreshing treat for the eyes. I recommend this book for its high quality and delightful choice of subject matter.
Montana Wildlife Portfolio; photography by Donald M. Jones, foreword by Rick Bass; Farcountry Press, PO Box 5630, Helena, MT 59604; hard cover; 120 pages; $24.95; (ISBN 1-56037-242-7)
If you happen to be a fan of nature photography then Farcountry Press has a special treat to offer. Every page of this book by Donald M. Jones is graced with a magnificent image of Montana's heavenly abundance of wildlife. It's easy to see that each shot was captured with a deep sense of wonder, technical skill, and more than just a tiny hint of humor that is often echoed in the well written captions. Jones' high level of photographic expertise is keenly apparent and when all these elements are combined it certainly makes this title a magical treat for the eyes as well as the soul.
Ireland: On The Edge of Europe; by Agnes Pataux, introduction by Colm Toibin; 5 Continents, Independent Publishers Group, 814 North Franklin St., Chicago, IL 60610; hard cover; 128 pages; $29.95; (ISBN 88-7439-029-7)
This delightful book contains a stunning collection of 80 black and white images that deftly showcase the high level of photographic expertise and artistic prowess that Agnes Pataux possesses. Her keen eye for detail allowed her to uncover the rustic charm and natural beauty of Ireland in a way that is both interesting and heart warming. The images are paired with a lovely introduction by journalist and fellow author Colm Toibin and together they create a wondrous experience for the reader to cherish.
An Eye For Beauty; by Evelyn H. Lauder with an introduction by Amy Spindler; Harry N. Abrams, Inc., 115 West 18th St., New York, NY 10011; hard cover; 128 pages; $35; (ISBN 0-8109-3284-9)
Now you can embark upon an unforgettable journey and explore seven unexpected themes of natural beauty through the images of Evelyn H. Lauder. This wondrous collection of 105 photographs illuminates the various and delicate wonders of nature as well as the intricate creations crafted by human hands and the proud eloquence of the human face. Together, these images form an unforgettable book that you'll be sure to cherish and enjoy. Aside from its high quality and special beauty, another facet to this stunning project is the fact that all the royalties will be donated to The Breast Cancer Research Foundation. This project is certain to generate much-needed funds to help find the cure.
Masters Of Surf Photography; by Warren Bolster; Journal Concepts, Inc., PO Box 4006, San Clemente, CA 92674; hard cover; 252 pages; $65; (ISBN 0-9663771-3-3)
While you don't have to own a surfboard to enjoy this fantastic collection of images, after reading this book you just might want to try the sport for yourself. Warren Bolster certainly shows off his exquisite photographic skills while sharing some the best highlights of surfing and skateboarding from the 1970s, '80s, and '90s. His photographs are alive with a sense of unrestrained energy and you can almost feel the heat of the sun or the touch of salt water on your skin. The high quality and variety of images make this a must-have addition to your library and I highly recommend taking a look at this attractive book.
Natural Dance; by Hal Eastman; Peregrine Images, 702 W Idaho #360, Boise, ID 83702; hard cover; 116 pages; $60; (ISBN 0-9723883-0-3)
Here is a fascinating collection of haunting images that evoke the energy and vitality of dance in its purest form. This is Hal Eastman's unique body of work and he produced a selection of ethereal, colorful shots that are simply breathtaking. Although he is a relatively new photographer it's plain to see that he has a sharp eye and an innate artistic talent that is able to capture scenes straight from the imagination. I highly recommend this title for its dream-like feel and high quality. The fact that some of the proceeds from the sale of the book will be donated to non-profit dance and women's advocacy organizations is a wonderful added bonus.
Ansel Adams: America's Photographer; by Beverly Gherman; Little, Brown and Company, 1271 Avenue of the Americas, New York, NY 10020; hard cover; 110 pages; $19.95; (ISBN 0-316-82445-3)
Beverly Gherman offers a rare opportunity to look beyond the magnificent images of Ansel Adams to reveal the unique story of this talented photographer's life. The book begins with Adams' birth in 1902 and touches upon treasured milestones like his marriage to Virginia in 1927 and spans the interesting and some times amusing evolution of his career. This intriguing biography is generously spiced with a healthy supply of images that are simply not available anywhere else. While this title is designed for the young reader I believe that it would be of great interest to the young at heart as well.
Labyrinths & Mazes; by Jürgen Hohmuth; Prestel, 175 Fifth Avenue, Suite 402, New York, NY 10010; hard cover; 176 pages; $55; (ISBN 3-7913-2922-7)
The labyrinth was created as a sacred design that held a powerful significance for many cultures across the globe. Renowned photographer Jürgen Hohmuth has traveled around Europe documenting these beautifully mystic pathways and unraveled their long hidden secrets. Hohmuth explores the rich history of the labyrinth beginning with the mythical tale of the Minotaur to fanciful English garden mazes to modern artistic creations and fairground fun. The images were captured with a custom-made camera cleverly tethered to a miniature blimp and it's proven to be a most ingenious idea that produced excellent results. The 160 photographs are accompanied by well written text that adds a touch of whimsy while it educates the reader on the subject. It's a great combination that make this book a joy to read.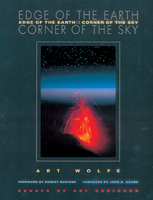 Edge Of The Earth Corner Of The Sky; photographs by Art Wolfe, Essays by Art Davidson, forewords by Robert Redford and John H. Adams; Wildlands Press, 1944 1st Avenue S, Seattle, WA 98134; hard cover; 240 pages; $75; (ISBN 096759182-1)
In order to capture the fantastic beauty of our world, Art Wolfe embarked upon a nine year journey to craft a collection of awe inspiring images in the style he is famous for. Blended with the heartwarming essays of Art Davidson, the words and images make this book a real treasure. It contains 161 stunning photographs and five educational essays that expertly express the wonder as well as the fragility of our world and the damage mankind has wrought upon it. Deserts painted in varying shades of red and orange give way to images of deep blue oceans, lonely mountain tops, lush forests, and frigid polar landscapes as seen through the eyes of an expert photographer. It's an adventure like no other so I highly recommend that you add this book to your own personal library.
The Garden; by Freeman Patterson; Firefly Books Ltd., 4 Daybreak Lane, Westport , CT 06880; hard cover; 192 pages; $45; (ISBN 1-55263-517-1)
Award-winning photographer and avid gardener Freeman Patterson, has captured a truly magical vision of nature with his collection of 200 images. Many of the photographs have the appearance of impressionist paintings that are alive with movement and color while others are lovingly crafted close-up shots that exhibit an experts eye for composition. The images are paired with the perfect amount of knowledgeable text that make this book a delight to behold.
Healing Ground: A Visionary Union Of Earth And Spirit; photographs by Trish Tuley, poetry by Myra Dutton; Celestial Arts, PO Box 7123, Berkeley, CA 94707; soft cover; 138 pages; $24.95; (ISBN 1-58761-201-1)
A beautiful image is a feast for the eyes while captivating words refresh the soul. That is the simple truth and philosophy that sparked the production of this unique title. Award winning photographer Trish Tuley contributes a marvelous collection of nature images that express America's wondrous sights and poet Myra Dutton provides a wealth of delicate prose as a perfect compliment. Together, they transform the pages into a visual harmony that is spiritually uplifting and begs us to cherish the gifts that mother nature has bestowed upon mankind.

LATEST VIDEO