The HiTi S400; A Dye Sub Printer For 4x6 Prints With Style
The line-up of quality 4x6 desktop printers now includes a number of models in the dye sublimation realm. These printers offer computer- or computer-less printing with a host of input options. Smaller than your inkjet, they offer convenience, fast printing, and, increasingly, fairly sophisticated processing options. We recently had the opportunity to work with a new printer from Hi-Touch, a company that's consistently scored high and earned top honors at the annual photo trade show "shootouts," print competitions voted on by photo industry show attendees.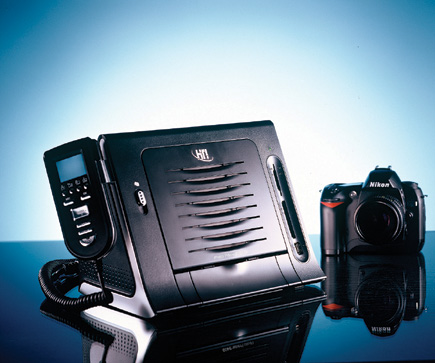 The HiTi S400, with handheld controller, cables, and software with well printed instructions goes for $249 list.
The latest of their models is the HiTi S400. The new models are substantially smaller than previous ones from the company and offer enhanced print speeds (under 60 seconds for a 4x6) and what they dub a "Wizard Window" controller, a handheld device for accessing menus and image options. It also offers various types of connectivity, including with a PC via USB, direct card printing, digital camera hookup, card reader hookup plus wireless connection with camera phones enabled with Bluetooth Mobile via an optional Bluetooth dongle. Along with the printer comes a new set of "whiter" papers, which in dye sub is solely dedicated to the printer. Recognizing that dyes can be attacked by environmental factors, the company has included a transparent resin layer said to protect the photo after printing from UV rays, oxidation, and other pollutants, all of which affect
color stability.

Although the printer comes with a standard USB connection for making prints from a computer, we felt that its chief advantage was in computer-less printing. After a quick setup that involved placing the dye ribbons and paper in the printer, we inserted a 1GB CompactFlash card, with images from the new Olympus EVOLT E-500 digital SLR into the appropriate slot. The printer's LCD Wizard Window is the heart of controlling image choices and editing options for computer-less printing. You can print out an Index print of all the images on the card, or use the Wizard's screen for select image printing. Scrolling through the images on the screen was fast and easy, although for those with lots of images on a card, making an Index print first is the best course.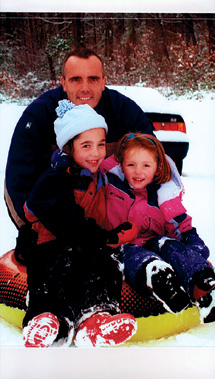 This strongly backlit scene on a snowy day was handled well by the 8-megapixel Olympus EVOLT E-500 metering system. The shot was made with Fine/JPEG, which meant that when opened it yielded a near 24MB file size. That size didn't slow down the HiTi S400 at all, which kicked out a perfect print in under a minute.
All Photos © 2005, George Schaub, All Rights Reserved
The screen on the Wizard shows all the images in sequence, and to get to the next set of images all you need do is work the scroll key, which highlights the selected image with a red border. Then, hitting any key starts the printing sequence. Prints took a bit less than a minute. There are four passes, three color passes and the last being the protective coating.

Any question about quality was quickly settled, as the prints looked as good as any we've seen from kiosks or home printing on 4x6. The controller allows for editing functions as well, including brightness, sharpness, contrast, and color shifting, if desired, but our shots straight from the camera printed just fine without any need for enhancement. Media comes ready to go in 50, 100, and 200 print packs for prints and special packs for creating photo stickers.
This fill-flash shot proved no problem for the HiTi S400 image processor, which delivered a print that has excellent tonal value and especially good skin tones.
At $249 (list price) the HiTi S400 is guaranteed for 10,000 prints. As mentioned, previous HiTi printers have been consistent winners at photo show output competitions in their class.

Judging from what we got the first time out with this printer that winning streak should continue.

For more information, contact Hi-Touch Imaging Technologies, 285 S Dupont Ave., Ste. 104, Ontario, CA 91761; (909) 974-0099; www.hitouchimaging.com or www.hitishop.com.

LATEST VIDEO

SPONSORED VIDEO
Testing Tamron's SP 150-60mm G2 lens while capturing birds and alligators in Apalachicola, Florida.