A Head In The Clouds; With Down To Earth Photography
"A Dream is where a boy can swim in the deepest oceans and fly over the highest clouds."—Joanne K. Rowling
From time to time I like to use this space to introduce you to computing trends that affect digital imaging. This month Web Profiles is brought to you from the clouds. Cloud computing refers to computing resources that are accessed and usually owned and operated by third-party providers. The term "cloud computing" comes from its graphical depiction in technology architectural diagrams as a cloud. Consumers of cloud-computing services purchase capacity on-demand and are not generally concerned with the technologies. The incentive to share hardware among multiple users is increasing, while the drawbacks in performance and interactive response used in remote and distributed computing solutions are theoretically, anyway, being reduced. As a result, services that can be delivered from the cloud have expanded past web applications to include storage, raw computing, or access to specialized services. Services such as SmugMug, Flickr, and others are what I tend to think of as benign applications of cloud technology. Services such as Photoshop Express are, in my opinion, less benign because I worry how the telecoms are working to control our access to the Internet. Nevertheless, applications of cloud/utility computing are expanding as connectivity costs fall and as hardware becomes more efficient.
www.cloudappreciationsociety.org
From 1922 into the '30s Alfred Stieglitz produced cloud photographs he called "equivalents" and featured images that emphasized pure abstraction that he believed represented our corresponding inner states, emotions, and ideas. In the stage play Snoopy: The Musical the Peanuts gang sits around staring up at the clouds while each of the kids sings in detail what he or she thinks they see in the shapes of the clouds. At the end of the song Lucy asks Charlie Brown what he see and he replies, "I was going to say a horsey and a ducky." The Cloud Appreciation Society welcomes both kinds of people to their affordable (£5.56, which is about $9) organization and offers a website that's overflowing with photographs of clouds like you've never seen them before. When looking at the galleries of images that are submitted from members all around the world you will be enthralled and awestruck by the many variations there are in clouds and lighting effects that are captured by these cloud hunters. The more technically inclined will find images and links to NASA sites containing photographs that are full of scientific wonder and good old-fashioned, gee-whiz cloud photography.
www.robertleon.com
Robert Leon is a photographer whose work combines traditional travel photography with elements of photojournalism, producing a documentary approach that makes you thrilled by the exoticism of the images but also makes you think at the same time. As a Canadian, he can travel freely to Cuba and his photographs of the culture and people of this island are not to be missed, especially the dichotomy of photographs of showgirls in skimpy costumes against images of grandmothers surrounded by their grandchildren amid religious icons. Yet Leon's photographs make no judgments about these people; he captures them using naturalistic color—except for the showgirls—that only enhances their humanity. Half a world away both culturally and stylistically, Leon takes you to Italy and the Riviera di Levante for what in others' hands would be traditional travel photography but here becomes a trip to Oz. He uses superb compositional skills to show you Italy in many new ways, all of them breathtaking.

He's no one-trick pony; Leon's photographs of Mohawk culture are mostly monochrome and feature one or two of the kinds of images you might expect, but then take you into directions Edward Curtis never thought about. Some, like his "flying" photograph of Albert Stalk, are mystical while others, such as a series of portraits of a "Mohawk Girl" in a cornfield and water, offer a sensuality seldom seen in this type of photography. I guess that's what can be said about the rest of Leon's work, and while all functions of his website may not always work as well as they should, who cares?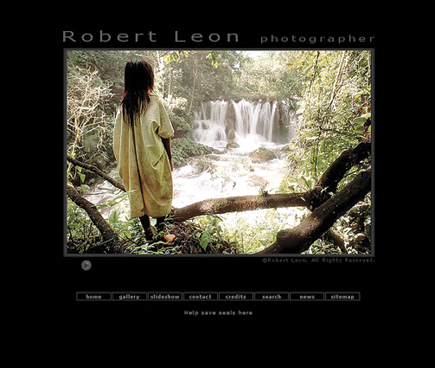 © 2008, Robert Leon/robertleon.com, All Rights Reserved

LATEST VIDEO