Hands-On with the Sigma 500mm Lens & Hasselblad's V1D Medium Format Camera (PHOTOS)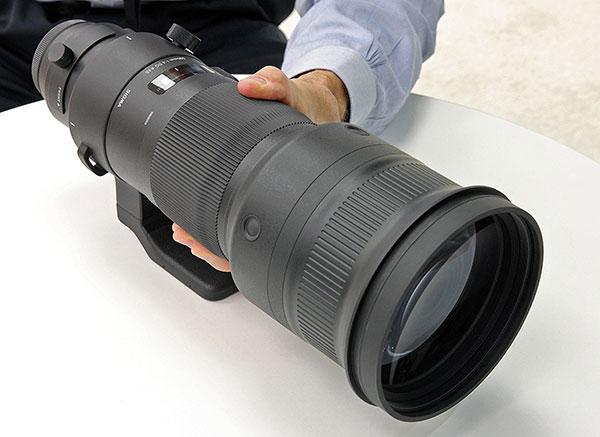 Part of the fun of the photokina show in Cologne, Germany this week is getting to actually touch and try much of the new camera gear that's been announced in the past month. In particular we were exited to the get our grubby paws on the new Sigma 500mm f/4 DG OS HSM lens and a prototype of the Hasselblad V1D, a concept digital version of the Hassy's legendary V line of medium format cameras.
The new Sigma 500mm f/4 DG OS HSM (see image at the top of this story), is the flagship of Sigma's Sports line and, as you'd expect, it's relatively large (5.7 inches in diameter x 15 inches long), and fairly heavy (7.3 pounds) but still quite manageable with a built-in tripod socket with click-stops at 90-degree intervals, and a new Intelligent OS algorithm in its built-in OS (optical stabilization) system to ensure effective panning. This full-frame beauty has a robust, lightweight magnesium alloy barrel.
The lens that generated the most buzz at the show though was clearly the new Sigma 85mm f/1.4 DG HSM (above), a high-speed medium telephoto targeted at portrait and street photographers. This substantial full-frame lens incorporates 14 elements in 12 groups, including 2 SLD elements and one LD element, is said to combine attractive bokeh and ultra-high resolution to deliver the full potential of 50+MP cameras, and features dustproof, weather-resistant construction.
The new Sigma 12-24mm f/4 DG HSM ART (above) for full frame and APS-C format cameras promises to be a versatile high-speed wide-angle zoom and is claimed to achieve exceptional image quality over its entire focal-length range thanks to a largest-in-class 80mm-diamter aspheric element and FLD (fluorite equivalent) elements used in its construction. It also features dust- and splash-proof construction.
Meanwhile, Hasselblad was turning heads at its booth with its V1D (above), which is an updated version of the company's classic V-series mechanical medium format film cameras. While it's only a "concept" camera at this point, the V1D will feature a modular design and a 75-megapixel, square-format image sensor.
The Hasselblad V1D was being shown "under glass" in a locked case but we were able to persuade the helpful folks at the company's booth to take it out for us for a few minutes. It was impressive and the modular format and simple, classic design showed a lot of potential.
You can read more about the Hasselblad V1D here and more about Sigma's new lenses here.

FEATURED VIDEO