Tips on How to Choose the Best Flash Modifier for Your Camera Strobe
Modern digital cameras perform so well under dim light at high ISO settings that some photographers haven't used a camera flash for months (maybe even longer). Well, here's a news flash for them: for a small investment and a little practice they can turn most shoe-mount flash units into a controllable package of portable sunshine.
There are three general reasons to use flash modifiers. The first is to remove the dark shadows that direct flash creates. The second is to remediate the redeye effect that results from flash reflecting from the inner wall of the subject's eyeballs. The third is to create lighting that flatters the subject and makes the overall photograph more pleasant. There are technical reasons to use modifiers, too, for instance to increase flash coverage of wide shots and to reduce flash output for macro images.
These improvements come at a price. Virtually all flash modifiers eat light, and that can translate into shorter working ranges and exposure limitations. Some are downright ungainly and clumsy to use and even more awkward to store and transport. Others are large and billowy and therefore dangerous to use on windy days. But for all their shortcomings, the rewards outweigh the deficiencies if you want to improve your flash photos and, for the most part, once the flash modifier has been attached to the shoe-mount flash, operation proceeds as usual. TTL flash will continue to operate TTL and other auto flash systems generally will too.
Categories And Uses
Flash modifiers can be separated into three categories. First come the domes, so-called because they resemble small, translucent bowls or the shrunken remnants of a food storage container left in the microwave for too long. They fit on top of the flash unit, covering the flash tube window. When the flash fires, it illuminates the dome and the light is diffused and scattered.
The second type of flash modifier is the reflector. These attach to the body of the flash unit and are positioned so that light from the flash tube bounces off of their white or silver surface and is thereby dispersed. The result is similar to bouncing light from a wall or ceiling with these advantages: the light is stronger because it doesn't travel as far; the color temperature is more accurate and consistent because the color of the reflective surface is constant; the unit is portable and can be used when the photographer is not near a wall or there is no ceiling—like outdoors, for instance.
The portable softbox, the third flavor of flash modifier, resembles a lopsided box kite with one large, flat translucent surface. The flash unit is positioned on the opposite side of the box so that the full force of the flash tube is directed toward that surface. They work remarkably well, delivering soft, even lighting. Drawbacks: they are often ungainly and conspicuous. On the plus side, they collapse or fold up for easy transportation and storage. And they can be used with the flash off-camera to light up small items for macro photography and for attractive portraits.
With all that in mind here are some good examples of all three types. There are many more on the market, but I chose these because to me they are emblematic of the categories. Check the websites of the companies mentioned for more on their product lines.
Sto-Fen Omni-Bounce
One of the most popular dome diffusers is the Sto-Fen Omni-Bounce. It's quite affordable (most models are under $20), durable, and very easy to carry. There are several models, one for every type of popular flash. They are very simple to use (attach and shoot) and require no fasteners, bands, or Velcro. The results are somewhere between a bare-bulb effect and bounce.
Price: $19.95
Info: www.stofen.com
Harbor Digital Design Bounce Diffuser
The Harbor Digital Design Bounce Diffuser is a dome-type diffuser that slips over the business end of a shoe-mount flash and softens the output. It attaches without straps and hardly changes the appearance of the flash unit. The base is made of durable plastic and the dome is made of a white semi-transparent material. I have found the light loss with this product to be minimal.
Price: $19.95
Info: www.harbordigitaldesign.com
Gary Fong Lightsphere
Gary Fong is quite a photographer himself in addition to being an inventor and entrepreneur. The Gary Fong Lightsphere Collapsible Generation Five Speed Mount is a soft-bodied dome that gently disperses the strobe light, both softening shadows and smoothing the overall illumination. It features an interchangeable dome system and conveniently collapses for storage.
Price: $59.95
Info: www.garyfongestore.com
Spinlight 360 EXTREME
Made in the USA, the SpinLight 360 EXTREME Modular System is a hybrid product that combines the best features of domes and reflectors. Compatible with several popular flash units, the kit includes clear, white, and half domes, a snoot, reflectors, and colored gels. Once attached, it's easy to control the direction and quality of light from the flash because the entire apparatus rotates 360 degrees (hence the name). Fun system to use and very potent.
Price: $149
Info: www.spinlight360.com
ExpoImaging Rogue FlashBender
My favorite reflector is the ExpoImaging Rogue FlashBender. Think of it as a prehensile reflective sheet that can be formed into the shape of a jai alai basket, a flat wall, or anything in between. Mold it into what you will; it's held in position by three bendable spines that line the back. It attaches quickly via an integrated belt and fits virtually any brand of flash. It comes in several sizes, but the size I find most useful is the Large. The construction is top-notch and it's color neutral: it does not alter the color temperature of the reflected light. When finished, fold the FlashBender up and slip it in your bag. Talk about flexible.
Price: $39.95
Info: www.expoimaging.com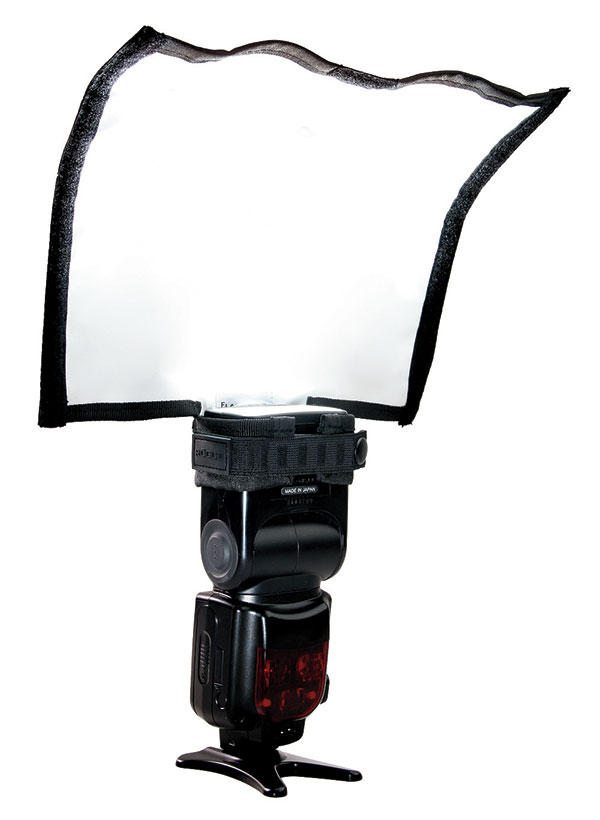 DEMB Saucer Flip-it! Dish Reflector
The Demb Saucer Flip-it! dish reflector for hot-shoe flashes reminds me of a foldable camping cup. The unique design opens to create a scoop-shaped, concave reflector that redirects the output from the flash toward the subject. The reflector is compact, just 5x5.5 inches, and also easy to use and carry.
Price: $34.95
Info: dembflashproducts.com
Dot Line Universal Bounce Diffuser
The low price leader—but still one of the most effective—is the Dot Line Universal Bounce Diffuser, which clocks in at less than eight bucks. Nearly resembling the warped canopy from a Conestoga wagon of yesteryear, this cloth reflector sits above the flash head like a tent and nicely diffuses the light output. It's compact, folds up into practically nothing, and is priced right—and definitely belongs in your camera bag, even if you don't use a diffuser often.
Price: $7.99
Info: www.dotlinecorp.com
Lastolite Ezybox Speed-Lite
Pros use softboxes in their studios on a regular basis. We can all enjoy most of the benefits of a softbox by attaching a portable version to a shoe-mount flash. The Lastolite Ezybox Speed-Lite attaches directly onto a flashgun, either on or off the camera. It's very portable and light, and of course folds up for transporting. With an 8.5x8.5-inch front panel, it's large enough for portraits and small enough for easy storage. Note that kits are available for both Canon and Nikon cameras.
Price: $105
Info: www.lastolite.com
LumiQuest Strobist Kit
The LumiQuest brand has been around for what seems like centuries, and the LumiQuest Strobist Kit is a fun package that includes their SoftBox III, FXtra gel holder, eight color gels, and attachment rigging. It's much like having a studio in a can. They also offer the popular standard LumiQuest SoftBox, which is seen on better cameras everywhere.
Price: $79.95 (Kit); $44.95 (SoftBox)
Info: www.lumiquest.com
XP PhotoGear Microbox PCD Kit
If you want a softbox that's on the large size, take a look at the XP PhotoGear Microbox PCD Kit. It's easier to use than it is to say and has a 10x13.9-inch front panel that features a double-layer diffuser inside for better light dispersion and to eliminate hot spots. The kit includes a collapsible softbox, a circular mask, and a strip mask for modifying the shape and output of the light.
Price: $54.95
Info: www.xpphotogear.com
Product photos are courtesy of the manufacturers.

FEATURED VIDEO