Greetings From The Planet Pixel
At photokina 2002 I got a glimpse of photography's future and--surprise--it was digital. Was it just a coincidence that the building next door to my Fawlty Towers hotel was called "Planet Pixel?"

The question everyone asks is how soon will everything be digital, but the answer, my friends, is in your hands. Unlike pundits in other publications that see digital photography as a marketing conspiracy by consumer electronics companies to force this technology down our throats, I think that ultimately how fast film gives way to digital is under your control--nobody else's. It wasn't all that long ago that Sony tried to sell us "still video" but we weren't buying it. It didn't work for the disc camera and it doesn't appear to be working for the Advanced Photo System no matter how much I love my Canon EOS IX. When asked about APS, camera makers all over the Cologne exhibit halls told me, "We're focusing on digital." The future of imaging is in your hands and film will be around as long as you are buying it.

More information about a specific product or any group of new products from a particular manufacturer may be found at their web sites. I've listed those sites for each company.
Is It Real Or Balsa Wood?
At the last photokina, Contax showed a wooden digital camera that's finally hit production in metallic form; while Pentax showed an interchangeable lens digital SLR that never saw the light of day but is now rumored to be resurfacing, albeit in a slightly different form. Not all Konica's innovatively designed digital cameras shown at photokina 2000 made it into production, but I'm sure they got lots of feedback.
Four Thirds, And Forward
This time the buzz surrounded the show's worst kept secret: Olympus' (www.olympusamerica.com) launch of a new compact digital SLR. eDigitalPHOTO.com's John Rettie and I grabbed the last two seats at the SRO press conference and waited for the punch line. But the high-powered panel never got to one. Instead of a new camera, what was announced was a new specification for a standard chip size, design specification, and generic lens mount.

The proposed Four Thirds system calls for the establishment of design requirements for digital SLRs that are not based on existing standards for 35mm film SLR camera system's lenses. Big Olympus, Fuji, and Eastman Kodak established a Universal Digital Interchangeable Lens System Forum and you'll probably be hearing a lot more about this concept before it quietly disappears.
Canon's New Digital SLR
On the other hand, a Canon (www.powershot.com) representative handed me a real EOS-1Ds that worked, focused and everything! I made a few photos with it using their awesome 15-35mm EF zoom lens and found operation and handling identical to the EOS-1D but weighing a 1/2 oz more than its not so featherweight sibling. The EOS-1Ds uses all of the Canon EF lenses you may already own, has 11.1 whopping megapixels of CMOS-style 4064x2704 resolution, and the chip's full frame 24x36mm size ends the "magnification factor" debate once and for all. A 256MB buffer lets you shoot a burst of 21 frames at a rate of eight frames a second. Since CMOS sensors consume less power than CCDs, battery life is improved, and the EOS-1Ds' battery pack can capture up to 600 exposures with one charge.
Kodak's 14Mp SLR
Not to be outdone, Eastman Kodak (www.kodak.com) raised the ante to 14 (actually 13.89, but who's counting?) thumping megapixels with its magnesium--not mahogany--bodied DCS Pro 14n digital SLR that's not only compatible with Nikon AF lenses, but the 24x36mm CMOS chip means there's no magnification factor with that manufacturer's lenses as well. What you see is what you get. Storage media is dual-slot Compact Flash and (now standard on all Kodak digicams) Secure Digital. The DCS Pro 14n is a chunky handful that's based on Nikon componetry but sports its own unique die-cast body and delivers beaucoups resolving power (4536x3024 pixels) for a street price "near $4000."
Foveon/Sigma Delivers
Foveon (www.Foveon.com) and Sigma Corporation (www.sigma-photo.com) revealed that the 3.54-megapixel SD9 digital SLR they announced at PMA will be available by the time you read this for $1800, or about 1/2 of its originally announced price. Foveon claims the SD9 produces images that are sharper, with better color details, and are more immune to color artifacts currently available in 6-megapixel cameras. Based on print samples that I saw and informal tests with a preproduction camera, this may be a slight understatement.
Hasselblad H1
With all my predications of doom and gloom for medium format I was more than surprised that Hasselblad (www.hasselblad.com) introduced an all-new H1 645 autofocus medium format camera system at photokina. See Bob Shell's report on page 64. But I was even more than amazed that Eastman Kodak also rolled out a DCS Pro Back 645H for this new camera. With 16-megapixel resolution and a cost of $11,995 to compliment the H1's price tag, this is not exactly what I had in mind as a way to help save medium format gear from becoming the new 4x5. But maybe that's its karma anyway.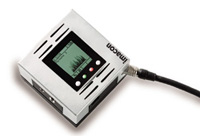 DigiBacks
Bigger is always better in digital backs. Creo's (www.creoscitex.com) Leaf Valeo 6 and 11 backs include a DP-67 detachable 6x7cm image display that they say emulates a "Polaroid or a digital proof" but also falls into the kind of insanely cool product that you wonder why it took so long for somebody to come up with it. The backs are available in 6 or 11-megapixel form depending on model and are designed for commercial andadvertising photography.

There were so many medium format digital backs on display in hall 10 (the pro area of the show) that you would think they were cheap. Imacon's (www.imacon.dk) 16-megapixel Ixpress captures 96MB files and has its own portable hard drive, the Image Bank, that can store 1000 files. Reminding me of what it's like to go window shopping for a Bentley Arnage, if you have to ask what all these pixels and coolness costs, you probably can't afford it.

Pixel Ponderings
During photokina, Lightware's (www.lightwareinc.com) Paul Peregrine asked me, "How many megapixels are enough?" My answer paraphrased what J. Paul Getty once said about how much money was enough: "Just a little more." So while the answer may be akin to how many angels can dance on the head of a pin, Sinar Bron Imaging (www.sinarbron.com) offered up its Sinarback 54, a one-shot 22-megapixel digital back delivering 4080x5400 pixels on a Kodak-designed chip. (Why isn't Kodak using this chip in their own digital back, you ask? "Don't ask," I was told.)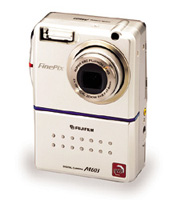 Point And Just Shoot Me
Am I the only person who is bored with most of the so-called state of the art point-and-shoot digicams? Oh sure, new, higher-resolution cameras are interesting if you're looking for your first digital camera, but if you bought a 2-megapixel model that was just replaced by a 3-megapixel model that's otherwise identical, including price, "happy" would not be one word describing you. Anyway, here are a few of the new digital point-and-shoots that didn't put me to sleep.

This "World's Fair of Photography" has more in common with Major League Baseball's World Series because some cameras are not sold to "the world" but only to select European and Japanese markets. One camera that at press time Fuji (www.fujifilm.com) thought might or might not make the US market is the amazing FinePix MX603. Shaped like a chubby pack of cigarettes (no, I don't smoke) and sporting a third generation Super CCD sensor of 3.1 megapixels, it has a jumbo-sized 2.5" LCD screen on back that makes it a great tool for capturing VGA-sized full-frame video at 30 fps. With a 1GB IBM Microdrive you can capture 15 minutes of full frame, full motion video. Hey, Fuji, bring this one to the US.

Replacing Minolta's DiMAGE X as the style setter's digital jewelry is Fuji's FinePix F402. Small, square, and with rounded corners, this elegant camera has easy to use controls and is bundled with a dock allowing you to transfer image files and video clips to your Mac OS or Windows computer while charging batteries and making coffee. Sorry, I was wrong about the last one. Like most new Fuji's it uses the tiny xD Picture Cards.

One of the coolest new point-and-shoots at photokina is what might be the first posh digital point-and-shoot camera: The Kodak LS443 is a 4-megapixel metal ("I think it's zinc," a spokesperson told me) camera body with 3x Schneider-Kreuuznach Varigon zoom lens and "indoor/outdoor" LCD preview screen that's supposed to make it easy to use in bright sunlight. With a price tag less than $500, this svelte and sophisticated point-and-shoot includes a special edition dock and li ion battery for recharging and transferring pictures to your computer or the Internet.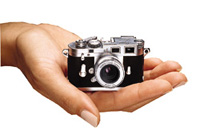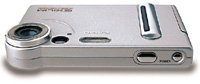 Reminding me more of "Barbie's digital Leica" than anything, Minox (www.minox-web.de) rolled out a miniature digital Leica M3! Yes, boys and girls, the Minox Digital Classic Camera Leica M3 (it almost takes more space to type it than the length of the camera body) is a 1.3-megapixel digicam that is so infinitely impractical that you just gotta have one. With its cute tiny flash gun, you know Ken's gonna want one, too. Minox also offers "real" digicams, too, such as the DC 3311, which has 3.3 megapixels, 3x optical zoom, and 2x digital zoom. While lacking some of the quirky charm of Minox film cameras, it's interesting enough to escape the boring digicam syndrome and delivers 2048x1536 resolution in a stylish, though Teutonic, package.

Another camera with a sense of style, if Casio (www.casio.com) decides to bring it to the US, is the 2-megapixel Exilim EX-S2 with its uniquely designed, chic metal casing. It's 3.5x2x.09" thick or more precisely thin, and weighs 3 oz. The f/3.2 lens has a fixed focal length (equivalent) of 36mm for 35mm cameras and there's a 4x digital zoom. The built-in flash is activated automatically under unfavorable lighting conditions. Its sister model, the Exilim EX-M2, has an integrated MP3 player, movie player (with sound), and sound recording function, and is only slightly thicker. Both models offer six preset shooting programs--portrait, landscape, night scene, sepia, twilight, and black and white. The Exilim cameras have 12MB internal image memory and a SD/MMC slot.
You don't need a lot of pixels to have a lot of fun. Samsung's (www.samsungcamerausa.com) elegant and sleek, Digimax 240 is a 2-megapixel digital camera with a 3x optical and 2x digital zoom and 1.6" LCD monitor for preview and review in multiple languages. Other features include a video clip function for capturing motion that's limited only by the available memory. Images are stored on an internal 8MB flash memory or SD/MMC card. There is also a DPOF (Digital Print Order Format) function so that images can be printed without transferring them to a computer.

Konica (www.konica.com) upgraded the stylish and practical Revio KD-400Z, that my wife Mary loves using, into 5-megapixel form as the KD-500Z, but the star of their booth was the Revio C2. Sure it's just 1.2 megapixels and uses a CMOS sensor and fixed focus lens, but its tiny, stylish form factor places it firmly in the photo jewelry department like the Fuji FinePix F402. The Konica stand includes a display of the camera in various colors as well as custom painted with various nations' flags. To see one is to want one.

Olympus likes to call its Camedia C-5050 Zoom a "pro" camera and while there's no denying the f/1.8-2.6 3x zoom lens and 5-megapixel resolution are things most professionals will appreciate, I doubt few would actually use it for a paying assignment. Nevertheless there's lots of high-end features including sophisticated exposure options with a histogram function to make certain images are perfectly exposed plus a built-in high-power flash and hot shoe. A tilting LCD monitor a la E-20N lets you capture photographs while dangling at awkward angles including the famous "Hail Mary" shots.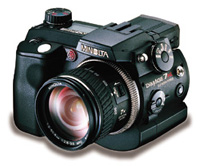 An SLR that's more likely to be used by some pros on assignment, if only as a back-up, is Minolta's (www.minoltausa.com) new DiMAGE 7Hi which features a 2/3"-type CCD image sensor with 5-megapixel effective resolution. The camera incorporates a 7x zoom Apochromatic Minolta GT lens with two anomalous dispersion glass elements, combined with a 2x digital zoom, providing a compact lens design with a wide image capture range. The optical zoom lens range is equivalentto 28-200mm.

Whether Ricoh (www.ricoh.com) sees fit to bring its PDA form factor Caplio RR digicam with pop-up 2" LCD screen to the U.S.A. remains to be determined, but it's far from another me-too Windows-only camera. Its 3x zoom provides a practical 35-105mm (equivalent) coverage delivered to a 2272x1704 (seems kinda small these days doesn't it?) CCD chip.

Kyocera (www.yashica.com) increased their range of digicams with the credit card-sized Finecam S3L and S5, 3 and 5-megapixel digicams, and the 5-megapixel Contax (www.contaxcameras.com) TVS digital, yet another posh point-and-shoot camera that captures the essence of luxo Contax point-and-shoot film cameras. Is this a trend?

The d530 flex (www.rollei.de) is an interesting design that seems a bit large (it uses six rechargeable AA batteries) and perhaps not finished to the standards one normally associates with the name "Rollei," but at least it's not uninteresting. It has a large, bright optical viewfinder, big 2.5" LCD preview panel, and just as they are disappearing off computers all over the world, a SCSI port for direct transfer to Mac OS or Windows computers. Resolution is 2552x1920, and an f/2.8-4.0 Rollei D-Vario Apogon lens provides the equivalent of 40-120mm focal length.

Scan The Man
Except for the very high end, film and flat-bed scanners appear heading--at Internet speeds--for commodity status, with the only way to differentiate one from another being price, styling, and marketing (hey, maybe they'll try to drag us into digital imaging) so the only thing to differentiate between models will be practical features, such as Applied Science Fiction's (www.asf.com) ICE technology, which is now available on an affordable flat-bed such as Microtek's (www.microtekusa.com) USB/FireWire ScanMaker 6800. I watched the scanner instantly repair torn and ripped snapshots, saving untold hours of image editing. The package also includes trial versions of ASF's wonderful digital ROC and SHO plug-ins for further image correction and enhancement.

On the high end, there was the new Imacon Flextight 646 scanner that provides an optical resolution of 6300dpi and can handle negative or positive film from 35mm up to 12x17cm as well as reflective scanning up to the A4 European format. Imacon claims a 4.6 D-max in a single pass with the ability to scan up to 40MB per minute.
Software Vs. Hardware
The geniuses at nik Multimedia (www.nikmultimedia.com) have gone far beyond the expectations created by their previous Photoshop compatible plug-ins and produced what must be the most indispensable plug-in for anyone creating images with digicams--at all levels--and scanners. Dfine 1.0 lets you reduce digital noise, no matter what its source, allowing you to control and redefine image detail. You cannot only reduce noise, but also reduce JPEG artifacts and enhance color to produce better photographic prints. Working with a multi-level interface that lets you first analyze then customize noise reduction that can then be applied selectively using a pressure sensitive graphics tablet. Oh yeah, you can just reduce noise where you need it. Dfine may define (if you can excuse the pun) what is expected from any noise reduction software in the future.

ACD Systems (www.acdsystems.com) the Canadian company that produces the indispensable ACDSee, launched Version 5.0 at photokina. This newest upgrade to their Windows product (a Mac OS Version 1.65 is also available but does not share the identical feature set, but enough to be useful) includes a new calendar view that lets you search for image file (any multimedia file, really) based on the selected day, month, or year. ACDSee 5.0 also lets you group images--without moving the actual files--in multiple categories to help locate images faster without hogging too much space on your hard disk. You can also customize the interface to make it as fresh or traditional as you like showing only those toolbars and window layouts that you need, allowing you to speed up your workflow.

Ulead's (www.ulead.com) PhotoImpact 8 is a Windows-only image enhancement program that also works for the web and video. There are lots of new features that let you automatically enhance photographs using the program's Auto-processing commands to fix common problems. The latest version includes image management tools and lets you burn packaged albums, web albums, and even web slide shows into CDs for archiving or sharing.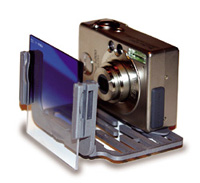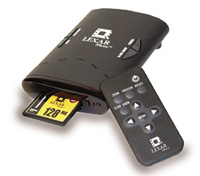 Making It Real
All you D60 and D30 owners who have envied users of the Hoodman (www.hoodmanusa.com) Hoodcap for the Nikon D-1 can now get their SLR Pro Shooter Kit that's almost as good. The problem with building an identical model is that Nikon gave them anchor points on the D1's back for the heavy-duty shield, so the clever dudes at Hoodman put together a kit for users of the Nikon S100 and other digital SLRs from Canon, Kodak, and Fuji so you can preview images glare-free outdoors. For less than $50, the kit includes an optically clear protective LCD screen cover, a soft runner bellows hood, and a magnifying insert.

With these new digital SLRs generating bigger and bigger files, on-card storage is gonna be a bigger and bigger problem. There were all kinds of portable storage devices all over the halls, but the neatest was at Jobo's (www.jobodigital.com) stand and hopefully the Giggastoxx 7in1 will make it to our shores. It has an exchangeable standard 2.5 HDD, USB interface, but best of all supports CompactFlash I and II, SmartMedia, Memory Stick, SD/MMC with no adapters required.

Cokin's (www.cokin.fr) Digi-Filter System for digital point-and-shoot cameras is finally here along with a new US importer, ProQuest. In the US we'll have all of the aspects of the system, from the standard (silver-colored) holder and an adjustable Shoe Holder that will fit many digicams as well as camcorders. The complete line includes Digi-Filters, Digi-Hoods, and Digi-Rings for conversions. There will also be Cokin Digital Creative Filter Kits that include a filter holder, two filters, and a 48-page booklet showing how to create special effects without using a computer.

Whatcha going to do with all those megapixels? Lexar Media (www.lexarmedia.com) is including Write Acceleration technology with their 24x-speed Professional Series CompactFlash cards (24x equals a minimum write speed capability of 3.6MB per second) allowing digital cameras and digital media to achieve image write speeds up to 23 percent faster. Digital camera companies currently supporting Write Acceleration technology, at least in products coming down the pike, include Kodak Professional, Nikon, and Sanyo.

The Image Rescue software for Lexar Media CompactFlash (only) will now be commercially available for $39.99. Previously, it was only available as a service through authorized professional photo dealers. Lexar's David Klenske told me, "So long as a card is not physically damaged, Image Rescue can identify and retrieve almost any image file. Image Rescue has been very successful in restoring lost pictures--recovering upward of 95 percent of the images." The company has introduced what could only be called a digital slide projector. Their $79.99 Digital Photo Player connects to a television set through the camcorder jacks and lets you view images stored on many different format memory cards.
Another Day In Digital
So class, what have we learned today? Digital photography is just another step in imaging's evolutionary process. Three-megapixels isn't as big as it used to be and the success of any new digital camera has a lot to do with how fast new gear is brought to market. Real live two-digit megapixel digital SLRs are more exciting than prototypes and proposals. But the most important thing is that the future of traditional photography is in your hands: As long as you keep buying film, the companies are gonna keep making it no matter what the pundits and the punters have to say.

Manufacturers/Distributors

FEATURED VIDEO