Great Buys In Medium Format Cameras; In The Wake Of The Digital Revolution, You Can Snag Your Dream 2 1/4 Film Camera At A Fantastic Price Page 2
The Mamiya RB67 and RZ67 have revolving backs, while the Pentax 6x7 is set up like a giant 35mm SLR and most people shoot it handheld. Interchangeable-lens 21/4 rangefinder cameras such as the Mamiya 7, Mamiya 6, and Bronica 645 are optimized for handheld shooting. Like the classic Leica M, they have optical finders with parallax-compensating frame lines, and they provide big negatives in handy, relatively compact packages. Finally, don't overlook the classic Twin-Lens Reflex (TLR), still the least expensive way to get into the medium format game. Rolleiflexes, Rolleicords, Yashicamats, and Minolta Autocords are remarkably compact and handy, but lack interchangeable lenses. Mamiyaflexes like the late great C330f have interchangeable-lens sets, but are larger and heavier than the aforementioned. For reasons previously noted, the prices of TLRs have dropped less than the prices of 21/4 SLRs, but they're still lower than ever and there are many good bargains to be found. If you do opt for a TLR and want to shoot the longer 220 roll, make sure the one you buy has this feature--many models don't.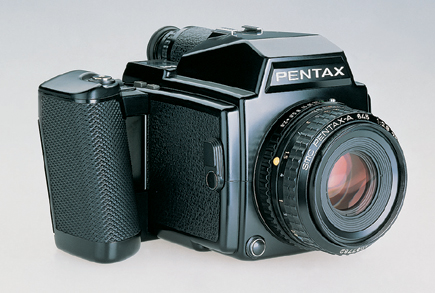 Recommended Models And Current Prices
Here's a list of great medium format camera buys that should give you a good snapshot of the current market. Most of these items and their prices are taken directly from recent Internet site listings, which you can get by simply Googling the name and model of the camera you'd like to purchase, and ads in Shutterbug. Finding precisely what you want at a price you want to pay may take some time, but it's a fun project.

Note: Many of the advertisers offering medium format cameras are brick-and-mortar stores, and there's no substitute for physically examining a used camera before you plunk down your cash. The "Buy It Now" prices listed on eBay and other auction sites are a reliable guide, but "3 minutes to go" auction prices are not. A lot can happen in 3 minutes as any experienced eBayer can tell you! Finally, buying from private sellers or auction sites is a riskier proposition than buying from established retailers, and the added safety factor is definitely worth something. Most private sellers are honest, but you can't always expect eBay or your credit card company to protect you in the event of a scam. Finally, before consummating the deal there's nothing wrong with asking the seller the ultimate money-saving question, "Can you do any better?" And, so, with those warnings and sage advice ringing in your ears, here at last are Schneider's great medium format camera buys:
1. Mamiya 645E with rapid winder, 80mm f/2.8 lens, like new, $549. (Note this is the basic model with interchangeable film inserts, not magazines.)
2. Hasselblad ELM motor drive body with finder screen, no film magazine, very good shape, working perfectly, $250.
3. Bronica ETR with 75mm f/2.8 lens, meter prism, 120 back, excellent condition, $550 or best offer.

4. Mamiya RB67 Pro S outfit with 50mm f/4.5 and 90mm f/3.8 lenses, waist-level and eye-level finders, backs, etc., excellent working condition, $900.
5. Hasselblad 500C/M body with waist-level finder, screen, hardly used, no back, $500, with 12-exposure back, $580.

6. Rolleiflex SLX with 80mm f/2.8 lens and battery charger, near mint, $750.

7. Mamiya RB67, clean working body only with screen, no back or lens, $145.

8. Mamiya C220 TLR with 80mm f/2.8 lens, eye-level prismfinder, very nice, $425.

9. Mamiya RZ67 body, super clean with warranty, $375.75.

10. Mamiya C33 TLR body only, very good condition, $100.

11. Mamiya M645 1000S, complete outfit with normal lens, just serviced, in excellent condition, asking $575.

12. Mamiya C330 with 80mm f/2.8 lens, porro prismfinder, nice shape, $220.

13. Mamiya RB67 with 127mm f/3.8 lens, back, prismfinder, $600.

14. Pentax 6x7, black, with mirror lockup, 105mm f/2.4 lens, plain prismfinder, grip, excellent condition, $775.

15. Rolleiflex 2.8F with 80mm f/2.8 Zeiss Planar lens, takes 120/220 film, perfect except for scratches near tripod socket, $640.

16. Rollei SL66E, complete camera with very sharp 80mm lens, lightly used, in storage for 15 years, priced for quick
sale, $450.

17. Bronica SQAi with normal lens, two film backs, meter prism, very good condition, working perfectly, asking $475.

18. Pentax 645, original model in perfect condition with boxes, 75mm f/2.8 lens, and winder. A great opportunity at $375.

19. Hasselblad 500C, oldie but goodie with chrome 80mm f/2.8 Planar lens, two 6x6cm backs, waist-level finder, excellent condition, $525.

20. Fuji GW 690 II rangefinder 6x9cm classic, absolutely mint condition, $900.

FEATURED VIDEO