Graphic Authority Software; A Pro Photographer's Best Friend
I've got to confess that when I received the software from Graphic Authority it took me a while to look at it. Why? Because I'm not the most technical guy. I use Photoshop daily but that doesn't mean I'm an expert. I pretty much just do the same thing all the time. If they had sent me one CD with a few things to look at, no problem. But what I received was a mind-boggling (to me, anyway) eight CDs, with an amazing array of photographic frames, brushes, edges, papers, shapes, and even images to use as overlays. So I set it aside until I had time to look it over.
| | |
| --- | --- |
| | |
| With so many frames, there is sure to be one that is just right for your image. I liked this Polaroid effect with this wedding image. | This is one of the edge examples. (Model: Bridget Brunet.) All Photos © 2007, Steve Bedell, All Rights Reserved |
But now that I've tried out the software I can tell you that it is very easy to use and offers an incredible amount of creative tools. I'm going to be brief about the specs because the best way to show you what you can do is to show you some of the images I created with it. And I can assure you, even if you're a Photoshop novice, each CD comes complete with a QuickTime movie tutorial that will quickly get you up to speed.

Let's look at frames first. With Frames Volume 1 and 2 plus the CD "Ornaments and Frames," you have well over 100 frames to choose from. Let's take a quick look at some of the basic frames first. These are very simple to use. Pick a frame. Or two. Or three. The printed guide with the samples comes in very handy here. All the files are layered PSD files, so either grab them off the CD or load the files onto your hard drive for future use.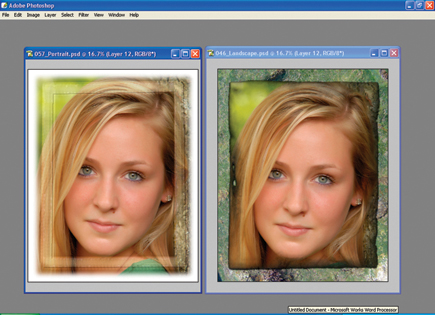 It's very quick to insert your image so you can compare different frames to get the effect you like. (Model: Samantha Quimby.)
Open your image file. Open the frame. Drag the image onto the frame. You'll see a layer in the Layers box that says "Your Photo Here." Drag your image to that layer, then discard the instruction layer, and the basic frame is done! The frames come sized at 8x10 at 300dpi. If this isn't what you want, just re-size the frame or image. When re-sizing the frame you don't need to constrain proportions so you can do any size you want.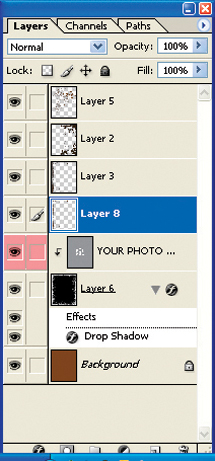 A look at the Layers box. Just drag your image over the GA image, then put it in the proper layer and delete the instruction layer. The software works by using clipping masks under your image to determine what will be visible.
Edges is also pretty simple. Open your image. Pick one of the many edges included. Drag the edge over your image, using the Free Transform tool to shape it the way you'd like. Then put your image on top of the edge and click the "Create Clipping Mask" in the Layers menu, and Voilà!, you're done, but only if you want to be...you could add brush strokes or a frame! The combinations are limitless.

FEATURED VIDEO