Golden Hour: A High-Altitude Hike with an Excitable Dog Leads to a Classic Sunset Photo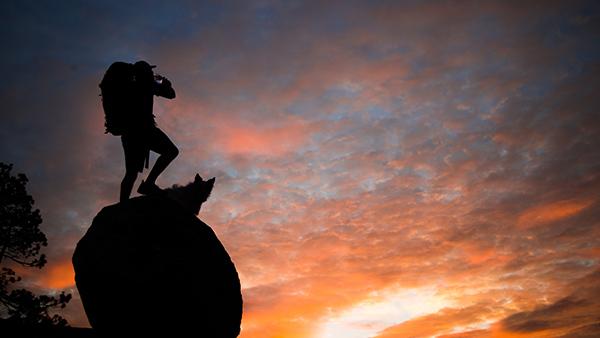 While this image by 18-year-old photographer Dylan Meffan might look beautifully tranquil, capturing it was a bit of a nerve-wracking experience for him. The reason? The dog.
"Trying to get my young shepherd to sit still for two seconds was a nightmare," Meffan tells Shutterbug. "Every bird or squirrel that came even close, he would chase."
The dog and those silhouetted ears really help make the shot though along with, of course, the gorgeous sky, the boulder, the hiker, and everything else. Finding the right location was an adventure in itself.
"After work one Friday, my buddy, Maison, and I loaded our packs to head out for the weekend to a place where you won't find another soul around: deep in the Tahoe National Forest," Meffan says. "The only noise you hear is your heavy heartbeat from the lack of oxygen from the high altitude, and wave-like wind crashing through the tree line. We sought camp after quickly hiking six miles of the trail, then decided to hike the open granite slopes the rest of the way to find a good spot above the tree line where we could see our surroundings. The sun was sinking fast behind our granite landscape; I knew this was the opportunity for the photo I was looking for. It was the Golden Hour."
He shot the image with a Nikon D800 and an 18-55mm f/3.5-5.6 lens at 38mm, ISO 720, f/4.8, 1/500 second.
You can see more of Meffan's work at his Facebook page and his Instagram feed.