On-The-Go Gear: My Favorite Accessories For Mobile Photography
"Everyone with a cell phone thinks they're a photographer."—Helen Thomas
Many years ago, along with some fellow writers, I visited an Agfa—remember them?—facility in Brussels. During the tour one of the leaders asked, "What do you think of the idea of adding a phone to a digital camera?" We all laughed and thought it was the dumbest idea we'd ever heard. It turned out that he was asking the wrong question; it should have been, "What do you think of adding a camera to a phone?"
Like a lot of fellow Pooh-bear enthusiasts, I own a smartphone. It's not the latest iPhone—I inherit Mary's castoffs—but I do carry it everywhere and sometimes use it to take photos for Instagram (follow me at "joefarace") showing what's happening on Daisy Hill. But mostly I use my smartphone to take pictures of stuff at Home Depot and of "for sale" signs on interesting cars.
To find products for this column, I'll poke around trade shows and solicit suggestions from readers and colleagues. That's why the following are not just my favorite accessories for mobile photography but includes preferences from other Shutterbug writers and staff. You'll also notice this list of smartphone accessories doesn't include selfie sticks. To find out why, read my December 2015 Geared Up column; it's online.
Support Your Local Smartphone
The Grip&Shoot ($99) lets you attach a handle to your smartphone for support while providing one-handed control over camera functions. To capture a photo or to start/stop a video clip, just squeeze the trigger. The Grip&Shoot uses Bluetooth 4.0 and can serve as a remote control for your device from up to 100 feet for creating the ultimate selfies. (I could have used one the other day when shooting lighting setups for an upcoming workshop.) Using a free app, it's customizable with the grip's three buttons, letting you zoom in, zoom out, and control exposure. The grip's JawZ Universal Adapter will hold any smartphone with or without a case, up to the iPhone 6s Plus, even inside an OtterBox case. A built-in, removable stand can be used on its own or to connect the phone to a tripod.
Who's It For: Smartphone shooters who want a steadier platform and need to get a grip on things.
Why I Like It: A little pricey but extremely well made. Made for perfectionist smartphone shooters like my friend Ralph Nelson.
Manfrotto's PIXI Smart ($34) has a universal clamp with multiple 1/4-20 thread attachments, allowing it to be used with most smartphones. The PIXI Smart works as a tripod and can also be used as an ergonomic grip. It's made of stainless steel and weighs just 0.49 pounds and measures 10.2-inches long when closed. This mini tripod is easy to set up and has a push-button locking mechanism for its ball head. Because of its universal 1/4-20 thread, it can be used with a wide variety of devices, from iPhones to compact system cameras or even entry-level SLRs—up to a maximum weight of 1.4 pounds. (The Panasonic Lumix GM1 pictured weighs 7.2 ounces, for example.)
Who's It For: Perfectionists who know they need a tripod for the absolutely sharpest photographs.
Why I Like It: My favorite camera tripod is a Manfrotto and they know how to build 'em, even tiny ones like the PIXI.
DiffCase, makers of the PhoGo camera case for the iPhone 5/5s, also manufactures a slick and inexpensive ($20) tripod adapter. Their Brushed Aluminum Tripod Mount works with the iPhone 4s, 5s, and 6/6 Plus, and iPods, as well as Samsung's Galaxy S4/S5/S6, Nokia, LG, HTC, Motorola, and other smartphones. It securely attaches a phone using a standard 1/4-20 thread and has a spring tensioner that adjusts and expands to grip your smartphone in either landscape or portrait mode. The adapter is CNC machined brushed aluminum within an ABS housing with a no-scratch foam interior and is available in a black or clear coat finish. It easily fits in your pocket, making it simple to take on and off. It has room for adding lenses and other accessories and can be used with or without a case.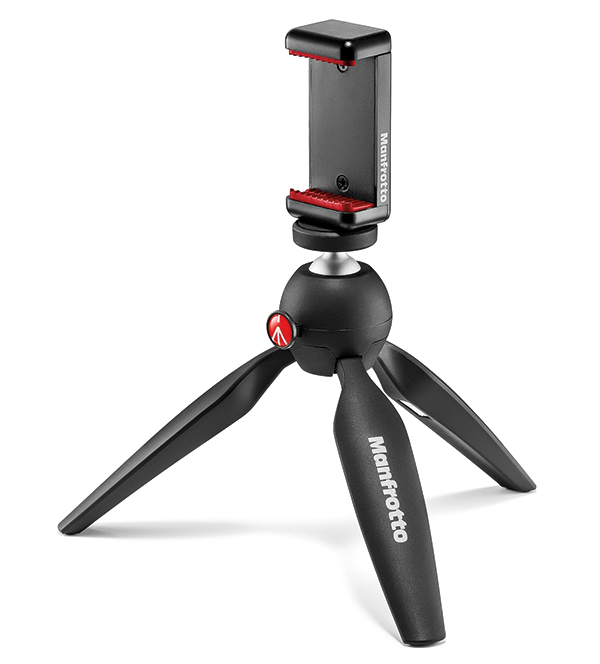 Who's It For: Smartphone shooters who need support.
Why I Like It: Good-looking design and fair price make for a good combination for cell phone photographers.
Lens Be Friends
While rumors abound—hey, it's the Internet—that Schneider Optics is leaving the large format lens market, they've introduced iPro Lenses for the iPhone 6/6s and 6 Plus/6s Plus using cases made by Element Case. The case features a stainless steel bayonet mount to attach lenses that are built to the same standards as Schneider's professional still and cinematography lenses. The case has a pair of 1/4-20 taps for attaching to a tripod with buttons that allow the iPhone to be powered on and off, the volume to be increased or decreased, or the camera's shutter to be activated. A Trio Kit ($279) includes a case, a three-section handle, a 2.5x macro lens, a 0.45x super-wide-angle lens, a 2x telephoto lens, and a lens cap. The lenses are easily swapped using the case's bayonet mount that precisely places the lens over the iPhone's own lens.
Who's It For: Photographers who want to maximize image quality from their smartphone's sensor; the iPhone 6 Plus sensor, for example, only measures 4.89x3.67mm.
Why I Like It: Back when I was a large format shooter, Schneider's 90mm f/8 Super-Angulon was my favorite lens. These iPro Lenses should let you get the most out of a smartphone.
Olloclip offers a number of relatively affordable and versatile lens options for smartphones, including the iPhone and the Samsung Galaxy S4/S5. Their 4-in-1 Lens for the iPhone 6/6s and 6 Plus/6s Plus ($79) includes fisheye, wide-angle, 10x macro, and 15x macro lenses. The device slips over the top of your smartphone and onto the camera lenses—no extra parts are needed. The lens set can be attached to a front- or rear-facing camera and can be switched between fisheye and wide angle, with each lens unscrewing to reveal a macro lens. It comes with a lanyard and three pendants, so it can be worn for easy access, as well as a storage bag and lens caps.
Who's It For: Smartphone photographers who want versatility at an affordable price.
Why I Like It: Clever design. I really like the red model; it would look great on my gold iPhone.
Photojojo (no relation) has always had lots of interesting photo-related gadgets and gizmos, including accessories for smartphones. Their Iris Phone Lens uses a mount system that fits over the thickest and thinnest of phone cases—excluding waterproof and battery cases. Iris works with a wide variety of phones and takes advantage of the sensors used in the iPhone 6s and Samsung S6. The lens has diamond-polished glass elements that feature a vacuum-deposited anti-glare coating. The wide-angle lens covers 100 degrees, while the "full-frame" fisheye covers 180 degrees using three—count 'em—ground-glass elements to produce no vignetting. The macro lens produces 10x magnification at a 3mm focusing distance. An individual lens is $69 and a three lens set is $109, as I write this.
Who's It For: Smartphone photographers who need more than what the built-in camera provides.
Why I Like It: Clever case-based lens solution at affordable prices.
A Case Of The Smarts
The Ztylus Lite Series Camera Kit for the iPhone 6/6s ($99)—the company also makes products for the iPhone 5/5s and 6 Plus/6s Plus—is a case and lens system that lets you use an auxiliary lens, case, and screen protector all at once. The case is made from polycarbonate lined with microfiber with an integrated metal kickstand for hands-free viewing of multimedia, managing photos, or displaying clocks and calendars. The kit includes the Revolver 4-in-1 Lens Attachment so you can attach a fisheye, macro, or wide-angle lens, or a circular polarizer to the Ztylus case. Their Smart-Flip technology lets the lens flip out and automatically lock into place. The optional ($59) LED Ring Light Attachment has stepless adjustable temperature controls, allowing you to adjust its color temperature to match your lighting situation.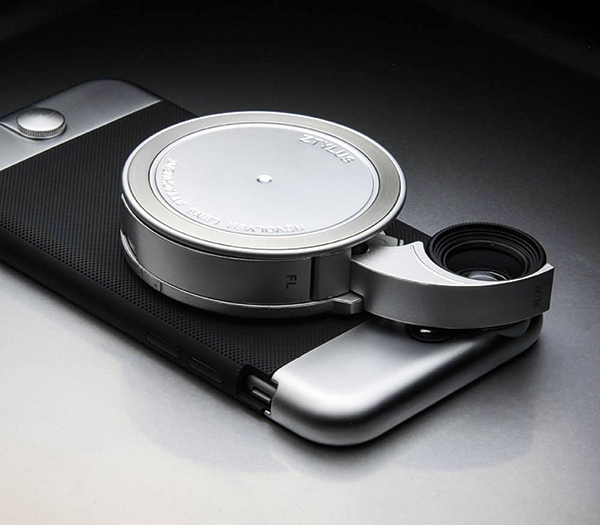 Who's It For: Smartphone photographers who want more control over their images.
Why I Like It: It's a fair price for the versatility offered and the ringlight is a nice option.
Backing Up Is Easy To Do
The Targus Backup Battery for Smartphones ($59) features a 5.0-volt output, perfect for anyone who needs extra power. Featuring 2000 mAh of battery capacity, you get triple talk time from your smartphone with a four-level LED battery indicator that keeps you up to date on charging status. Just connect the backup battery to any smartphone to recharge and continue calling, gaming, or surfing. The backup battery can be recharged from any standard USB port and is compatible with the Targus USB Fast Charger ($75) for rapid charging. Thin and compact, the backup battery can be packed into luggage for travel.
Who's It For: Everybody with a smartphone, because everybody needs more power.
Why I Like It: Targus makes lots of great products and this fills an important niche.
And Now For Something Completely Different
The ProScope Micro Mobile Digital Microscope Kit from Bodelin Technologies ($114) is available for the iPhone 4/4s, 5/5s, 6/6 Plus, 6s/6s Plus as well as the Samsung Galaxy S4. It turns your smartphone into a handheld digital microscope with magnification of 20-80x. The kit features an anti-reflection coated glass lens system with 12 LEDs arranged in two six-row banks. There's a built-in dimmer dial for adjusting brightness, contrast, and detail. You charge the internal 340 mAh lithium-ion battery from a USB power source using a mini-USB cable and can expect at least five hours of runtime. In addition to handheld operation, there is an integrated table stand and a 1/4-20 hole for tripod mounting.
Who's It For: Macro photography enthusiasts and maybe armchair scientists.
Why I Like It: Singularly clever idea.
Joe Farace uses hand-me-down smartphones that are cast off by his wife. Right now that's an Apple iPhone 5s, but who knows what lurks around the corner. You can catch his iPhone snaps on Instagram and visit joefaraceblogs.com for a look at what he's up to on a daily basis.

FEATURED VIDEO