Give Photos a Beguiling Night Vision Effect with This Simple Edit (VIDEO)
Last year around this time we featured a Photoshop tutorial explaining how make daytime photos appear as though they were shot at night. In the video below you'll learn a different day-for-night transformation, this time creating a beguiling night vision look.
The editing trick in this episode from our friends at Blue Lightning TV is super easy to accomplish and delivers very realistic results. Best yet, it takes instructor Marty Geller less than three minutes to explain how to make unique images that could otherwise require expensive night vision gear to achieve.
Geller is an Emmy Award winner with years of experience in television print work. He also specializes in Photoshop tutorials that simplify seemingly complicated tasks. And he always provides helpful keyboard shortcuts for speeding up the process.
If you want to follow along with today's session using a photo of your own, use Geller's instructions to change image size to 150 pixels/inch. This way your results will mimic his. Then press Command or Control 0 to fit the photo on the screen. Now the edit begins by converting the image to b&w.
The next step is using Photoshop's Channel Mixer to increase the green channel to 127%. You'll then click on the Color Balance icon within the Adjustments Panel and input the settings Geller recommends, making certain that the Preserve Luminosity box is checked so brightness is maintained as you change color values.
Believe it or not, the transformation is almost complete. You'll see how to quickly modify the background and make a few other adjustments to finish the job.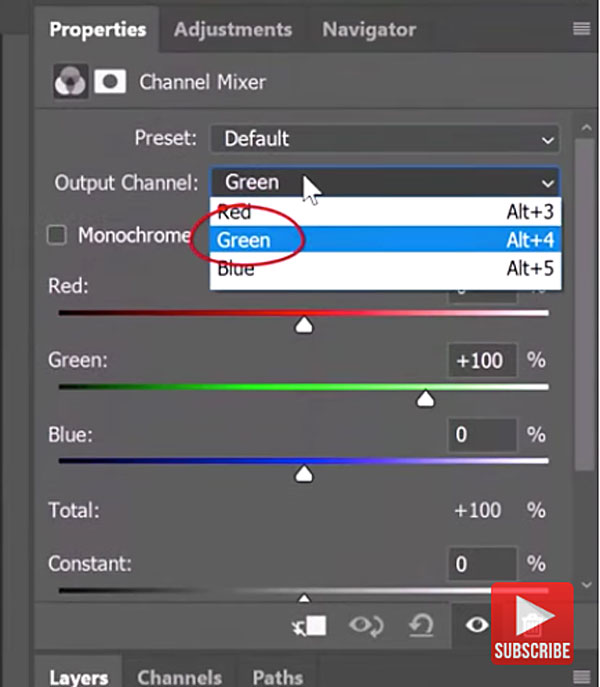 There are more simple and interesting editing tips on Geller's YouTube channel, so pay a visit and subscribe.
And be sure to check out last year's tutorial, explaining how to transform daytime photos into conventional night scenes using Photoshop's Lookup Tables and adjustments to Hue/Saturation.

FEATURED VIDEO