Getting The BIG Picture With The Canon W6400; Large Format Printers, Now For Photographers Page 2
For those who go the commercial route Canon has also supplied software they call "PosterArtist," which is a very easy tool for creating text and graphic combos. They offer over 175 templates for the layout with a wide assortment of backgrounds, custom text options, and an easy re-sizing tool--it's basically a type in, drag-and-drop arrangement. Undoubtedly borrowed from a commercial setup, this software can be an added value for those who do family or event photography, or for photographers wanting to make posters for their upcoming gallery show. For commercial labs and those with more printing experience there's included RIP software with Adobe PostScript 3 printing.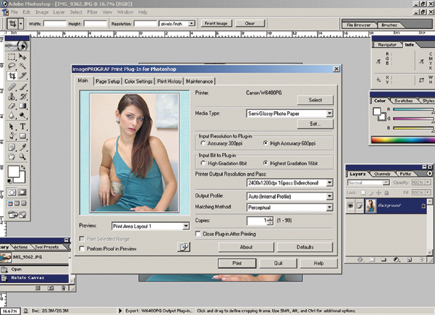 To make the W6400 more accessible to photographers, Canon has incorporated a Photoshop plug-in with its software bundle. This allows you to easily do the work on the image in Photoshop and then Export directly to the print driver.
Given that we've done a good deal of desktop printing, the Canon workflow was pleasantly simple and took no more than a few minutes to grasp. We worked mostly with the Photoshop plug-in and export route, which bypasses the Photoshop print driver. While this at first concerned us, having been schooled in using Photoshop's color controls and turning off Color Adjustments for the print driver, we were assured, and the resultant prints proved, that there was no crosstalk between the two. The "live" preview in the Canon driver helped in that regard. The plug-in also allowed us to use "print history" settings, which meant that when doing a series of images made of the same lighting setup and/or camera/scanner we could quickly apply past settings to the current job, a real time saver.

We printed on both Premium RC Photogloss and Photo Rag, swapping to the matte black ink as we did. Canon pointed out that the ink loss in the swap was considerably less than their competition. We did a number of monochrome prints on the Rag paper and found no color shifting and a true neutral black on prints and a good representation on the duotones (in our case a light sepia tone) we fed the machine.

The W6400 works with both cut sheet and roll paper. When working with cut sheet, you can load one at a time (up to 0.8mm thick). The unit has an automatic paper cutter built-in, although thicker media, such as canvas, cannot be cut this way, although the larger sibling, the W8400, has an optional blade for thicker media.

Driver software for the plug-in works with all platforms, from Windows, 2000 and XP, and Mac, 9 to X, Version 10.3. At this time the PosterArtist and Digital Photo Print Pro software does not work for Mac users, a situation that we trust will be resolved with upgrades later. Most Canon-branded media come with ICC profiles, however, so you can easily work with images not run through the Photoshop plug-in.
While this software seems more directed at commercial print shops and labs, PosterArtist will appeal to event photographers, and those who want to easily make fun posters in home or studio. Again, it's part of the software bundle that comes with the printer.
Print speed for a 20x24" print was about six minutes after the info got to the printer, very fast in our experience. Canon does recommend using file resolution at or above 300dpi for this printer, about 25 percent more than we're used to (where 240dpi is about standard). This means you need big image files (98MB for a 24x16" print at 300dpi) to get the max size. But we printed a 48MB Canon EOS-1Ds Mark II straight from the converted raw to TIFF file and got clarity, color, and sharpness equivalent to what we've seen in an 8x10" print of the same file, so we're not sure why you might need such a large file to get the best results.

We wondered if we'd be better off re-sizing any image in Photoshop, especially when working via the Photoshop plug-in. Canon told us that "the new Bicubic Smoother in Photoshop is an excellent choice for enlarging the image, if the original image is below absolute minimum file size." Their recommendation for a 20x24" image is at least 2400x2800 pixels (7 megapixels). Their Photoshop plug-in does not contain any interpolation algorithm. Perhaps one drawback is the Canon-tested longevity ratings for the prints, which they peg at about 70 years under glass. This certainly rivals and surpasses most dye color prints, but is short on time for monochrome prints, at least when compared with the competition.

Canon sees a new synergy between the needs and desires of the pro and advanced photographers for simplified large printmaking and their experience in large format print devices. To us, they are making an excellent effort to join their considerable printer and camera portfolios. Indeed, pro reps who previously handled high-end digital SLRs are being schooled in, and selling to Canon pro dealers, both digital SLRs and these wide format printers. While this seems to be a commercial printer harnessed to "desktop" requirements (although its weight and size, at 108 lbs and 4 ft at its longest dimension, hardly qualifies it as a desktop unit) it is an excellent first step into the fine art and portrait and wedding "print-it-yourself" market. It will be interesting to see Canon's future developments in this converged realm.

The price does include power cables, stand, and software, just about everything you might need to get going aside from a USB or network interface cable. And unlike some large format printers we have tested, the learning curve is such that you won't blow hundreds of dollars on ink and paper to get your first good prints off the roll.

For more information, contact Canon U.S.A., Inc., One Canon Plz., Lake Success, NY 11042; (800) 423-2366, (516) 328-5000; www.usa.canon.com.

LATEST VIDEO

SPONSORED VIDEO