Get Into Superwide With Sigmas 20mm f1.8 EX DG Aspherical RF Lens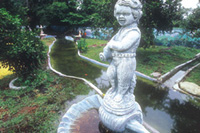 When you focus close and stop down (here, to f/16) the 20mm focal length gives you an incredible depth of field and a great sense of place, due to the seeming falloff of the background from the foreground subject. This and other shots here were made with a Canon EOS 1N at the Dixie Crossroads Garden in Titusville, Florida. Exposure on Kodak Ektachrome VS 100 was f/16 at 1/30 sec, handheld.
Photos © 2001, George Schaub, All Rights Reserved
Photographers have always been fascinated by super wide angle focal lengths. This focal length range, including 20mm, expands peripheral vision beyond the scope of human vision, and does so with a potential depth of field that makes for an often-surreal sense of place. Look up and the superwide makes the sky soar; bend backward and any sky looks like it's in Montana. True, there is inevitable bending of lines that are off the X/Y axis, but this only adds to the visual fun. Some believe that superwides alter perspective too much, but in truth no lens changes the actual relationship of subjects near to far. Crop a 20mm lens to a 50mm angle of coverage and shoot from the same camera-to-subject distance and you'll see that it's true. But the superwide offers more to see when shooting both vertically and horizontally, thus we seem to get spatial distortion. One big bonus with superwides is that they generally allow for much closer minimum focusing distances; coupled with their incredible potential depth of field we get images from superwides unlike those from any other lens.
Near all-encompassing, the near 95° angle of view of the new Sigma lens makes it the perfect focal length for candid street photography, opening up and expanding narrow spaces, and even for certain types of landscape work where the composition holds defining foreground subjects set against a receding background context. It is also an ideal lens for digital SLRs, as the loss of coverage due to a smaller capture frame forces the use of a superwide on a digital SLR to get moderate wide angle coverage.
You can always play with edges with a 20mm, as was done here by tilting the camera down when photographing these colorful posts. Note the edge sharpness and color richness, due partly to Kodak Ektachrome 100 VS film but also in no small part to the optical quality of the Sigma lens.
The Sigma 20mm f/1.8 EX DG Aspherical RF is one of several Sigma lenses in this class, which includes the 8mm f/4 fisheye, the 14mm f/2.8, the 15mm f/2.8, and their 24mm f/1.8 and 24mm f/2.8 lenses. Some might argue that the 24mm focal length is too long for superwide status, but we threw this focal length in for those who like a superwide view with a bit less of a surreal touch. Sigma claims that this is the first 20mm superwide lens with a large aperture of f/1.8 and angle of view of 94.5°. To expand the usefulness of the lens Sigma has made it with macro focusing capability with a minimum focusing distance of 20cm/7.9" (reproduction ratio 1:4). In addition, the iris diaphragm has nine diaphragm blades to obtain a more natural looking out of focus image, although this reviewer tends to work with middle to narrow apertures to get a deep zone of sharpness with this focal length lens type.
The Sigma 20mm f/1.8 incorporates an aspherical lens element in the front as well as rear lens groups, to minimize distortion, spherical aberration, and astigmatism. The lens has non-vignetting optical construction in order to obtain adequate peripheral brightness with open aperture, an approach that makes it ideal for both film and digital SLR cameras. Corner vignetting, the bane of some superwides, seems to have been greatly reduced with this Sigma entry.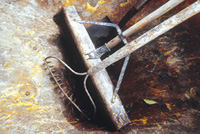 The Sigma's maximum aperture of f/1.8 allows you to isolate foreground subjects with a very shallow depth of field. Exposure was f/1.8 at 1/500 sec.
The lens also incorporates a rear focus system eliminating front lens rotation, thus allowing the use of a Perfect Hood and easy use of polarizing filters. The lens also incorporates a dual-focus mechanism--the focusing ring does not rotate during autofocus, yet it provides adequate focusing torque of the focusing ring during manual focusing operation.
The 20mm f/1.8 makes switching from autofocus to manual focus easy. The push/pull device clicks the lens instantly from one to the other, without the need to stop shooting and flip a switch. Yet autofocus with a superwide is often a bit odd, as the image always seems in focus except when moving the view from quite near to far. That's why use of a depth of field preview function is so important with this type of lens. When working at narrow apertures it can be hard to distinguish what's in or out of focus without it. With a minimum aperture of f/22 the Sigma can really deliver some startling close-up/ distance zone of sharpness images. And at the maximum aperture of f/1.8 you can shoot both in low light with slow speed film and get some great background unsharpness effects. For our field tests we brought the Sigma f/1.8 20mm lens to a carnival and to a funky sculpture garden right here in world headquarters' area--at the Dixie Crossroads Restaurant. Besides from having perhaps the best coconut shrimp anywhere, Dixie Crossroads offers a true roadside America diversion while awaiting the call to your table.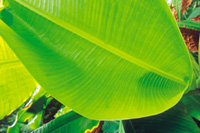 Images made with the Sigma lens were tack sharp, and all the EOS 1N functions operated flawlessly with the lens. This exposure was made on Aperture Priority Exposure mode set at f/11 with a -2/3 exposure compensation. Autofocus was quick and virtually noiseless.
The first thing that strikes you about the Sigma is its smooth, easy focusing, one that snaps to whenever you touch the shutter speed dial. If you need to switch to manual there's a quick, one-touch step that can be easily done without the need to remove your eye from the finder. Although the lens has some heft (at 18.3 oz) it handled and balanced well. The impressive glass measures only about 3.4" so it doesn't intrude much on camera bag space, at least when you consider that fast maximum aperture.
Photographs were made at the extremes and middle of the aperture range, and louping images at every step showed this to be super-sharp contender. We used the lens on a Canon EOS 1N, but it's also available for Sigma SA, Minolta D, Nikon D, and Pentax mounts as well.
Is a 20mm superwide, and specifically the Sigma f/1.8 version, for you? It's hard not to get into working with this specialty focal length. As with any such lens, it can't but help open your eyes to new composition and imaging possibilities.
For more information, contact Sigma Corporation at (631) 585-1144; fax: (631) 585-1895; www.sigmaphoto.com
Technical Specifications
Aperture Range: f/1.8-f/22
Construction: 13 elements, 11 groups
Focusing System: Rear focusing
Angle Of View: 94.5mm
Minimum Focusing Distance: 7.9" (reproduction ratio 1:4)
Filter Size: 82mm
Size: 3.5", diameter, 3.4", length
Weight: 18.3 oz
Mounts: Sigma SA, Minolta D, Nikon D, Pentax, and Canon
MSRP: $689

FEATURED VIDEO