Get Great Race Shots…Without A Press Pass Page 2
Depth Of Field
One of the biggest challenges of auto racing photography is striking a balance between shutter speed and aperture where you stop the movement of the car but still maintain the desired amount of depth. Throw focal length, ISO, and changing ambient light into the mix and it can become quite a juggling act.

My personal goal is usually to effectively stop the motion of the car while still leaving elements like tire lettering blurred. I want the entire car in sharp focus with blurred backgrounds and foregrounds, which gives a nice crisp separation. If I can't get the entire car sharp, I at least want the driver's helmet and hands sharp. Oh, and did I mention that I also want to use as low an ISO setting as possible to maximize my image quality? Paying attention to all of these individual factors makes for stunning images.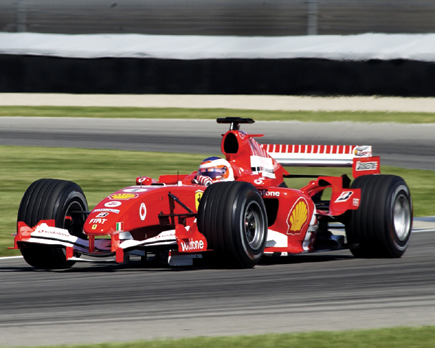 Brazil's Rubens Barrichello negotiates turn 4 in his V-10 Ferrari at 120mph.
Shutter Speeds
If you simply select a high shutter speed you will virtually guarantee yourself a crystal-clear image, but it may be totally devoid of any of the sense of speed and intensity that you are experiencing. If your taste runs a little more toward an abstract image you can pan or use other techniques with extremely slow shutter speeds.

Metering
Just like autofocus systems, today's cameras have incredible metering systems, but I still find myself, more often than not, metering manually because the dark track and multicolored cars can fool the best of them. I try to meter something close to an 18 percent gray like grass, which is remarkably close, or simply take an incident reading. You can take an 18 percent gray card with you. I can guarantee that 90 percent of those around you won't have a clue what it is, but you'll sure impress the other 10 percent.
Finland's Kimi Raikkonen leads cars through turns 7 and 6.
Shooting Etiquette
At most of the better photo positions you may find yourself in a crowd of photographers four or five deep. This is an excellent reason for being here early and staking out a spot. If you aren't lucky enough to be in the front row you can usually stick your lens right past the ear of the guy in front of you. Just about everyone around you will be friendly and congenial and I have made some great friends here over the years. You may have pro shooters in front of you, but just try to shoot around them and be patient, since they usually leave after they get their shots. They are usually quite polite. Do try to remember that they are here earning a living.
A three-day general admission pass for the USGP is just $60 but must be purchased prior to the event. Check with the Speedway's website (www.usgpindy.com) for more info and a course map.
My Favorite USGP Spots
1. Exit of turn 10--fantastically close head-on shots.
2. Exit of turn 4--head-on shots and panning opportunities.
3. Exit of turn 6--great high-speed corner shots.
4. Mound outside of turn 9--great shots of two turns and the control tower.
5. Spectator mound outside of turn 7--good shots of turns 7 and 6.

Some Hot-Shot Tips
There are a number of things that I think can add tremendously to a Formula 1 photo. These cars are very stiffly sprung and as they use the curbing and sometimes even the grass to cut the corners shorter one or more tires will sometimes bounce into the air. A motor drive burst as the car goes through the corner can often catch this.

You can't see it with the eye but as the cars accelerate a beautiful wave of shimmering heat rises above the rear of the car and can make head-on shots spectacular.

You will need to memorize the drivers' helmet paint schemes as individual team's cars are painted identical and the numbers are too small to read. Each helmet design is unique and you can find illustrations in the race program. Friday is easily the most productive day, photographically, because the crowd is smaller and pros less numerous.

Hopefully these tips and recommendations have whetted your appetite enough to try this type of photography. Every photographer has his own style and way of shooting, but these techniques have worked well for me. Give them a try. Great shooting, I hope to see you at the 2006 USGP!

FEATURED VIDEO