Our 10 Favorite Products for B&W Photography: The Best Monochrome Software & Apps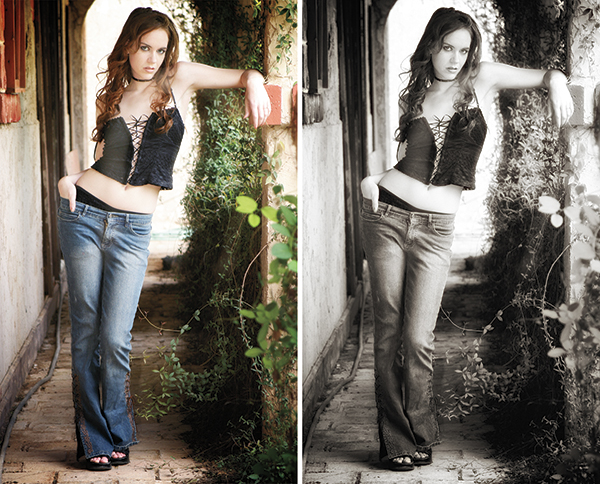 "Everything looks worse in black and white."—Paul Simon, the original lyrics to "Kodachrome"
Proving you can, in fact, change your tune; Paul Simon revised the lyrics to "Kodachrome" when performing the song in Central Park in 1991 to "everything looks better in black and white." Picky photographers insist "monochrome" is more precise because it covers images made using sepia, blue, or other tones, while images using only shades of gray are black and white.
To get out of a rut I like to shoot images in direct monochrome. I set the camera for Raw+JPEG capture and then select Monochrome mode, which provides an in-camera preview of what the image will look like in black and white. When using this technique with mirrorless cameras the EVF lets you view the image in black and white. Some dual-slot cameras, like the Pentax K-1 I recently tested (see my review on page 40), let you simultaneously save each file type onto a different card.
The Raw+JPEG technique is useful when making portraits because you can show the subject a black-and-white photograph on the LCD screen even though you're capturing a color file that can be later processed into monochrome. Why? Because there are more tones available, most portrait retouching software, even Photoshop, works better with color files. Only after retouching do you convert the image to black and white. Back in the film days, darkroom gurus jealously guarded their film processing formulae and nowadays you're just as likely to hear their digital descendants raving about different products for converting color files into monochrome and everybody has their favorites. The following are a few of mine.
Silvery Effects
As I write this, Silver Efex Pro from Google via Nik Software is free, so download it. But that may be good news and bad news. Many of us cynics think it means that it's unlikely the software will be updated, so we're waiting for the next Photoshop or OS update to break it. Tick-tock.
Silver Efex Pro's presets include small preview thumbnails and options range from historic processes to images emulating specific film types. Use the presets as a starting point and create your own customized black-and-white style using controls for color filters, vignettes, and toning. But it's these sliders which include more than 20 adjustments that make the plug-in so useful, letting you tweak brightness, contrast, and structure, along with adding grain and border effects. All of this is wrapped in a wonderfully intuitive interface and the results can't be beat. Silver Efex Pro is part of the free Nik Collection that also includes Color Efex Pro and Analog Efex Pro, both of which include a few black-and-white conversion options, and is available for Mac OS and Windows.
Who's It For: Any photographers who like to create monochrome images. And who doesn't?
Why I Like It: It's great software and it's free…for the time being.
B&W or Color—Your Choice
As we go to press, I've been working with a beta version of Alien Skin Software's Exposure X2 that should be available real soon now. This plug-in has its roots in emulating black-and-white and color film stock, such as Kodak's Portra 160, 400, and 800, along with Ilford XP2 400, Kodak BW400CN and T-Max 400. The X2 version adds a Spot Healing Panel for portrait retouching so you don't have to switch between apps. The Brush Tool can also be used to retouch portraits and burn or dodge specific areas of the photograph. The forthcoming plug-in may contain more than 500 presets that can be applied with a mouse click, including old favorites like Petzval, Pinhole Camera, and Freelensing aka the poor photographer's Tilt-Shift. There are a bunch of new presets, including a category of "faded presets," offering more creative choices. A new Full-Text Search feature lets you search images using criteria such as camera model, shutter speed, and ISO. There's a new History Panel that lets you retrace/retract editing steps along with enhanced Export Options offering file renaming and resizing choices. Exposure X2 integrates with Adobe's Photoshop and Lightroom and is compatible with many Raw image formats.
Who's It For: Ambidextrous photographers who like to create monochrome or color images.
Why I Like It: Its color effects, especially in the Cinema category, are spectacular.
Topaz Labs' B&W Effects ($59) includes 200 presets arranged in eight collections, including Traditional, Stylized, Toned, as well as classical darkroom presets for Albumen, Opalotype (a favorite), Cyanotype, Platinum, and Van Dyke Brown. There's more here than black-and-white effects and some presets have color capabilities that produce the digital equivalent of a classic Marshall's Oil color effect. The attractive and functional interface for this Mac OS and Windows plug-in has a menu of presets on the left-hand side with sets of controls for type on conversion, creative effects, local adjustments, and finishing touches on the right-hand side. You can put B&W Effects on autopilot by choosing a preset based on a large preview that appears before applying.
Who's It For: Value-minded photographers who like creating monochrome or color images.
Why I Like It: Great price, great effects, and part of a system of clever plug-ins that includes the awesome Texture Effects.
PhotoKit 2 from PixelGenius ($49) is an automation plug-in and can be found under the File>Automate menu tree. Automation plug-ins automate (big surprise) tasks and operate somewhat like Photoshop Actions but they include a Control Panel, even though in this case it's a small one. PhotoKit is more than a monochrome conversion plug-in and includes 161 different effects offering analog photographic effects, including Color to B&W (with filter effects) and B&W Toning. I especially like the look created by the Platinum tone. PhotoKit's enhancements and adjustments include useful burning and dodging modules that work in a way that should be familiar to most photographers.
Who's It For: Photographers looking for a versatile and affordable plug-in for producing monochrome or color images.
Why I Like It: Because of the burning and dodging features, I consider PhotoKit to be an indispensable tool for any Photoshop user.
ON1 Effects 10 ($59) now includes the tools and presets from ON1 B&W. It lets you adjust tones, color response, or tonal curve and includes noise reduction features. The plug-in has live previews you can toggle on/off as editing progresses. Its presets can be renamed and shared with others. It contains 20 specific monochrome presets under the Film - B&W menu plus another 30 monochrome effects, many of which are built using a layered structure that the right-hand menu of sliders lets you further tweak. You can convert to different color spaces and export to TIFF, JPEG, PNG, or PSD formats. It does all kinds of non-black-and-white stuff, too, such as the ability to use 23 stackable, blendable filters. You can use ON1 Effects 10 as a plug-in for Adobe's Photoshop, Elements, and Lightroom.
Who's It For: Photographers looking for a versatile way to produce monochrome or color images.
Why I Like It: It also works as a Smart Filter in Photoshop and is compatible with Apple's Aperture.
DxO's FilmPack 5 emulates color film and is available in Elite ($129) and Essential ($79) versions. The Elite version contains 82 "film looks" and includes 18 color filters along with vignetting and blur features, while the Essential edition offers 44 "looks" along with toning options. The software works with most Raw image files, automatically compensating for optical defects, minimizing noise in favor of simulated film grain. It's all wrapped in a relatively intuitive interface with most controls within easy reach, including the ability to apply effects with a single click. FilmPack 5 is available for Mac OS and Windows and can function as a stand-alone application or a plug-in for Adobe's Photoshop, Elements, and Lightroom, Apple's Aperture, or DxO's own OpticsPro.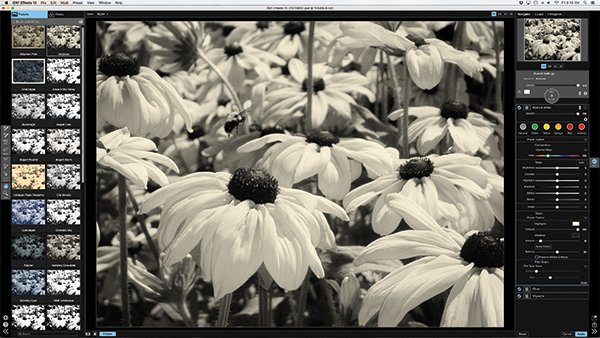 Who's It For: Photographers who prefer black-and-white conversion as either a plug-in or stand-alone app.
Why I Like It: Not inexpensive but highly capable.
Honorable Mentions
Macphun Software's Tonality is available as an app or CK (Creative Kit) version that, as I write this, are the same price ($69). Tonality starts with more than 100 presets using a 16-bit Raw processing engine and algorithms that include adaptive exposure and smart contrast, user-loadable textures, clarity control, as well as structure and grain emulation for more than 20 different film types. The difference between the two versions is that Tonality CK works as a plug-in for Adobe's Photoshop, Lightroom, and Elements, and Apple's Aperture. It also includes layers functionality: there are five in Tonality and eight in CK. Differences between the two versions can be confusing, to me anyway, so my advice is to download a trial of CK and use it with your own images to see how it works.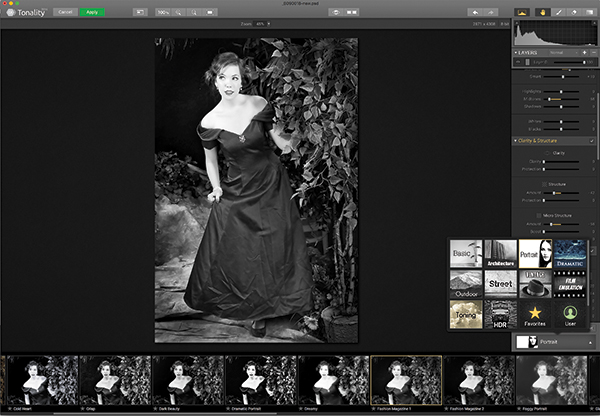 Who's It For: Photographers who want black-and-white conversion software that gives layers capability.
Why I Like It: Although Tonality is the new kid on the block, it continues to improve with each new version.
PictoColor is the maker of my go-to Mac OS and Windows color correction software—iCorrect Portrait—but they also make iCorrect EditLab Pro ($99) that includes color balance, tonal range along with brightness/contrast/saturation controls. The plug-in includes HueSelect Control Points to perform edits automatically to correct for memory colors like Sky Blue, Foliage Green, and Skin Tones. It converts to black and white or sepia while controlling the contrast and detail based on the original image's colors, while also applying sharpening and removing noise.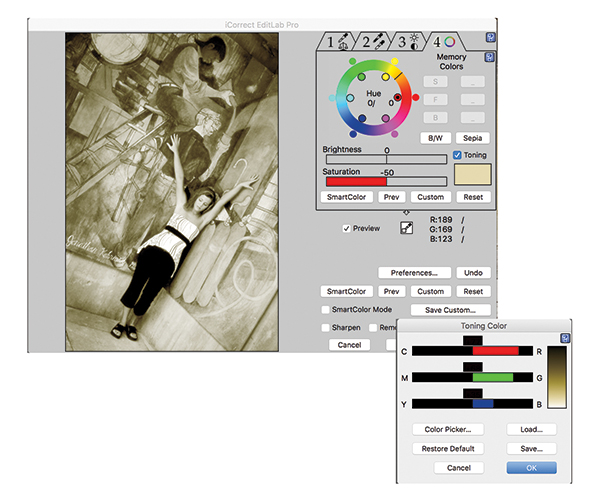 Who's It For: Photographers who want to color correct before black-and-white conversion software and that's always a good idea.
Why I Like It: More than just conversion software, iCorrect EditLab Pro's color correction features make it a double threat.
Imagenomic's Realgrain ($99) offers methods for simulating the grain patterns, color, and tonal response of black-and-white or color film to produce a film-like effect. As you can tell by its name, the plug-in lets you adjust grain size based on an image's physical dimensions, rendering accurate grain patterns for different file sizes, something that's not always properly applied when using similar features in other software. Realgrain comes with presets for a range of effects and includes controls that let you adjust grain balance, tone, and color fine-tuning. The plug-in has a cross-platform license, allowing it to be used on either Mac OS or Windows computers.
Who's It For: Dark horse, but if you like film grain rendered correctly, this is for you.
Why I Like It: Not a personal fan of grain or noise but I know some people are, so go for it.
Tiffen's Dfx Photo Plug-in ($149) includes 134 filters, Rosco and Gam filters and gobo libraries, and presets that, among other things, let you emulate different color and black-and-white films, motion picture stocks, and historical processes. Dfx also includes tools such as nondestructive crop, rotate, and scale functions, along with RGB curves. Effects can be used within layers and groups of images can be batch processed. ICC profiling lets you maintain color accuracy. Raw, JPEG, TIFF, Kodak's CIN, and DPX file formats are supported and 8-, 16-, or 32-bit images can be processed. The plug-in is compatible with Adobe's Photoshop, Elements, and Lightroom.
Who's It For: Photographers who want more from their monochrome conversion than simply conversion.
Why I Like It: As a fan of camera filters, Dfx is a gateway to every Tiffen filter ever made.
Joe Farace is the author of the now out-of-print book, Creative Digital Monochrome Effects, copies of which can be found remaindered at used bookstores and even on Amazon.com. He often writes about using black and white for his blog (joefaraceblogs.com) and the Mirrorless Photo Tips blog (mirrorlessphototips.com).

FEATURED VIDEO