Fast Friends: Our Favorite Lenses & Photo Accessories For Sports Photography
"Every day is a new opportunity. You can build on yesterday's success or put its failures behind and start over again. That's the way life is, with a new game every day."—Bob Feller
Sports photography shares much in common with capturing images of wildlife: You've got an active scene captured at a distance requiring specialized equipment and knowledge of the subject's activities while anticipating what they are going to do next…or not. Sure, you'll need fast, long focal length lenses but you will also need camera supports and other gear that along with specialized knowledge separates the virtuosos, like Regis Lefebure (regislefebure.com), from the wannabes. Here's a look at some of our favorite tools of the sports trade.
Long Lenses
Let's get real obvious and start with long focal length lenses. I beat this subject over the head in my July column but since you might prefer fast, long, and prime focal length lenses when photographing sports here are a few that weren't included. I've always considered the 300mm f/2.8 lens to be a "first base" lens but it's more than just a baseball lens and can be used anywhere you can get down on the field and close to the action.
Sigma's APO 300mm f/2.8 EX DG HSM ($3,399) is a compact apochromatic telephoto lens that uses two Extraordinary Low Dispersion glass elements to reduce chromatic aberration. The lens design provides correction against lateral chromatic aberration with coated elements to minimize ghosting caused by reflections off the sensor. Its internal focusing design should produce fast autofocus and the lens has a detachable tripod socket and a rotatable drop-in 46mm filter holder. Bokeh fans should like the rounded nine-blade diaphragm opening. It's 8.4-inches long, focuses to 8.2 feet, and weighs 5.28 pounds. The lens is available in Canon, Nikon, Sony, and Pentax mounts and can be used with an optional 1.4x EX teleconverter ($249) or 2x teleconverter ($299).
Who's It For: Sports photographers looking for the best buy in 300mm f/2.8 lenses.
Why I Like It: For the focal length, it's affordable for the advanced amateur or aspiring pro.
If you're looking for a camera brand lens, Canon, Nikon, and Sony offer models costing as much as a clean 2007 Honda Accord. Nikon's AF-S Nikkor 300mm f/2.8G ED VR II FX lens ($5,496) looks like a good buy. It uses 52mm drop-in filters, is 10.5-inches long, focuses to 7.55 feet, and weighs 6.39 pounds. Canon's L-series 300mm f/2.8L IS II USM lens ($6,099) uses 52mm rear-mounted filters, is 9.8-inches long, focuses to 6.6 feet, and weighs 5.18 pounds. Both lenses are image stabilized, however Sony's 300mm f/2.8G II ($7,498) isn't because the body is but for some reason this lens costs more. Maybe because it's lighter (5.16 pounds) and lightness is expensive. The lens uses 42mm drop-in filters, is 9.57-inches long, and focuses to 6.56 feet.
Who's It For: Sports photographers who absolutely, positively must have a camera brand lens because…
Why I Like It: Pricey but built to take the kind of abuse sports photographers subject their gear to.
Strap It On
More often than not, sports shooters work with multiple cameras and BlackRapid offers a couple of solutions: The Yeti Dual Camera Harness is available in Standard and Slim models for the same price ($99). One strap on the harness is 63 inches and the other is 59 inches, allowing you to carry two cameras with lenses attached, ready to shoot. A wide, nonslip foam pad minimizes stress on your shoulders and back and there's a cross-body stabilizer holding the harness firmly against your body. Need something more serious? The BlackRapid RS DR-1 Double Strap and its lighter weight twin, the DR-2 Slim Double Strap, cost $134. They're made from ripstop nylon with bombproof webbing but the DR-1 is for "larger framed people" (I guess that's me) while the DR-2 is for smaller framed people, like my wife Mary. Both are adjustable and worn around the shoulders. A locking FastenR connects the straps to a tripod socket on the camera body or lens. Once connected, the cameras hang upside down, resting at your side.
Who's It For: Any sports shooter or photojournalist covering fast-breaking action.
Why I Like It: People love BlackRapid straps and in looking at their design philosophy, I can see why.
Camera Supports
When shooting sports, a monopod is useful for supporting long lenses and the tight spaces you're working in. If you're shooting from the stands, a tripod can interfere with spectators while a monopod won't. When schlepping a long lens around a road racing circuit, a monopod is ideal and is easily tilted to get "that perfect angle." The weight is one-third of a tripod of similar quality and monopods can be used with the same type of heads as tripods.
Manfrotto's XPRO Over Carbon Fiber Monopod ($239) is a five-section carbon-fiber monopod with a maximum height of 69.29 inches, a folded length of 19.49 inches, and can support up to 11 pounds while weighing 1.4 pounds. If you prefer a four-section monopod because you think it's sturdier, if a bit longer when compressed, the XPRO Prime 4-Section Carbon Fiber Monopod ($199) has a shorter maximum height of 64.6 inches, a folded length of 21.06 inches, supports up to 15.4 pounds, and weighs just 1.3 pounds. Manfrotto XPRO monopods use a Quick Power Flip-Lock for fast setup and breakdown and have rubber legwarmers offering a secure grip in hot or cold weather along with a wrist strap.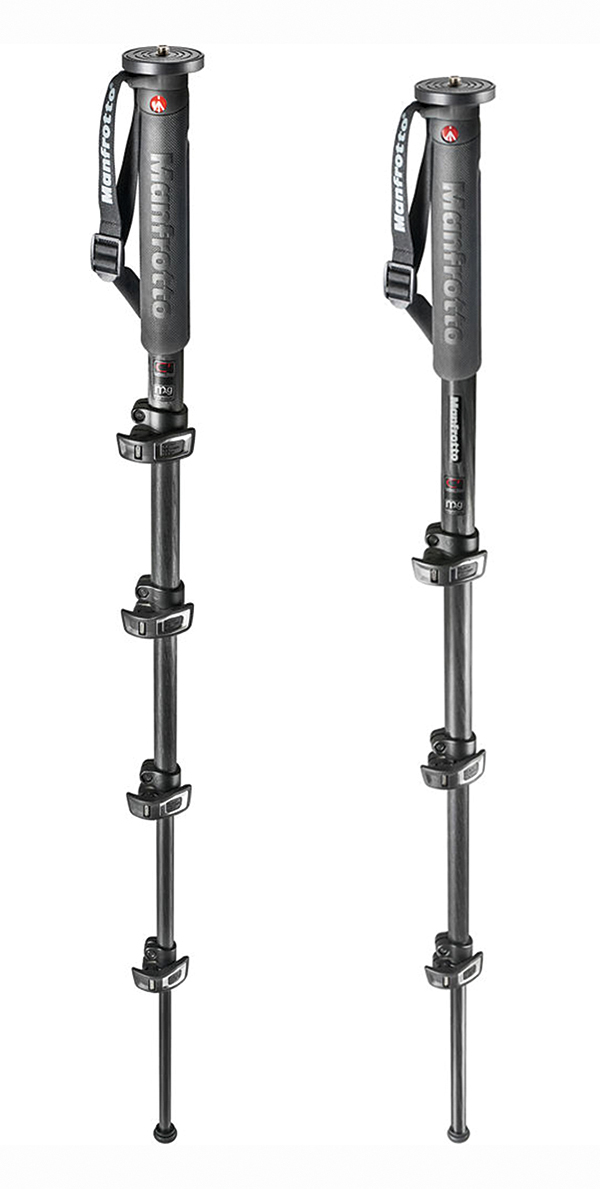 Who's It For: Sports shooters in general and motorsports shooters in particular.
Why I Like It: Beautifully crafted and if well cared for, they will last your lifetime, or at least until some new wonder construction material comes along.
Gitzo's GM5541 6X Carbon Fiber Monopod ($359) can support 55 pounds, making it the Mac Daddy of monopods, yet it weighs less than two pounds. It has a maximum height of 63.8 inches and a folded length of 21.7 inches. This is a four-section monopod whose G-Lock legs have a "gravity lock" effect; the higher the load applied vertically to the leg, the stronger the lock. The Anti-Rotation Leg system makes opening and closing the monopod quick and easy. When you turn all the locking rings at the same time, the leg can be pulled out in seconds. A wrist strap is attached to the top plate along with a belt clip making it possible to hang the monopod from a belt, strap, or pocket. The self-locking removable rubber leg tip is interchangeable with Gitzo's accessories such as the Big Foot (when tracking Big Foot) or spikes. Want to save a few bucks? The less expensive ($309) GM3551 6X Carbon Fiber Monopod supports 39.6 pounds.
Who's It For: Sports shooters who demand the best quality in gear they use.
Why I Like It: Gitzo's build quality and mystique are hard to beat.
What good is a monopod without the right kind of head? The Kirk Enterprises MPA-2 Monopod Head ($199) is made from tough 6061-T6 aircraft aluminum and stainless steel internal metal parts to avoid corrosion. The bearings are self-lubricating Delrin composite and the tripod socket accepts 3/8-inch threads. For winter sports, a locking knob design lets you comfortably shoot wearing gloves. It will hold and lock 80 pounds of camera and lens gear yet only weighs 14 ounces. It uses Kirk's patented QR and has a built in 5/32 hex wrench.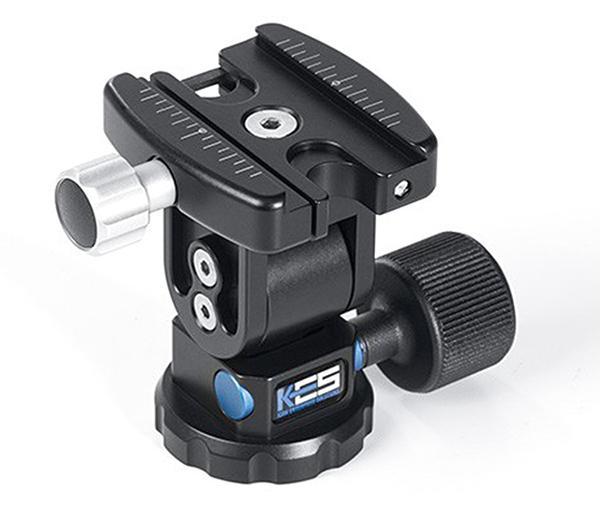 Who's It For: Action photographers who need quality and durability in a head.
Why I Like It: It's made in America, comes in black, silver satin, and blue anodized finishes, and is built like a tank.
Something to Keep It All In
A camera bag is just another thing to keep track of while shooting, especially in motorsports where you may have to quickly move to different locations. The Q.U.E.S.T. Vest for Men from SCOTTeVEST ($175) that I've been wearing lately is packed with features and has 42—count 'em—pockets to hold gear along with a zippered compartment in the collar to stow a hood along with a back pocket to stash larger items. Many of the pockets are dedicated for specific usage and have small icons indicating that they were designed for a smartphone, pens, etc. Made from 65 percent cotton and 35 percent nylon fabric, the vest is suitable for temperate weather and comfortable enough to be worn indoors. It can also be layered for cooler temperatures. It's treated with Teflon for water and stain resistance and is available in tan or black.
Who's It For: All sports photographers, because carrying a large lens and monopod doesn't leave room for schlepping a camera bag.
Why I Like It: All those pockets come in handy and my black vest looks nice. I'll try to resist sewing a Stargate SG-1 patch on it.
As an alternative to a vest, Think Tank Photo's Modular Component Set V2.0 ($164) is a system that includes two lens pouches, a strobe carrier, and a multiple use pouch that holds a pro SLR without a lens. There are pockets for lens caps and accessories and each component features a secure closure. Think Tank's Rotate or Lock technology lets you attach the components on any of their three optional ($31 to $61) belts, allowing you to arrange the various pieces so they won't interfere with your shooting style. A rain cover is included.
Think Tank Photo's Modular Skin Set V2.0 is a less expensive ($149) option for carrying around an SLR and two to four lenses. The components include two lens pouches, a strobe bag, an SLR body bag, and a travel pouch. The pouches hold everything from wide angle to standard zoom to longer 70-200mm f/2.8 or 100-400mm f/4 lenses with hoods. There are even pockets for lens caps. The strobe pouch easily holds a Nikon SB-900 or Canon 580EX II with a diffuser attached.
Who's It For: Sports shooters looking for maximum flexibility for carrying gear on assignment.
Why I Like It: It's a versatile approach to carrying gear that can handle whatever you throw at it.
I had never heard of Plasticase until a staffer mentioned them but these people make slick-looking and rugged hard cases. Their Nanuk—I love that name—925 ($115 with foam) is rated at IP67, indicating protection against solid objects and liquids, in this case submersion at three feet for 30 minutes. Hardware is marine-grade 304 stainless steel. The handle is molded from high-impact NK-7 resin but is overmolded with soft-touch rubber to reduce fatigue when carrying heavy loads. PowerClaw closures hold the case tightly closed using compressive force while an integrated slide lock prevents the case from opening during transport or when dropped. Every Nanuk case is equipped with two padlockable hasps directly molded into the case for optional TSA approved combination padlocks.
Who's It For: Aquatic sports photographers looking for maximum protection already know a waterproof hard case is the way to go.
Why I Like It: They're strong and look good, too.
While not a dedicated sports photographer, over the years Joe Farace has photographed many sporting events from the US Women's Olympic Gymnastics Team to an organization that eventually became the Colorado Rockies baseball team to motorsports events, which remains his passion. You can see some of his automobile racing images on his blog, joefaraceshootscars.com.

FEATURED VIDEO