Fujifilm Intros Ultra-Compact 24.3MP X-E3 Mirrorless Camera with 4K Video and Two New Lenses
This morning Fujifilm introduced the latest in their line of ultra-compact mirrorless cameras, the 24.3MP X-E3 with a companion XF 80mm f/2.8 R LM OIS WR macro lens. Also unveiled was a GF 45mm f/2.8 R WR wide-angle lens for the company's GFX mirrorless medium format camera.
The new Fujifilm X-E3 builds upon its popular predecessor the X-E2 with upgraded subject tracking, a new image-recognition algorithm, enhanced wireless connectivity, and more. The camera also features 4K video and Fujifilm's latest 24.3MP X-Trans CMOS III image sensor and their X-Processor Pro high-speed image-processing engine.
Fujifilm says the X-E3's image recognition algorithm, combined with its large phase detection AF area not only delivers fast and precise focus acquisition, but enables the camera to track moving subjects half the size or moving twice as fast as the earlier X-E2.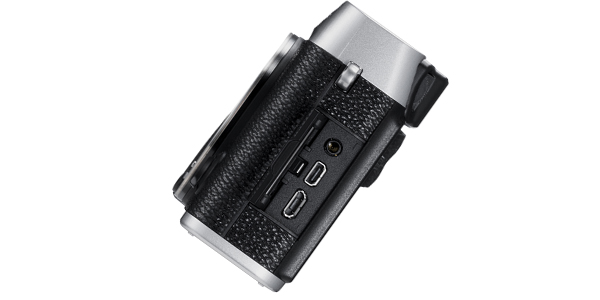 The Fujifilm X-E3 is designed for mobility and speed, boasting a start-up time of just 0.4 seconds, autofocus speeds of .06 seconds, and a shutter lag of merely .05 seconds. The camera is the lightest and most compact model within Fujifilm's X Series that boasts a viewfinder and interchangeable lens capability. It's also the first X Series model with Bluetooth low energy wireless connectivity for quick sharing of images with a smartphone or tablet.
Compatible with the new X-E3 camera and other X Series models is the new Fujinon XF 80mm f/2.8 R LM OIS Macro lens—the first 1.0X magnification medium telephoto lens in the X Series interchangeable lens line. With a focal length equivalent to 122mm in the 35mm format, the dust and weather resistant XF 80mm is said to deliver beautiful bokeh as well as superb sharpness, contrast and color rendition.
Also introduced this morning is the sixth GF lens for Fujifilm's GFX 50S medium format mirrorless camera. This new GF 45mm f/2.8 R WR is a versatile wide-angle lens with a focal length equivalent of 36mm in the 35mm format. Designed with 11 elements in 8 groups and two ED elements, the new GF 45mm is said by Fuji to deliver the highest image quality and minimized aberrations at a professional standard.
The new Fujinon GF 45mm f/2.8 R WR lens features special coatings to reduce flare, and is both dust and water resistant for reliability under harsh conditions.
The Fujilfilm X-E3 body will be available in black or silver later this month for $899.95, while the Fujinon XF 80mm f/2.8 R LM OIS Macro lens will be available in November for $1,149.95. Also scheduled for November availability is the Fujinon GF 45mm f/2.8 R WR lens at a price of $1,699.
More information on all the new products will be available on the Fujifilm website soon. In the meantime, take a look at our earlier reviews of the compact Fujifilm X-E2 and the GFX 50S medium format mirrorless camera.

FEATURED VIDEO