Fujifilm's FinePix S9000; A 9-Megapixel Superzoom Digicam With Low Light Bragging Rights Page 2
One of the more interesting Scene modes is one Fujifilm calls "Anti-Blur," and no, it's not an Image Stabilization function. Set the camera to Anti-Blur and it will respond to the ambient light by setting a hand holdable shutter speed commensurate with the focal length in use and automatically raise the ISO to do so, without you having to make the change yourself. It's automation that makes sense to those who either don't want to make the change as they shoot or who don't know what changes they need to make.
The 10x+ zoom lens on the Fujifilm FinePix S9000 opened up many compositional opportunities. To show the power of the zoom I took one shot down an alley and another zoomed in on these buildings, going from full wide to max tele. The bricks and mortar of the tele shot are crisp and sharp, thanks to what Fujifilm engineers claim is their ability to finely match the integral lens with the sensor and image processor.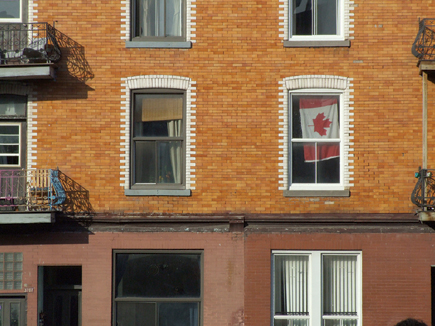 The camera offers auto shutter speeds from 30 seconds to 1/4000 sec, and a framing rate of 1.5 per second, modest, but sufficient for most shooting. The body also accepts dual memory cards, the tiny xD and the more commonly used CompactFlash. I shot using a SanDisk 8GB Extreme card, which means the camera can handle most any CompactFlash card capacity (and Microdrive). Frankly, I didn't use the small 64MB xD card Fujifilm included in my test kit, finding it difficult to imagine why you'd even consider a 64MB card for a 9-megapixel camera.

The camera is powered by AA batteries, something that I consider a mixed blessing. During the camera test I was shooting in Montreal's Chinatown and got a low battery signal, and was able to pop into a grocery store and get a fresh set, so AAs are certainly convenient. But with standard AAs you only get a bit over 100 frames per set, triple that with 2500 mAh Ni-MH batteries. These days you can get between 300-400 frames with most lithium ion rechargeables. So either carry a charger and an extra set of rechargeables with you or have a few packs of Ni-MH AAs when using this camera on the road.
Street shooting is fun and easy with the Fujifilm FinePix S9000. This artistic graffiti was in a dimly lit alley in Montreal's Latin Quarter. I set the camera at ISO 800 and got an exposure of 1/350 sec at f/3.1, which is a great hand holdable shutter speed for street work. Noise is virtually nonexistent.
In all, I found the S9000 really easy to travel with, it being light and creatively flexible. I did shoot as many images as I could in low light to test Fujifilm's claims, and found that it was a great ambient light companion. In addition, if you want to shoot motion pictures you can as well, something you sure can't do with digital SLRs. And the lens delivered sharp, crisp images in just about every lighting condition, something Fujifilm claims comes from being able to finely match their integral optics with sensor and image processor. At $699 list it might seem the S9000 costs close to a digital SLR body, but considering that you also get a 10x wide to tele-zoom in a 9-megapixel camera, it's a good price. And image quality, ease of use, and that low-light enhancement make this a camera to consider for travel and everyday use.

For more information, contact Fuji Photo Film U.S.A., Inc., 200 Summit Lake Dr., Valhalla, NY 10595; (800) 755-3854; www.fujifilm.com.