Always Remember to Take a Good Look: How to See What's Right in Front of You as a Photographer
I got the idea for this how-to story from something the Pulitzer Prize-winning photojournalist David Hume Kennerly said to me: "Believe me, the challenge of photography is not going to France for the first time and photographing the Eiffel Tower. The challenge is really seeing and then photographing the stuff that's familiar and ordinary, stuff we see all the time but never really observe or give much attention."
Rather than take up the challenge, I took up the telephone to talk with photographers who'd made notable photographs of ordinary and familiar subjects many of us might pass by without recognizing, or even imagining, their photographic possibilities. I wanted to find out how they opened their eyes (and their minds) to these subjects and how other photographers can also learn to capture unique images of the seemingly commonplace.
Jump To It
Ed Masterson was out searching for photographs on the cobblestone streets of the Society Hill section of Philadelphia. "It was pouring rain, and I was walking around, looking for unique angles on obvious things," he says. "At one corner leaves were clogging up the storm drain, and as I got set to jump over the puddle, I looked down. I took one photo, then I jumped.
"If it wasn't for the clog, I'd have passed it up, and because of that I think this picture has made my eye a bit keener. It's not what you look at, it what's you see, and now I'm in the habit of asking myself, What am I not seeing in this shot? The world's a canvas, and that's my approach to it."
Roadside Attraction
Pat O'Hara was in northern Michigan on a stock photography shoot when he saw what most would consider an unlikely subject: a panorama of propane tanks.
"They were brand new, painted bright white," he says. "I had just a glimpse as I drove by, but I knew I had to go back." He did, and made the photo from the roadway. "I was attracted by the repetitious patterns, and the patterns had a kind of texture to them."
Later he decided to convert the color photo to black and white to add additional emphasis to the pattern.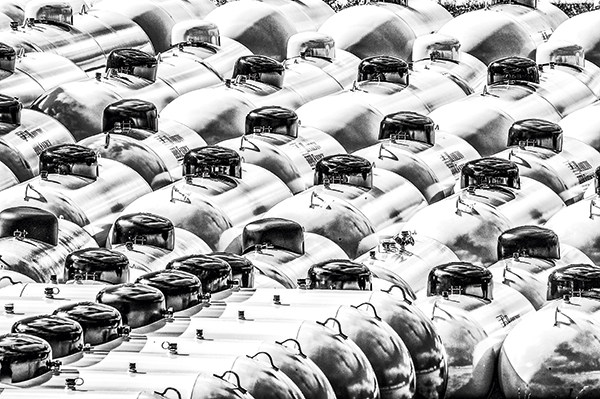 Smaller Worlds
Reed Hoffmann was leading a Mentor Series workshop when he took the picture of coiled rope on an afternoon photo walk along the Chicago River.
"The point was to work on finding images out among the ordinary," he says. "We shot flowers and vines, stacked wrought iron chairs, and green wooden benches as we looked for light, pattern, design, and color—all the usual things, but in a small way. I often tell people we see the world through the wide-angle lenses in our heads, and one of the challenges of the photographer is to zoom in on something a little more interesting, something that's not the entire scene."
Posted Notes
Sam Garcia didn't have to go far to make the photograph of the utility pole. "It's at the end of my block, in front of the hundred-year-old hardware store," he says. "I'd seen keys nailed up on neighborhood poles, so I began to keep my eyes on the well-used ones. When I saw this one, I thought, Just how many lost pets and garage sales do they have in this neighborhood?"
Then he sent the photo around to friends and acquaintances as part of his snap-o'-the day series (that's a snapshot on a day he feels like making one). The results surprised him. "I got more responses and replies to the shot than anything I'd sent out in months."
Because he took the photo on a drizzly day—you can see the effect of a raindrop or two on the camera's lens—he has to add, "I'd be careful about stapling into power poles on wet days."
I Spy
Diana Robinson took the photograph of the bucket on the barn wall in Deer Isle, Maine, where she was visiting friends. When they went shopping, she went along, even though buying jewelry wasn't really on her mind.
"I looked through a window in the shop and saw a barn nearby," she says, "and in the beautiful afternoon light it had this beautiful green tone. Of course I had my camera, and I went out back and took one shot of what I'd seen through the window."
Her friend got earrings; Robinson got the September page on a camera company's calendar.
Slow Down
Layne Kennedy was on assignment in Iceland when he walked by a door in an old church at the Skogar Folk Museum. "I think editorial shooters are always looking for content-driven visual information," he says, "and one of the things I teach in my workshops is how to tell a story with your pictures."
Among the ingredients in any story will be details, and Kennedy feels that most people walk right by them. "They're always looking for the big picture, the big overall, the landscape and the landmark, but I'm talking about images that add flavor to the story. This was a folk museum, and the keys were there to be seen as part of the story of the place."
He urges photographers to make searching for and recognizing details instinctive. "And to start," he says, "walk slower."
Natural Selection
Randy Ziegler's eyes went right to the Jeep's door. "Sometimes you turn a corner, and there's no mistaking it: there's the picture," he says of the photo he made in a small Texas town.
"I could see right away how it had to be shot." He walked up, framed the image to eliminate everything but the main attractions and took his photos quickly, before the light changed, to be sure he captured what he'd originally seen.
Ziegler's favorite subject is the "natural occurrence of graphic imagery," and he always recognizes the ingredients: light, color, and gesture. "The subject can be anything, as long as it has those elements," he says.
"I often find the emotion of a subject, and its graphic strength, when I isolate specific parts. I hope I'm showing people something they didn't see, something most people would pass right by and some others would see but not realize its worth as a subject."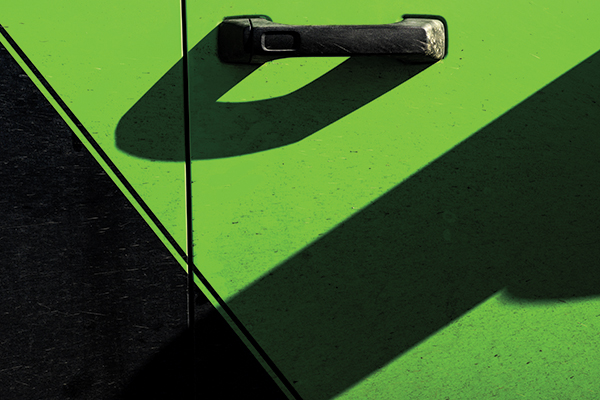 Close Attention
Katrin Eismann made the colorful close-up image of a detail of the fountain in Manhattan's Bryant Park within three minutes of leaving the Sebastião Salgado exhibit at the International Center of Photography.
"I was so inspired, I knew I had to do something," she says, and despite the freezing weather, she went looking for pictures.
"They'd somehow kept the fountain running, and the cold temperatures had created these fantastic ice sculptures. A lot of people were photographing the whole thing, but I went up close for the details, which I didn't see anyone else doing. It was a beautiful blue-sky day, and with all the reflections, the ice and the blue light were just dancing."

FEATURED VIDEO