Foolography's Unleashed Geotagger; Bluetooth Enabled For Nikon D-SLRs
Until now I thought I'd experienced practically every flavor of geotagging device on the planet ("Geotagging Devices And Software: Now You'll Always Know Where You Took That Picture," Shutterbug, May 2009). So when I was later introduced to Foolography at a trade exposition, I didn't pay too much attention to their new Unleashed. Until they offered to send a test sample of this Bluetooth-compliant geotagger. When it arrived, I opened the box—and was on my way to a new geotagging adventure.
The Geotagging Dilemma
You can approach geotagging in two ways. You can geocode an image file—that is, identify the geographic coordinates where a picture was taken—by manually entering the data. Or you could do it automatically and more reliably with the help of orbiting satellites that deliver the latitude/longitude coordinates (and perhaps more) to a GPS data logger. What's more, the device may also keep a track log of your journey, marking waypoints and Points Of Interest (POI) along the way. In other words, it leaves a digital trail of breadcrumbs, as it were, via a timeline that helps you identify locations nearest to where/when the camera exposure was made. Keep in mind, we're talking about camera position, which may differ from the subject position, such as a skyscraper across the river.
Unleashed + Holux

10-Pin Port On D300

(Left): The Foolography Unleashed works in tandem with this Holux data logger (or any third-party geo-logger) via Bluetooth, receiving geo data and transmitting it to the camera, where it's embedded in the EXIF metadata—and effectively geotagged. You can then pinpoint the location on a map, using various software apps to show where you were standing when you took the picture.
(Right): This is the 10-pin port on my Nikon D300. Because the Unleashed occupies this port, that rules out use with a radio remote transmitter. But it's a small price to pay for the convenience of bypassing the software ordinarily required to geotag images.
All Photos © 2010, Jack Neubart, All Rights Reserved
The mechanics of making sense of all that geocoded data, as well as fine-tuning the device to your needs, is software- and driver-dependent—and that largely is where the problem lies. The software and drivers that come with these devices are largely geared toward the Windows platform. Back when I was first introduced to this whole genre, I was running a PC operating under 32-bit Windows XP—and everything was working fine. Mac support was rare.

Well, times have changed. I've upgraded computers—and a completely different picture has emerged. Suffice it to say that the drivers necessary to run many of these devices are not supported on a 64-bit Windows operating system. If the device can't talk to the computer, it's useless as a geotagger—all that data has nowhere to go. It also means that you can't tweak the settings on the device. These settings vary from one data logger to another, but can include sleep times, time vs. distance marking, etc. The software may also reverse geocode the data, giving you anything from the general locale down to a street address (varying with the application). But all is not lost, thanks to several apps that will track an image that has been previously geocoded, independent of device drivers.
"GPS" Icon
Look for this icon to tell you that a data link has been established. Be sure to keep the data logger close to the camera to maintain a secure link. Battery drain is negligible, so I could use the Unleashed even with a partially discharged battery.
And that brings us full circle back to the Foolography Unleashed. This device operates more along the lines of the Wolverine geotagger reviewed in the May 2009 issue, in that it plugs into the 10-pin port on the Nikon D300 (or other similarly configured Nikon/Fuji D-SLR). But, unlike the Wolverine, which is itself a data logger, the Foolography Unleashed is the conduit for a separate Bluetooth device, receiving and then delivering the data to the camera and embedding it in the file metadata.
Unleashing The Unleashed
The Unleashed is about the size of the Return key on a Mac keyboard, except thicker, of course. And because of its small size, the Unleashed is truly unobtrusive and can otherwise be left in place, so that the camera once again fits neatly in your camera bag.

Since this device occupies the 10-pin remote terminal, that rules out hooking up any radio remote release. But chances are you won't need to use other devices and the Unleashed at the same time.
Tracking Images With iPhoto '09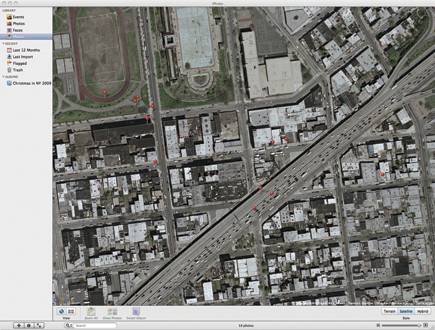 By clicking on "Places" in iPhoto '09, pushpins reveal the location of each geotagged photo. Scroll over to any pushpin to reveal the reverse-geocoded location. Shown is a satellite view.
The fit is a tight one. Normally, devices that connect to this terminal use a locking collar and are easy to pull free when the collar is loosened. This device stubbornly stays in there. And here's a cautionary tale: I've had to use a rubber band to gain a good grip—and one time I pulled so hard the device flew out of my hand, but landed intact.

And in case you were wondering, battery drain from the Unleashed is negligible. The device features a sleep mode after 2 minutes of inactivity. According to the developer: "After 15 minutes of inactivity, the Unleashed will drop the Bluetooth connection, saving power for both the GPS (geo-logger) and the Unleashed. After 45 minutes of inactivity, the Unleashed goes into standby."
Tracking An Image With Aperture 3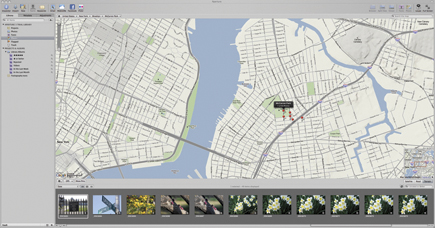 Aperture 3 also shows the filmstrip, and through reverse geocoding identifies the location. This is the street view. As with other applications that provide similar functions, you have a choice of views (normally map, satellite, and hybrid map/satellite).

FEATURED VIDEO