Flying High For The New Year; Come Fly With Me
"You just say the words and we'll beat the birds down to Acapulco Bay…"—Sammy Cahn & Jimmy Van Heusen
One suggestion that I often make to workshop attendees is that they can always improve the impact of their photographs by simply changing their point of view. When space and conditions permit, I suggest using a ladder because it gives you the ability to make images from high angles instead of the ubiquitous eye-level shots that everybody else makes. Photographs made from a higher perch let you include the ground, beach, or grass as a background and make your photographs look different from the pack. This month's photographers take that suggestion to new heights by shooting images from airplanes, helicopters, and even a paraglider. And talk about the view…

www.georgesteinmetz.com
National Geographic shooter George Steinmetz made most of the aerial photos on his site from the seat of the lightest powered aircraft in the world, a motorized paraglider. In addition to still photographs, the site contains two multimedia essays, including Empty Quarter, that feature photographs made in the air and on the ground as well as brief video clips of Steinmetz flying the paraglider. In African Air the images made above and on the ground will simply blow you away. The perch from which many of these images were made permit Steinmetz a unique perspective when combined with his incredible talent and unerring eye for composition. The photographs in his nine image collections take a slow, careful examination of the subject and are presented in a size that lets you appreciate their grandeur. Steinmetz has thoughtfully provided captions to provide the appropriate context.

The images on the ground and in the air produce a view of part of the world that few of us understand, only misconceptions that Steinmetz's images shatter. For a change of pace, his Antarctica collection includes photographs of Victoria Valley's frozen sand dunes and I can only guess how chilling it must have been flying that little paraglider. While you expect these photographs to have a certain look, Steinmetz turns it around to create unexpected images with only one penguin shot, proving that even an experienced National Geographic shooter is not immune to their undeniable cuteness. Take your time and view all of the images in all of the collections. I don't expect to find a travel-related site this year to match Steinmetz's remarkable images.
© 2010, George Steinmetz, All Rights Reserved
www.jeffwarnerphoto.com
Spending 15 years flying helicopters for the air medical industry has afforded Jeff Warner a unique perspective that's aptly illustrated in his site's gallery, where nine image collections feature photographs made in the air and on the ground. But it's collections such as the Mountains of Colorado that allow even those of us who live here to see the mountains in a whole new way. Most effective are his black-and-white images, such as "North Face of Grizzly Peak," that let you focus on the subtlety and interplay of light and shadow, snow and rock that are often overshadowed by the explosion of color in the mountains during non-winter months. Ya want color? Go to Views From Above and take a peek at the splash of color in "Tailings Ponds, Climax Mine," which he follows with a dramatic monochrome image of "Lake Ice." The images in this breathtaking—and huge with 83 images—collection vary in style and effect but all are about the patterns of nature and the effect of the hand of man.

When he flies above Denver, the architecture captured is interesting until he heads out to Jefferson County and photographs the Taj Mahal that is the county's office complex. Impressive from the ground, the graceful symmetry of this building's design is mind-boggling from the air and Warner's camera captures it with the kind of perfect composition that's the hallmark of his best images. When Warner comes back to earth, he proves that he's still a pretty good photographer, so don't miss his People and The World As I See It collections.
© 2011, Jeff R. Warner, All Rights Reserved
www.hawkeyeaerial.com
Hawkeye Aerial Photography was founded in 1989 in the San Francisco Bay Area and provides aerial and architectural photography to Northern California. You can visit their terrestrial photography site at: www.hawkeyephoto.com. Images are collected in three galleries, including Architecture, Construction, and Aerial Photos, and as great as their photographs are in these first two—you would be hard pressed to find better—their aerial photographs literally and figuratively soar. The first image in Aerial Photos is of one of the towers of the Golden Gate Bridge poking a hole through the fog and is an iconic image of the bridge that could hang in any art gallery in the world. The next shows a more familiar image of the bridge on a clear day with a cruise ship passing beneath it. I know it's a cruise ship because captions are provided along with the big, beautiful images themselves.

There is an incredible image of two guys working on the tip of the Transamerica Pyramid followed by a spectacular nighttime shot of the San Francisco skyline at night showing (what I think is) the Oakland Bridge. Some of the images relate to Hawkeye's work for the construction industry such as before and after shots of Stanford Stadium. Yet their view of the California Academy of Sciences in Golden Gate Park dramatically shows how architectural photography and aerial imagery can be blended into the kind of striking photograph that you couldn't capture any other way. Most of these locations were photographed from a helicopter, which Hawkeye says allows for many different angles of view. All I can add is "and how!"
© 2010, Hawkeye Photography, All Rights Reserved
www.camerondavidson.com
Aerial and location portrait photographer Cameron Davidson calls Northern Virginia home and his site features aerial imagery as well as his outstanding environmental portraits and editorial work made on terra firma. His "Aerial + Elevated" gallery includes two collections, Style Book and Abstract. One of the first images in Style Book is of a ship at sea that I thought was pretty gee-whiz until I clicked on the next shot of a nighttime cityscape and was completely blown away. From there it just gets better with Davidson exhibiting an elegant style that displays an almost classic Asian artistic sensibility that is most clearly visualized in his images of a wind farm sticking out of the water! I love surfing images but have never seen one made from the air and Davidson's is pure genius.

His Abstract images are a Rorschach test of color, form, and shape and appear to have been created as colorful photograms with no basis in reality, but knowing what they are makes them all the more amazing. Not all the images are so nonfigurative and one showing cell phone towers—who knew they were so close together—poking through a canopy of trees is remarkable as both an abstract image and social commentary. Another showing off-road vehicle tracks in dirt gives off the same kind of vibe as the Nazca lines in Peru by creating imagery that can only be seen from above. Come for the aerial photography but be sure to stay to read his blog about portraits and people images created by this talented photographer.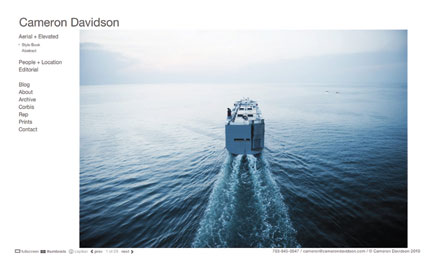 © 2010, Cameron Davidson, All Rights Reserved

LATEST VIDEO

SPONSORED VIDEO
Testing Tamron's SP 150-60mm G2 lens while capturing birds and alligators in Apalachicola, Florida.