Flickr Of Yule Log During The Holidays; Readers' Websites And More
"'Twas Christmas told the merriest tale…"—Sir Walter Scott
There is no doubt that photo-sharing websites such as Flickr (www.flickr.com), along with iPod and iPhone albums, have changed the way we view photographs. Wedding photographers tell me one unintended consequence of providing online proofing is that their customers don't order as many prints; they just want to be able to show photos to friends on their mobile communications device. Just as generations grew up sharing prints, today's Twittering YouTubers share pixelized images. There is no doubt Flickr is part of the reason for this phenomenon and the 3.6 billion (that's with a B) images they host has become an integral part of many people's digital life.
© 2009, Joe Farace, All Rights Reserved
Because of Flickr's immense popularity, I've decided to dedicate an upcoming column to photostreams, as Flickrites call them, from photographers who make the best images on this photo-sharing service. So if you think that you or one of your friends has the best photographs on Flickr, then send me an e-mail (joe@joefarace.com) with a URL where I can see the images. I'm going to collect the best into one or more Web Profiles columns during 2010.
www.jonathancanlasphotography.com
Jonathan Canlas is a talented wedding and portrait photographer, but when visiting this tasty-looking site click on Site 2 to view his personal and commercial efforts. In addition to access to his blog, you'll find galleries entitled "Commercial," "Travel," and "My Family." The "Commercial" gallery contains five collections, including one for a resort that lets him show off architectural, landscape, interior, and food photography for a single client. Each of these color images is captured with an effortlessly elegant style that services the client's needs while showing Canlas's prodigious technical and aesthetic skills. This carries over surprisingly well into his work for a construction company, showing what they do while using his portraiture skills to create a public face for his client.
© 2009, Jonathan Canlas Photography, All Rights Reserved
His monochrome work for David Boyle Films is exceptional for the same reasons, but for a very different client. His "Travel" work covers everything from Argentina to France to the Good Ole U.S.A. In Carl Sandburg's "City of the Big Shoulders," Canlas looks at Chicago in the formal style that pervades his work while showing a real city, not just post card views. In Argentina/Uruguay he focuses on the visual rhythms of these countries, producing a travel style that is at once both documentary and interpretive. In "My Family" the images get personal, showing portraits of his children that are cute and, more importantly, touching no matter whose kids they are. In addition, there's a link to a site that showcases his "Film is not Dead" workshop. If you're the least bit curious, visit the site to see what Canlas has to say about film's place in a digital world. Having spent some time recently shooting Kodak's Ektar 100 film for the September 2009 issue of Shutterbug, I can only say Viva la Película.

www.tyholland.com
Because this is the Holiday Edition of Web Profiles, there are two Shutterbug Reader-of-the-Month Homepages this month and the first belongs to Ty Holland. He and his wife Sheila own Photography By Ty in Sierra Vista, Arizona, and their site showcases one of my favorite features that a homepage can have, a Photograph of the Month. Since this will change by the time you visit, I'll let you be surprised.
© 2009, Ty Holland, All Rights Reserved
Ty's galleries are collected into many different sections, including "Photography Samples" and "Photography for Purchase" that contain a broad portfolio of their portrait, wedding, sports, and scenic work (in the former) and a collection of stock photographs (in the latter). Ty's stock work is further separated into five categories from Events to Wildlife to the inevitable Miscellaneous. Some like Events take on an online proofing function, while others, such as Landscape, show individual images that are available for purchase in different sizes, much like in a "real" gallery.

Fans of Southwestern landscapes should be sure to take a look because Ty's photographs capture the natural beauty of Arizona and are affordably priced. If that's not enough, visit "Galleries" that contains even more photographs. Here you'll find slide shows such as "Jumping With Vicki" that would make Eadweard Muybridge proud and "Festival of Color" with spectacular night photography of hot air balloons that live up to the title. You'll also find images of the Fort Huachuca Cavalry Association, a group of historical reenactors, in action. This sprawling website clearly demonstrates the considerable talents of Ty to take on all kinds of projects, big and small, and deliver them to happy clients, and in today's environment that's no small feat!
www.marcwaltersphotography.biz
Marc Walters has our second Reader-of-the-Month Homepage this month and he's collected images into a Portfolio that contains 10 different sets of photographs. I checked the "Architecture" section first and while it's populated with tiny thumbnails, when clicked they open into screen-filling images. Here at Web Profiles I often complain about the small sizes of images on photographer's sites but Walters obliges with not only great-looking photographs but BIG ones as well. Thanks, Walters.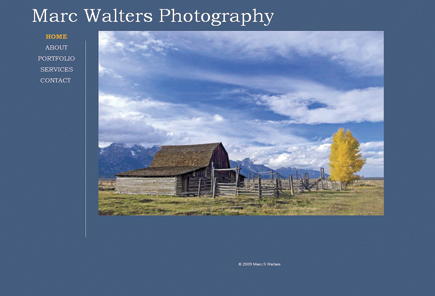 © 2009, Marc Walters, All Rights Reserved
His "Landscape" images have tiny thumbnails, too, but the best of the full-sized monochrome photographs have a quiet dignity that seems to have a deep respect for nature. Except for a few classic automotive images, Walters's "Fine Art" collection contains many excellent landscape photographs, such as his black-and-white photograph of Oxbow Bend. Nope, there are no titles visible but that's the name that appeared on Firefox's (www.mozilla.com/firefox) tab when it opened the thumbnail into a new window. His "Nature" collection includes bird and wildlife images and I was especially taken by his creative use of depth of field in his blue jay (my old school's mascot) photograph. Walters makes portraits, too, and his "People" collection is filled with warm, captivating images that clearly show how much his subjects like and trust him. Like Jonathan Canlas, Walters has an abiding affection for film and all of the images on this site were shot with black-and-white and color film.

LATEST VIDEO

SPONSORED VIDEO
Testing Tamron's SP 150-60mm G2 lens while capturing birds and alligators in Apalachicola, Florida.