First Look
Pentax *ist D Digital SLR
Said to be the smallest, lightest digital SLR body yet, the oddly named Pentax *ist D (pronounced ist-dee) is a 6-megapixel camera with an 11-point AF sensor, a 16-segment multi-pattern metering system, and what the company calls a "Hyper" operating system with 22 user-adjustable functions. Although there are some restrictions, the good news for Pentax film camera SLR owners is that the camera is compatible with existing Pentax 35mm format interchangeable lenses and accessories.

In addition to the camera intro the company has also announced two new lenses--for the wide angle crowd (although with a smaller than 35mm film-size sensor the lenses are subject to a multiplication factor of about 1.5 for equivalent focal lengths) there's the SMC Pentax-FA J Zoom 18-35mm f/5.6 and the first of what Pentax promises will be more digital-dedicated size lenses, the Pentax-DA Zoom 26-45mm f/4.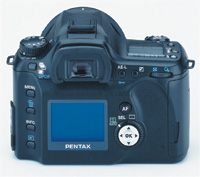 The 19.4 oz body is said to offer a bright viewfinder with a superimposed AF point display; the viewfinder itself has a built-in diopter adjustment available. The new SAFOX VIII AF system has an 11-point AF sensor that covers a fairly wide field in the finder. Nine of the sensors are a horizontally extended cross-shape type with two additional sensors located at each side of the section. The AF system can be set at Auto, Spot, or "Select" mode, the last being the one where you get to choose the focusing target via a four-way controller on the camera back. The selected target is highlighted in red in the finder.

The *ist D has six exposure modes, including Full Auto (Green mode) and the usual AV and TV, as well as the "Hyper" modes, for High-Shutter Speed Priority and Depth Priority, which sound like Sports and Landscape mode to us. The "Hyper" part of it is that you can instantly switch between modes using the IF button on the camera without going through a bunch of button pushing and dialing. In addition, there are 22 Custom Functions that can be set to match just about every subject and scene and method of working, making the *ist D a very personable camera.

For those who like it fast the *ist D allows for shooting at 2 frames per second; top shutter speed is 1/4000 sec with flash sync at 1/150 sec. For power you can choose from three options: CR-v3 lithium, an optional AC adapter, or four AA-size batteries. There's also an optional battery grip. The camera uses CompactFlash Type I and II as well as MicroDrive. You can record in JPEG, TIFF, and raw, with three compression ratios for JPEG files. There are also eight different preset white balance settings, as well as Manual and Auto. The raw setting means you must use the Pentax Photo Laboratory to open and convert images. On playback and while shooting you can view the tonal representation with a histogram. In all, the *ist D has all the functions one would expect from an SLR, including depth of field preview, exposure compensation, and a built-in flash.

As of press time there was no set price on the camera but we imagine it will be priced competitively with others of its ilk--below $2000, or well below $2000. Stay tuned, as we'll run a complete report as soon as a production model gets in our hands.
--George Schaub