First Look
Adobe's Photoshop Elements 3.0
At Long Last Love Page 2
Elements of the Edit and Enhance interface are combined in such a way that, unlike the oft-confusing Version 2.0, all its operations are intuitive, easy to find, and a marvel of user-interface design. You get the idea I like it? I do.
All of the good stuff from Version 2.0 is back in new and improved versions. One Click Redeye Fix sets the standard for redeye removal, too, and the Photomerge panoramic creator now keeps each image on a separate layer. There's lots more here and not enough space in a First Look to tell all, but you'll find the ability to make slide shows, send photo mail, create calendars, and other photo projects. You can create custom picture packages that can be printed locally or online via Adobe Photoshop services that let you order Kodak prints or photo books online.
Quick Fix sounds like the one-click button image fixes (that's Smart Fix) and instead provides state of the art, on-screen controls for all of the major aspects of image control that's needed to make your digital images look even better. d
The enhanced features and increased capabilities of Adobe's Photoshop Elements 3.0 gives you hundreds of reasons to upgrade and if you're not using it, especially if you're on Windows (see sidebar below), it's time you did.
In addition to including most, maybe all of the filters--OK there's no Liquify--from Photoshop CS, Elements is compatible with Photoshop compatible plug-ins. In the Mac OS X version of Photoshop Elements you can see the submenu for nik multimedia's Color
Efex plug-ins.
Cross Platform?
First Looks are made using beta software and I always hesitate to be critical of something that might not work perfectly in this version, since it's usually fixed by the time the program ships, but, and you knew there was a "but" didn't you, I want to point out a big difference between Mac OS X and Windows (XP and 2000) versions of this program. The Windows edition remains at $99, while the Mac OS is priced at $89. That's because Photo Review, to me the soul of the new version, is missing from the Mac OS version. Adobe wants you to use Apple's iPhoto as a front-end. iPhoto is OK--hey, it's free--but doesn't compare with the sorting, comparing, and stacking interface found in the Windows version. Maybe between the time I write this and it appears in print, Adobe Systems will come to their senses and make both versions identical. One can only dream...
Photoshop Elements 3.0 is compatible with raw files such as this flower photograph that Mary made using an Olympus E-1 system including macro lens and ringlight. Inside Elements, including the Mac OS X version shown here, raw conversion works exactly the same as it does in Photoshop CS, giving advanced amateurs access to 16-bit image files.
For information on Photoshop Elements 3.0, visit Adobe Systems' website at: www.adobe.com.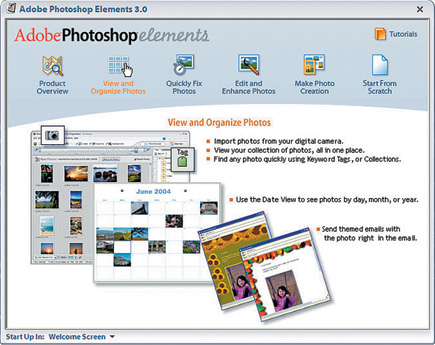 Launching Adobe's Photoshop Elements 3.0 takes you to the "Welcome Screen" that offers four basic functions, including viewing and organizing, the amazingly cool Quick Fix function, Edit and Enhance (for people who drive stick shift cars), and "Make a Photo Creation" for the creation of photo projects, such as video CDs, slide shows, photo albums, post cards, calendars, or a web gallery, using built-in templates. Other buttons include tutorials or ways to do stuff in a slightly different way than just clicking on one function.

LATEST VIDEO