Field-Ready Accessories; What I Bring "On The Road" Page 2
Last, the little things count. I use an "L" bracket on all of my cameras as it allows me to change from a horizontal to a vertical picture without altering the position of the camera or lens height. A cable release is a welcome addition for close-up photography, night exposures, or when extra depth of field is warranted in concert with a slow shutter speed. Don't forget an extra body cap, and don't leave home without a lens shade or two.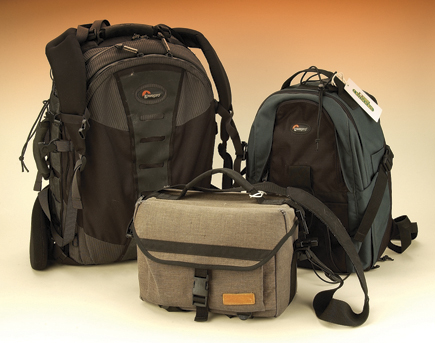 Camera bags and backpacks come in all sizes and how much gear you have and where you are going will determine your needs and price range.
My Field Kit
Here's my typical "field kit" that, believe it or not, all fits nicely in my Lowepro Photo Trekker bag:
• Nikon D700 with battery pack and "L" bracket
• Nikon D2X with "L" bracket
• Nikon 17-35mm f/2.8 lens
• Nikon 24-70mm f/2.8 lens
• Nikon 70-200mm f/2.8 VR lens
• Nikon 105mm f/2.8 VR Micro-Nikkor lens
• Nikon 1.4x tele-converter
• Neck strap
• Cable release (plus a spare)
• Extra batteries (two)
• 20 Lexar 2GB CF cards
• Four Lexar 4GB CF cards
• UR-1 step-up ring for 105mm lens
• 77mm polarizer
• 77mm Vari-ND filter
• 77mm Canon 500D close-up lens (taken in lieu of macro lens)
• Cokin graduated filter set with lens holder
• 77mm lens cap
• Body cap
• Notebook
• Gitzo tripod with Studioball head
Out in the field, the "L" bracket gets much use. Mounted on a D700 it is perfect for keeping the same perspective when turning the camera from horizontal to vertical.
Resources
Canon—www.usa.canon.com
Cokin Filters—www.omegasatter.com
Gitzo Tripods—www.bogenimaging.us
Kirk Enterprises—www.kirkphoto.com
Lee Filters—www.leefiltersusa.com
Lexar—www.lexar.com
Nikon—www.nikonusa.com
Really Right Stuff—www.reallyrightstuff.com
Singh-Ray Filters—www.singh-ray.com
SLIK Products—www.thkphoto.com
Studioball—www.rtsphoto.com
Tiffen Filters—www.tiffen.com
Wimberley Plamp—www.tripodhead.com
| | |
| --- | --- |
| | |
| A ball head from Gitzo offers the photographer infinite settings with the friction adjustment (left), locking knob (left rear), and the rotational knob on the right. Head is set up for the Arca system of mounting camera to head. | Specialized filters come in all variations. In front is the Singh-Ray Vari-ND, a round graduated is behind it, and a sheet graduated mounted on the camera. |
Stan Trzoniec is a frequent contributor to "Shutterbug." His new book "Autumn in the Country" is available now through his website, www.outdoorphotographics.com. He can be reached via e-mail
at: fotoclass@aol.com.

LATEST VIDEO

SPONSORED VIDEO