Feeling Of Obsolesce Likely To Persist
"Don't call 'em D-SLRs, in the future all SLRs will be digital."--Overheard at PMA


A recent New Yorker cartoon showed a salesperson demonstrating a digicam to a customer. The caption read something like, "This light comes on to tell you when the camera is obsolete." A lot of digital SLR owners feel like that from time to time, and based on what I saw at PMA 2005 that trend is likely to continue.
Nikon's Digital Duo
The least best kept secret at the show was Nikon's D2X which they announced some time ago but now appears to be available. A Nikon-using friend recently shot some images with a D2X and found them noticeably better than the files from the D1X it replaces. Highlights include a 12.4-megapixel DX format (read 1.5x multiplication factor) CMOS sensor. It can shoot at 5.5 frames per second, but can kick up to 8 frames by "cropping the number of pixels used on the sensor to create the image" to 6.8 megapixels. With less data to move, speed increases. Options include a WT-2A Wi-Fi transmitter for wireless remote camera control and transmission, making it possible to transmit images directly from the camera over a wireless Local Area Network (LAN). The D2X is bundled with Nikon's PictureProject software for image transfer, organization, and editing. The D2X is also compatible with Nikon's optional Capture 4.2 software that can now be used to control the camera from a computer over a USB connection or a wireless LAN using the WT-2A. The D2X has an impressively quick lag time of 37ms and an estimated selling price of $4999.95.


More surprising, to me anyway, was Nikon's launch of the D2Hs. In addition to Nikon's 4.1-megapixel DX format JFET image sensor LBCAST (see "PMA Buzzwords"), the D2Hs features improved overall image quality with finer gradations, lower noise, and smoother transitions than its predecessor. For sports shooters, it has a continuous rate of 8 frames per second for up to 50 consecutive JPEG or 40 raw (NEF) shots. The D2Hs is compatible with the new Wireless Transmitter WT-2/2A and like the D2X sports a 2.5" LCD preview screen. The D2Hs has an MSRP of $3499.95, but I expect a street price just under $3000.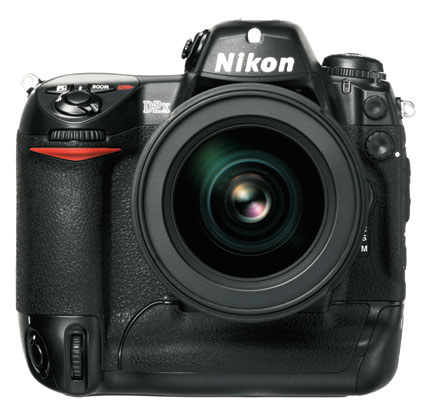 Canon's New Cannons
Instead of replacing the Digital Rebel with a new model, as I expected, the new Canon EOS Digital Rebel XT camera is the Digital Rebel's big brother. The estimated street price with EF-S 18-55mm f/3.5-5.6 zoom lens is $999. The price of the Digital Rebel now drops to $799 with a lens and both the Digital Rebel and Rebel XT are available in black or silver finishes.
The Digital Rebel XT has 8.0-megapixel resolution and features an APS-C CMOS image sensor, DIGIC II image processor, and lots of custom and manual controls in a smaller, more compact body than its little brother. Is this a bargain EOS 20D? Maybe. The size of the Digital Rebel XT's sensor is 22.2x14.8 vs. 22.5x15.0mm for the EOS 20D, accounting in part for the slight difference in resolution, although individual pixel dimensions are identical and they both provide the same effective angle of view, equivalent to 1.6x, the normal EF lens focal length.
| | |
| --- | --- |
| | |
The Digital Rebel XT can shoot up to 14 consecutive Large/Fine (8 megapixel) JPEGs, five raw files, or four raw + Large/Fine JPEG files at a rate up to 3 frames per second. The Digital Rebel camera's smaller buffer permits bursts of only four Large/Fine (6.3 megapixel) JPEG or raw frames at a rate of up to 2.5 frames per second.

Canon's Wireless Controller LC-5 simply attaches to a compatible camera's accessory shoe or can be separately attached to a supplied bracket and connected to the camera's N3 remote socket with supplied 15" receiver cable. The unit is triggered with a pocket-sized transmitter that sends an infrared pulse-modulated strobe signal to the receiver. The LC-5 is equipped with three channel settings (A, B, and C) to ensure that multiple remote Canon users don't accidentally trip someone else's camera. Powered by four AA alkaline batteries, the LC-5 is compatible with AA-size rechargeables such as my favorite Monsters (www.monsterphoto.com). The unit is compatible with Canon's EOS 10D and 20D digital SLRs as well as EOS-1D, EOS-1Ds, EOS-1D Mark II, and EOS-1Ds Mark II. The Wireless Controller LC-5 is also compatible with several 35mm film-based SLR models including the EOS-3 and the EOS-1V, but unfortunately not my EOS-1N.
PMA Buzzwords
Wi-Fi: Wireless Fidelity a.k.a. Airport if you're using an Apple Macintosh. Wi-Fi is a wireless technology that is similar to a cell phone. Wi-Fi enabled computers and digital cameras can send and receive data indoors and out; anywhere within the range of a base station. It's also several times faster than a cable modem connection. You can learn more at www.wi-fi.org.

Manufacturers/Distributors' addresses can be found on page 176.

FEATURED VIDEO