Fast Sigma Zooms
AF 100 to 300mm F4 EX And AF 28 to 70mm F2.8 EX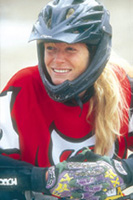 Most 100-300mm and 70-300mm zooms feature small maximum apertures, making this "fast" model highly useful with slow film in handheld photography. The wide aperture allows for higher shutter speeds reducing the risk of motion blur. (At 300mm at f/4; Fujichrome Provia 100F.)
Photos © 2001, Peter K. Burian, All Rights Reserved
Although Sigma has recently concentrated on fast wide angle prime lenses, the company continues to develop new zoom lenses, too. This summer I tested two of these at a safari park, at bicycle, motorcycle and War of 1812 events, as well as for general travel photography. The AF APO 100-300mm f/4 EX IF HSM and AF 28-70mm f/2.8 EX Aspherical DF may seem to have little in common, but they offer similar features: wide maximum aperture, pro quality construction, non-rotating front element and premium grade optical elements.
Both zooms are made with lead and arsenic free "ecological" glass and both sport the matte black ZEN finish for scratch-resistance and a professional look. They should tolerate long-term professional use thanks to extensive use of aluminum alloy and a stainless steel mount. The extra wide rubberized focusing and zoom rings offer good grip and zoom action is very smooth. The corner cut lens hoods are highly effective, designed to shade the front element at all focal lengths, but without intruding into the image area.
The HSM version of the 100-300mm zoom offers some advantages over the conventional model including the ability to manually fine-tune focus even in AF mode. I frequently used this feature in portraits and other close-ups to ensure precise focus on the essential subject area. (At 250mm at f/4, through a car window; Fujichrome Velvia 50 at EI 100.)
Like most rugged pro lenses, neither is particularly compact/lightweight. (Sigma does make other models more suitable for hiking and vacation trips, of course.) Even so, these lenses were welcome companions for my stock photography work, providing the superior resolution required for professional applications.
AF APO 100-300mm f/4 EX IF HSM
Although most manufacturers offer "fast" 70-200mm or 80-200mm f/2.8 zooms, there was only a single 100-300mm f/4 model on the market until this Sigma arrived. That's surprising because 100-300mm zooms are very popular in the compact/affordable f/4.5-5.6 or f/6.3 range. In any event, I consider a fast zoom with constant f/4 maximum aperture to be valuable for serious photography. Especially with slow film in handheld shooting, or with action subjects, the higher shutter speeds provided at f/4 are certainly useful. Add an EX 1.4x tele-converter to extend its reach to 420mm and the effective maximum aperture is f/5.6; autofocus operation will continue with just about any AF camera.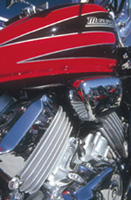 In very tight close-ups, the 28-70mm zoom produced excellent image quality at all focal lengths, particularly in the mid range of apertures. The 15.7" minimum focus distance is as short as most anyone would need with a zoom of this range. (At 50mm at f/11; B+W Polarizer; Provia 100F.)
For a long, fast zoom that's not terribly expensive, the optical formula is impressive. This lens contains four Super Low Distortion (SLD) glass elements "for full correction of chromatic aberration," according to Sigma. This is important with a telephoto lens of wide maximum aperture, because that optical flaw can degrade image quality in lenses with a less sophisticated optical formula. Other features include a sturdy, removable tripod mounting collar, internal focusing so the barrel length remains constant, a non-rotating front element for convenience with a polarizer, plus very rugged construction.
Hypersonic Focus Motor
Like many recent Sigma lenses, this zoom is available with a built-in Hypersonic Focus Motor in Canon EF, Nikon AF-D, and Sigma SA mounts, for silent (40 dB or lower), superfast autofocus performance. This ultrasonic motor employs vibrational or oscillation energy--instead of electromagnetic energy --for rotational force. Note that models in Pentax AF and Minolta AF-D mount do not include the HSM motor; they use focus drive provided by the camera instead.
The non-HSM lenses feature a focus clutch that's worth considering, because it's also incorporated in the 28-70mm model. If you plan to shoot with autofocus, pull the focus ring back for AF operation. Now, it will not rotate allowing for maximum speed; as well, your hand cannot impede its progress. Push it forward and you can focus manually. Naturally, the AF/MF switch on the lens (or the camera body) must be set to the correct position first. This mechanism allows for excellent manual focus "feel": it's well damped, with plenty of torque or friction, as you'd find in a high quality manual focus lens. As a bonus, the front element does not rotate during AF operation, thanks to a helical focus system.
The HSM lens does not require this mechanism because the focus ring does not rotate and manual focus can be accessed at any time--even in AF mode--so you can touch up focus slightly without the need to flip a switch. Other advantages claimed for the HSM motor include better starting and stopping response, quicker and quieter AF, more reliable follow-focus on a rapidly moving subject, and longer motor life. Naturally, autofocus speed and reliability depend on the camera to some extent: the latest high tech AF systems offer superior performance over those with older AF technology.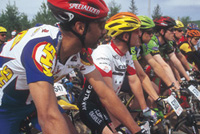 The 28-70mm zoom range does not offer the greatest versatility, but is surprisingly useful for a broad range of subject matter. At any focal length, move in close to the subject and you can get satisfying images. (At f/5.6; Sigma EF-500SUPER flash; B+W polarizer; Fujichrome Provia 100F.)
Tele-Zoom Evaluation
With the HSM model that I used, autofocus was indeed virtually silent. I found the ability to quickly fine-tune focus manually at any time to be a real plus--to get focus on the eye instead of the snout of a captive lion, for example. In general, autofocus performance was highly reliable, accurate and smooth when used with a Sigma SA-9. With vehicles traveling at 60+ miles per hour, all frames in series of six were razor sharp in Continuous AF. With more erratic motion--like mountain bikers racing and jumping small hills--tracking focus might be more reliable with an SLR camera with a multi-point AF system.
As expected from a premium grade zoom, image quality was excellent overall with high contrast, sharpness, and resolution of fine detail; I found little or no flare even under backlighting conditions. Color rendition was neutral. I frequently worked without a tripod, so I often shot at f/4 and was impressed with the resulting slides, confirming the value of the four SLD elements. Even under an 8x loupe, there was absolutely no color fringing around the edges of a subject. Central sharpness was extremely high, while edge sharpness was quite high at maximum aperture. Since I tend to center subjects in tight close-ups, individual hairs in a giraffe's hide and the smallest feathers of a colorful macaw are clearly defined. I did not hesitate to shoot "wide-open" when necessary, especially in the 100-200mm range; my images do meet professional standards in terms of sharpness, contrast, clarity, and definition of intricate detail. By f/5.6, center and edge sharpness were very similar, adequate for a fine 11x14 print or a double-page spread in a magazine. I found no need to stop down to smaller apertures to improve image quality at any focal length. This consistency at all f/stops is a sign of excellence in optical design.
AF 28-70mm f/2.8 EX Aspherical DF
This "standard" zoom bears a strong family resemblance to the longer model, but employs a conventional focus system that's driven by the camera's focus motor. It also incorporates the focus clutch mechanism described earlier in the tele-zoom section, plus nearly identical mechanical characteristics. However, this short zoom also boasts some impressive features: as of this writing, it's the smallest of its type and offers the shortest minimum focus distance.
The optical formula includes two aspherical elements, with a non-spherical surface. This type effectively corrects spherical distortion, causing all light rays to converge at a common point, for higher edge sharpness at wide apertures. Such elements also correct barrel distortion so there is less bowing outward of lines near the edge of the frame, as well as reducing halo and comatic flare. As a bonus, size and weight are reduced because fewer elements are required for corrections in comparison to lenses of conventional design.
The maximum aperture of f/2.8 is very wide, making this lens useful for photojournalism in low-light situations. I was able to get sharp pictures handheld inside a cathedral with ISO 100 film, at 1/15 sec at 28mm (and even longer shutter speeds with my elbows braced). The wide aperture is important whenever flash or a tripod is prohibited or impractical, and also to increase the effective range of flash. Serious photographers will certainly appreciate the ability to shoot at f/2.8 instead of f/3.5-5.6, as they must with many "standard" zooms.
Standard Zoom Evaluation
Mechanically and cosmetically, this is clearly a high-grade lens, as suggested by the EX designation. Barrel distortion was minimal, so straight lines are accurately rendered even at 28mm. Clarity, resolution, sharpness, and definition of fine detail range from excellent to superlative. Slides made at f/2.8 were surprisingly sharp under an 8x loupe. By f/4 edge sharpness is excellent. In the mid range of apertures, the images appear to be etched on the emulsion. At every f/stop from f/5.6 to f/11, edge sharpness matches central sharpness at all focal lengths, confirming a well-designed optical formula. My best slides would make for a fine 16x20 print; even those made at f/2.8 would easily stand up to enlargement to 8x12" or a full-page spread in a magazine. When focused at its shortest distance, the very best results were produced in the f/11 to f/22 range. Since depth of field is very shallow in close-up work, you'll generally want to shoot at such f/stops in any event. This should render all-important parts of a three-dimensional subject within the zone of acceptably sharp focus.
Although autofocus made the usual sound, it was not too loud or objectionable. Overall, I found response to be reliable with the SA-9 camera. Focus was always precise. Even in low light around sunrise and sunset, focus was quickly acquired because of the wide aperture that transmits a lot of light to the AF sensors. Continuous focus was certainly acceptable when I photographed cyclists approaching my position during a race; however, this may not be relevant since a short zoom is not often used for sports photography.
Final Evaluation
Although the compact, ultralight, and inexpensive 28-80mm f/3.5-5.6 Sigma zooms will far outsell the AF 28-70mm f/2.8 EX Aspherical lens, I would recommend this "faster" model to photo enthusiasts. The superior optics, rugged construction, impressive resistance to flare, and minimal barrel distortion all make it highly desirable. When you first check the price you'll believe that someone made a mistake, but it is accurate, making this fine lens an incredible value. If you previously thought that you could not afford a fast pro zoom, this model may just change your mind.
The APO 100-300mm f/4 EX IF model is much larger, heavier, and more expensive, as you'd expect from a wide/constant f/4 aperture tele-zoom with four low dispersion elements. For those who prefer something more compact, Sigma offers an alternative: the AF 70-300mm f/4-5.6 APO Macro Super with three low dispersion elements, a more common 58mm filter size and much closer focusing for high magnification up to 0.5x. (See the May 2000 issue for my test report of that fine lens.) But if you need f/4 at longer focal lengths for action photography, better results with a tele-converter, HSM focusing in some mounts, and tank-like construction, check out the 100-300mm model instead. As a professional tool, it's not intended for everyone, but this zoom offers exceptional performance and it's available at a price that should not blow the limit on your credit card.
Technical Specifications
AF APO 100-300mm f/4 EX IF HSM
Lens Construction: 16 elements in 14 groups
Minimum Aperture: f/32
Minimum Focusing Distance: 71"
Maximum Magnification: 1:5
Filter Size: 82mm
Dimensions: 3.6x8.8"
Weight: 52 oz
Accessories: Hood included; accepts EX
Mounts In HSM Model: Canon, Nikon D, Sigma SA
Mounts In AF Model: Minolta D, Pentax
MSRP: $1399
AF 28-70mm f/2.8 EX Aspherical DF
Lens Construction:15 elements in 12 groups
Minimum Aperture: f/32
Minimum Focusing Distance: 15.7"
Maximum Magnification: 1:4.2
Filter Size: 77mm
Dimensions: 3.3x4"
Weight: 22.7 oz
Accessories: Hood included 1.4x and 2x tele-converters
Mounts In HSM Model: N/A
Mounts In AF Model: Canon, Minolta, Pentax, Nikon D Sigma SA
MSRP: $429

FEATURED VIDEO