Facebook For Photographers; Social Networking As A Marketing Tool
First off, a brief description of what Facebook is, just in case you're one of the few people on the planet who is not already a member. Facebook (www.facebook.com) is defined as a social-networking site. It was originally designed by founder Mark Zuckerberg while he was at Harvard University as a way for Harvard students to communicate with each other. It then spread to other universities and eventually to anyone with an e-mail address. Facebook is free and has over 30 million registered users. Once you're a member, you then ask friends and family to join and you can communicate with them via Facebook. You can also post photos, albums, and videos on the site. At this point, you may be saying, "That's great Steve, but how's that going to help my photography career?" Let's look at the most obvious way first.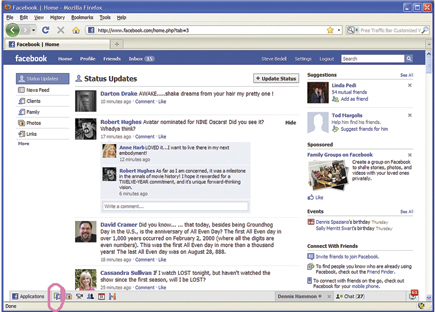 This is the view you'll usually see when you first go to Facebook. Clicking on News Feed will give you info on who's tagged whom, new friends, and more. The link on the bottom will take you to the Pages and Ads section where you can design and view Pages and create and track ads. You can also set up groups for family and friends, but Pages is the way to go for business.
All Photos © 2010, Steve Bedell, All Rights Reserved
Postings
Anytime you post something, it is available for all of your "friends" to read. You may have 50 friends or 3000 friends but you can sort them in categories, like "clients" and "photographers." Currently 5000 is the friend limit but it appears that may be revised upward soon. Nobody I know has 5000 friends, but a business may have more people than that who follow the company, so that's why there are other options for higher numbers.

Here's what I see most photographers doing: they join Facebook and add all of their photographer friends. Then they post to them all day about what they had for breakfast, how much they like their new zoom lens, and how ticked off they are the Patriots aren't going to the Super Bowl. That's all great, but unless you have products to sell to other photographers (and many do), you may be enjoying yourself but you sure aren't helping your business. So what do you do?

You send a friend notice to your clients, of course! By doing this you create a stronger bond by constantly updating your postings so you are continually on your clients' minds. Your postings should not always be business oriented or so frequent that they become annoying. If I have friends who post 8-10 times every day, I usually "hide" them so I don't have to read what little Johnny had for lunch today. Not only that, but if your clients see you posting 10-12 times a day on Facebook they might figure you have nothing else to do, and they'd probably be right! Try to strike a happy medium, which I think is anywhere between twice daily and twice weekly.

I have heard that there is an 80/20 guideline for blogging and social networking when you have something to sell to the people who read your posts. Only 20 percent of your messages should be concerned with selling, the other 80 percent should be social or content of value to your reader. I try to follow this guideline in my EPhoto newsletter by giving other photographers valuable info and an occasional sales message; same should go for Facebook.

What should you say? Again, I'd use a little judgment. I was shocked by one photographer who I believed to be an expert in social networking when he used some bad language because he was upset with someone. I also believe that religion and politics should be avoided unless you want to tick off 50 percent of your friends. Many people like to post at least daily so their name keeps coming up on the top of the page. They may post inspirational quotes daily, for example. Again, after the first couple, I'm going to ignore those posts as well.
This is one of my Pages that features high school senior photography. Once you have a Page up, you'll find many people will become Fans. It's important to update the Page regularly or they will not return. Our Page attracted high school seniors from a very wide radius.
Photos
So now you're a member and you know a little bit about posting etiquette. What are you going to do to help your business? Well, to start, you're going to post some photos. Not the photos of the lilac in your front yard—you're going to post photos of a recent client session. What I'm going to tell you now will show you the real power of Facebook for photographers: I know of no other method to show your work off, for free, anywhere.

FEATURED VIDEO