Facebook For Photographers; Social Networking As A Marketing Tool Page 2
Here's an example using a high school senior session: we'll call our subject Linda. Linda comes in for her high school senior session. At the session, we give her our e-mail address and ask her to "friend" us on Facebook because we are going to send her a couple of her best images to use on Facebook for free. She sends us a friend request and we accept. Then we post an album of her photos on our Facebook Photos section and tag the best ones. When we tag her, not only does she gets notified of the tag, but her friends do also. (Note: That will be in the News Feed section, not the Status Updates.) She will go look, as will many of her 645 friends. But we're not done yet. We'll e-mail those same photos to Linda in a very small size (2.5x3.5" at 72dpi) with our logo on it to use for her Profile photo. Do you think she's going to use it? You bet she will. I've had seniors post them within minutes. So now all of her friends see her image with our logo on it every time they see one of her posts. This is viral marketing at its best. It's extremely valuable, it's free, and all it takes is a little bit of your time. This works for weddings, seniors, babies, families, pretty much any portrait market. You can also post and tag videos.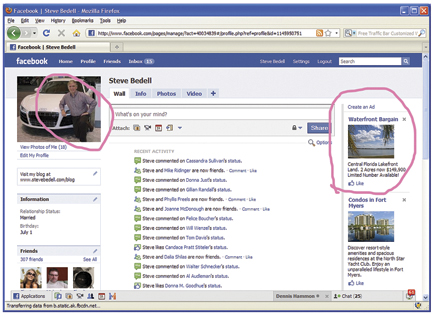 This is my Profile Page. This Page allows people to learn more about you, so put what you want them to know and leave out what you don't. You can see I put a more casual photo of me at a car show with a car I wish was mine. Also, on the right and circled is a Facebook ad. These are just like the ones you'll create and will pop-up before the audience the advertiser has chosen.
Pages
Facebook was created as a social-media site, not a business site. If it appears you are running a business by using Facebook, they may put you in Facebook jail, and you will be banned from the site. To avoid this, simply set up a Facebook Page. A Page is where you can put all of your business info, show samples, and direct the Page to clients. They cost nothing and are very simple to set up. I recommend you have several, one for each segment of your business. So, instead of having a Joe Smith Photography Page, you should have a Joe Smith Wedding Page, a High School Senior Page, a Baby Page, etc. People have the patience of a gnat and don't want to go hunting through other stuff to find what they're looking for. Plus, you can tailor your Page with special offers just for that client segment.
Advertising
While everything I've mentioned up to this point is free and very valuable, once you have those Pages set up you may want to advertise them, especially if it's a new market for you. I recently reintroduced glamour to my business. I didn't have much of a client base to start with, so I set up a Facebook Page and started running some ads. It's very simple and you can really target your market. For my glamour ad I targeted females who live within 50 miles of me who are between 19 and 50. A word of caution: you can use keywords also. When I started the ads, I added keywords like Glamour, Boudoir Photography, etc. and was not getting very many hits. Once I removed the keywords, things got much better. It works much like Google's Pay-Per-Click, where you set your own price per click and a daily budget, but it seems to me that this route is much more effective and less expensive. Another word of advice: always pay per each person who actually clicks on your ad, never the impressions. Otherwise, each time they show it your budget will disappear faster than Frosty the Snowman on a hot summer day.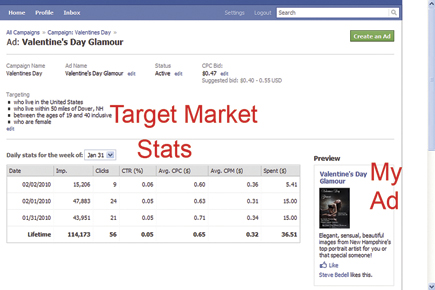 This is my ad campaign for Valentine's Day Glamour. In one place I can see a copy of my ad, statistics, and target market. I can go make changes instantly, like changing my market parameters, bid price, etc. If I make changes to the ad itself, it will have to be approved again. All ads must be approved by Facebook before they run them.
I hope this primer has been helpful in explaining the various ways that Facebook can be used to help your photography business. A caveat: Facebook sometimes changes the rules without warning, so you need to get used to it and check everything out for yourself. Social networking is here to stay, and anytime we have the opportunity to capitalize on free and low-cost methods to grow our business, we should jump on them.
Steve Bedell has been a portrait photographer for over 25 years. To subscribe to EPhoto, a free e-mail newsletter with tips for photographers, contact Bedell via e-mail at: sb@stevebedell.com. Also ask about his lighting DVDs.

FEATURED VIDEO