Eyes in the Sky: Our 8 Favorite Quadcopters and Drones for Aerial Photography
"Flying may not be all plain sailing, but the fun of it is worth the price."—Amelia Earhart
Because of the "this is why we can't have nice things" antics of several idiots flying drones, the Federal Aviation Administration (FAA) now requires every drone (and RC aircraft) weighing more than 0.55 pounds to register their craft and have an identification label. Pilots are also required to carry Flight ID. Recently, the FAA updated the rules for commercial unmanned aircraft, doubling operational ceilings and streamlining the online application process. The new policy allows small UAS (Unmanned Aircraft Systems) to fly up to 400 feet except in restricted airspace and areas where the agency prohibits unmanned aircraft operations.
To register, you must be 13 years old or older or have someone who is of age register the drone. You'll receive a unique registration number—no, you can't have NCC-1701—that will apply to any UAS you own and you must mark the drone with the number. After registration, a certificate containing the FAA registration number, issue and expiration dates, and name of the certificate holder will be sent to your e-mail address. It only costs $5, but failure to register can result in civil penalties up to $27,500. Criminal penalties include fines of up to $250,000 and/or imprisonment up to three years. Spend the five bucks and live with it.
Now that I've gotten all that legal stuff out of the way, here are my favorite drones and quadcopters for aerial photography.
Heavy Lifter
The magnesium unibody Phantom 4 ($1,399) weighs three pounds, with battery, but DJI is clearly the 800-pound gorilla in the quadcopter world. Looking more like a mortarboard with propellers than an aircraft, the Phantom 4 offers 28 minutes of flying time. Its camera has an f/2.8 lens with a 94-degree angle of view using nine elements, including an aspherical element. It will take 12-megapixel stills in either DNG Raw or JPEG, with single shot, HDR, burst, and time-lapse modes available. The camera shoots 4K video at 24/25 fps and UHD 4K up to 30 fps and features Cine-D and D-Log modes for increased dynamic range. To keep footage stable in high winds, a gimbal supports both sides of the camera. You can watch a live video feed on your smartphone and adjust camera settings as well as stream the flight live on YouTube. The Phantom 4 has a GPS-based navigation system and its Vision Positioning System uses dual downward-facing cameras and dual ultrasonic sensors for situations where GPS is unavailable and the quadcopter is close to the ground. A small camera above each leg detects obstacles in the flight path, turning on Active Obstacle Avoidance, allowing the aircraft to attempt (DJI's words) to fly around or over obstacles, instead of braking. In Sport Mode, the quadcopter can reach 44.7 mph, so let's hope your reflexes are up to flying it that fast but its Active Braking feature acts like disc brakes for the drone. And the Phantom 4 automatically logs the details of every flight, just in case.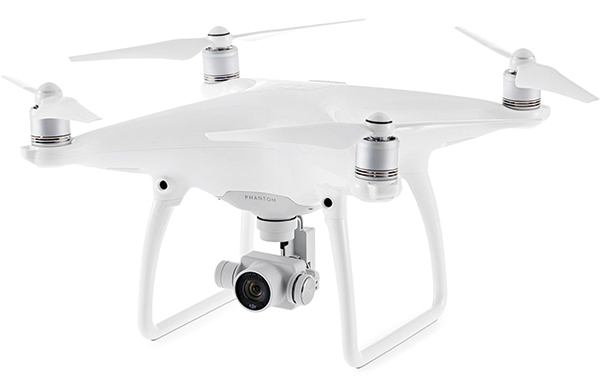 Who's It For: If you want a quadcopter, you want a DJI—if it's in your budget.
Why I Like It: It has a Beginner mode that prevents you from exceeding your flying skills. Think an SLR's Green mode.
Affordable Fun
Just in case you were wondering, vis-à-vis FAA registration, Hubsan's H107D X4 Quadcopter with FPV Camera ($129) weighs 1.5 ounces. A FPV (First-Person View) camera captures 720x240 resolution SD video. It transmits wirelessly on 5.8GHz and lets you record video on a microSD card up to 16GB stored in a slot that's built into the transmitter. The X4 has a four-channel, 2.4GHz transmitter with an up to 328-foot range, depending on conditions. Its 4.3-inch LCD screen lets you monitor real-time video from the camera while displaying flight telemetry. The quadcopter has a six-axis flight control system with an adjustable sensitivity 3.7v, 380 mAh lithium-polymer battery with USB charging; charging takes approximately 30 minutes.
Who's It For: Quadcopter shoppers on a budget.
Why I Like It: The Hubsan looks cool, especially in stealthy black, and is affordable for the average photographer who wants to take flight.
If Unique Is What You Seek
Yuneec's Typhoon Q500 4K ($999) is designed for serious photography and video, incorporating a three-axis gimbal-stabilized camera with UHD 4K video recording at 30 fps, 1080p video recording at up to 120 fps, and 12-megapixel still capture. The camera has a 130-degree lens saving onto a 128GB microSD card. It's bundled with the ST10+ Personal Ground Station, a 10-channel, 2.4GHz transmitter with a 5.8GHz video receiver in one handheld unit. There are RC-style joysticks to pilot the quadcopter and a built-in Android mobile device with a 5.5-inch screen lets you view an FPV video image from the camera along with telemetry. You can add a free mobile app that offers control over resolution, white balance, ISO, and shutter speed. Two 5400 mAh batteries provide up to 25 minutes of flying time each per charge, depending on wind resistance. The Q500's Smart Mode uses GPS to establish a 26-foot safe circle, meaning the aircraft will move in the same direction the stick is pressed relative to the pilot, regardless of which way its nose is pointing. In Home Mode, the Typhoon automatically lands within a 10-foot circle of where it took off.
Who's It For: It may not be the 800-pound gorilla (aka DJI) but is perfect for the demanding UAS pilot.
Why I Like It: The Typhoon has a determined and more choppery—think Airwolf—look than the more timidly designed DJI Phantom.
When Pigs Fly
I love my UDI Discovery quadcopter (it was a birthday gift from Mary) but the pace of innovation in inexpensive drones is fast—they're toys after all. The most inexpensive—and good—one as I write this is the Air Hogs RC Helix X4 Stunt ($64). However, if you want to shoot video, you'll need their Helix Video Drone that sells for $109. The Helix Video Drone has a built-in 60 fps video and still camera and the piggies even toss in a 4GB memory card. Expect about 10 minutes of flying time, which is de rigueur if not optimistic for most small drones. The Air Hogs have an extruded foam exoframe that protects the propellers from bumps and crashes and is covered in a bedliner-style finish that says badass. The hogs say it's easy to fly and it looks like it with its four ducted fans. Caveat: All small quadcopters are wind sensitive so when flying outdoors (yes, some people fly them indoors) be aware of gusts and where it can toss your drone.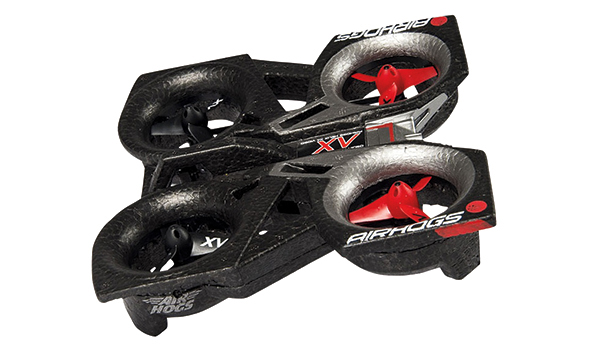 Who's It For: Quadcopter shoppers looking for a bargain.
Why I Like It: Don't you love that name? Air Hogs! I'd call mine Arnold Ziffel.
Cowboy BeBop
The Parrot Bebop Drone 2 ($549) is noteworthy for its 14-megapixel (4096x3072) camera that can also capture 1080p video. The drone is controlled by an Android or iOS mobile device running their FreeFlight 3 app. The app provides real-time preview from the camera and you can record a low-resolution feed directly on your device. For high-res recording it has 8GB of built-in memory. The optional ($399) Skycontroller extends the Bebop Drone 2's Wi-Fi range to 1.2 miles and features a control pad as well as a tablet holder. Its lithium-polymer battery has a capacity of 2700 mAh, producing 25-minute flight times. The drone has flexible six-inch props that yield improved flight performance of 52.5 ft/s horizontal and 19.7 ft/s vertical top speeds. Seven sensors keep the Bebop Drone 2 flying steady, allowing it to compensate for pilot inputs and counteract some, I'm guessing, wind conditions. Built-in GPS assists flight stabilization, providing positional data with "possible" automatic return home and landing.
Who's It For: Pilots looking for a mid-level drone that can shoot great-looking photographs.
Why I Like It: Moderately priced with a really good camera.
Flying Selfies
The Hexo+ ($999) is a drone and an app designed to create video footage of yourself, no piloting required. The chopper doesn't come with a camera; instead it has a GoPro-compatible mount. The average flight time for a Hexo+ carrying a GoPro is between 10 to 15 minutes. Hexo uses your phone's GPS position together with data from its other sensors (accelerometer, gyroscope, barometer, and magnetometer) to know where you are and how you move. They've created algorithms that let the Hexacopter follow and anticipate your trajectory and speed. If you lose the GPS signal, or your smartphone's battery runs out, or the drone's battery dies, there are built-in safety features to "safely" land the drone.
Who's It For: BYO photographers who want video of them riding their mountain bikes and other action-oriented outdoor activities.
Why I Like It: Out of my budget for what it does but you gotta admire the concept.
No Comic Book Hero
The Blade 180 QX HD Quadcopter is an affordable ($149) quadcopter with great styling with a detachable camera that captures 720p video and 1.3-megapixel (remember the price point) photos, recording them to microSD memory cards up to 32GB. It's powered by a 500 mAh lithium-polymer flight battery that should deliver from five- to 10-minute flight times per battery. Tip: With any drone you should keep extra (and charged) batteries handy. The Blade copter has three flight modes: Stability Low Angle Mode for beginners, Stability High Angle Mode once you start to get the hang of it, and Agility Mode that gives you the most maneuverability. Blade warns, "This mode should only be used by experienced pilots." Think of it as what happens when you turn off the stability modes on a performance car when you're on a track. In addition to the provided RTF (Ready-To-Fly) controller, the 180 QX supports many BNF (Bind-N-Fly) compatible transmitters.
Who's It For: Someone getting started in drone photography and wants something just a little bit better than a starter drone without breaking their piggy bank.
Why I Like It: Awesome style with orange accents that should make it easy to find after the (expected) crash landings.
Flying Falcon
UDI makes a wide line of affordable quadcopters from the no kidding ($24) U839 Nano to their top-of-the-line U842 Falcon quadcopter ($99). Tricked out in black with orange blades up front, the Falcon has a 720p resolution camera as well as single shot photo mode. It features a quad-rotor design with detachable propeller guards for protection against (inevitable) "light collisions." To pilot the U842, there's a four-channel, 2.4GHz transmitter with a low-voltage alarm warning you to land the quadcopter when the battery is about to expire. If you like aerobatics, you can perform flips and 360-degree rolls with the press of a controller button. In addition to its six-axis gyroscope, the copter sports a high-speed mode for advanced pilots or to compensate for windy conditions and a low-speed mode that's ideal for beginners. The package includes a 1000 mAh flight battery good for eight minutes of flight time, a USB battery charger, a 2GB microSD card, a USB card reader, and a screwdriver.
Who's It For: Anyone looking for something just a notch up from a basic drone and one that's easy and fun to fly.
Why I Like It: I fly an older UDI Discovery but this affordable chopper is on my list when it's time to replace because of its upgraded features.
Joe Farace flies a UDI Discovery, his second quadcopter, and you can see video clips from some of his recent flights (and crashes) on Vimeo.com. Information about the gear he uses to create images for Shutterbug and his personal photography can be found at joefarace.com and mirrorlessphototips.com. Just click the "Gear" button.

FEATURED VIDEO