External Backup Storage Under $2500: Desktop, Portable, RAID, NAS, WI-FI & Cloud
I've had to replace a failing computer hard drive more often than I'd care to remember. Fortunately, I've learned my lesson: my workstation now includes external drives as both backup and primary storage. I routinely move content from the computer onto one external drive and back up to a second drive. (I usually prefer to transfer memory card files first to the computer, so that my backups will include these; then I move those files to the external drive when a project is completed, making sure that they are synced to Lightroom.) Unfortunately, the cost of all this may amount to the price of a second camera body or new lens, but it's money well spent, as you'll realize the first time a drive goes down.
There have been some very interesting developments in external storage solutions for home/studio and on-the-go. We can go wired or wireless (network or Wi-Fi), desktop or portable, (spinning-platter-based) hard disk or solid-state drive or a mix of the two in a multi-disk array. While the vast majority of new drives are USB 3.0 (often accompanied by FireWire connectivity), we're seeing a marked increase in the number of drives supporting Thunderbolt connectivity, which is now finding its way to Windows machines as well as Mac. Drives that support the cloud are mushrooming, thereby facilitating remote access from anywhere in the world, even from mobile iOS and Android devices. All in all, it's a dizzying array of choices—and all initially under $2500. (The number, capacity, and type of drives that may be added to or substituted in some enclosures may add to the cost.)
Choosing The Drive That's Right For You
Because many of today's external storage devices can no longer be simply pigeonholed into one category, I have opted to list them under the brand name, instead of under categories, but have added identifiers in brackets after each listing.
This will be your key in the product roundup that follows: HDD (Hard Disk Drive); SSD (Solid-State Drive); HDD/SSD (where you have a choice or can mix the two inside one enclosure, as in some RAID drives, either purchasing the enclosure thusly configured or where you have to buy and install the drives on your own); P (Portable—bus powered, battery powered, or, in rare cases, mains powered but still designed for mobile use); RAID (normally user-configurable, but usually RAID 1 or RAID 0 out of the box for a two-disk enclosure); NAS (Network-Attached Storage—for all practical purposes, with cloud functionality); Wi-Fi (wireless Wi-Fi connectivity); MC (Memory Card compatible).
I should also point out that with regard to enclosures, the manufacturer may specify which drives (by type and/or manufacturer) are authorized/warranted for use—so don't buy an enclosure simply because you have some spare drives lying around.
Note: The products listed below are the latest available from the various manufacturers. These companies may also offer other storage products that fit various other categories, so please check their websites, supplied at the end of this article, for the complete lineup of products.
Apple. AirPort Time Capsule is optimized for backups with Time Machine (Mac OS X Leopard or later) and enjoys peak performance with 802.11ac Wi-Fi, although older specifications are also supported. It features built-in security, letting you connect to any Wi-Fi-enabled device and includes Gigabit Ethernet LAN ports (for wired connectivity with a desktop computer, network drive, or other device) and a USB 2.0 expansion port. Available in 2TB ($277) and 3TB ($389) versions [HDD, Wi-Fi].
Asustor. The diskless (you provide the disks) AS-608T is an 8-bay NAS tower with multiple auto backup options. Features USB 3.0 and eSATA ports and supports multiple RAID configurations and hard drive hot swapping, plus Windows/Mac/Linux cross-platform file sharing ($838; $1629 kit with 8x2TB disks) [HDD, RAID, NAS].
Buffalo Americas. The MiniStation Air Wireless Portable Hard Drive offers 1TB of storage with 10 hours of battery life. It lets you set up a Wi-Fi hotspot, with support for up to eight wireless connections. Plus there's a USB 3.0 port for fast file transfers directly to a PC or Mac. Doubles as a portable battery charger for smartphones. Free mobile apps for iOS and Android (MSRP: $199) [HDD, P, Wi-Fi].
Digital Foci. Picture Porter Advanced is both playback viewer and memory card backup device, as well as serving as a standard battery-powered portable drive. It features improved video output and better navigation than on previous models. The disk is user swappable. Available as 500GB HDD/$399, 1TB HDD/$489, 250GB SSD/$649, 500GB SSD/$969, 1TB SSD/$1499 [HDD/SSD, P, MC].
Drobo. The desktop Drobo 5D holds up to five 3.5" disks in the main drive bay ($689) [HDD/SSD, RAID]. Designed for the shooter on the road, the compact and lightweight AC-powered Drobo mini holds up to four 2.5" drives in the main bay ($329) [HDD/SSD, P, RAID]. These are fully RAID-configurable enclosures, each supporting a mix of hot-swappable HDD and SSD in the main drive bay, plus an mSATA SSD to accelerate performance in an accessory drive bay (all sold separately), with Thunderbolt and USB 3.0 ports.
Elgato. The portable Thunderbolt Drive+ is Thunderbolt and USB 3.0 compatible, and employs an SSD. It is available in 256GB ($499) and 512GB ($899) capacities. Featuring a metal enclosure, the drive is certified dust and water-resistant [SSD, P].
G-Technology. Part of the Evolution Series, the G-Dock ev with Thunderbolt connectivity is a 2-bay, swappable RAID (user-configured 0 or 1) drive system, complete with a pair of USB 3.0 G-Drive ev hard drives—2TB capacity (MSRP: $749) [HDD, RAID]. The G-Drive mobile with Thunderbolt is a portable single-drive (1TB) device with Thunderbolt and USB 3.0 ports, and it's Time Machine compatible and bus powered ($219) [HDD, P].
Glyph Production Technologies. The Studio mini is a portable drive supporting USB 3.0, FireWire 800, and eSATA. It is available in 500GB ($159), 1TB ($199), and 2TB ($359) configurations [HDD, P].

HGST. The stackable Touro Desk Pro comes with 3GB of cloud storage (additional 250GB cloud storage via paid account, which includes iOS mobile apps). Equipped with USB 3.0 interface and preloaded backup software, the drive is available in 2TB, 3TB, and 4TB (under $200) capacities [HDD, NAS]. The Touro Mobile Pro is the portable version, in 500GB and 1TB capacities (under $100) [HDD, P, NAS].
LaCie. Designed for photographers and videographers with strenuous demands and said by the company to be the world's fastest drive, the AC-powered, compact Little Big Disk Thunderbolt 2 takes advantage of the latest Thunderbolt 2 implementation, with dual ports for daisy-chaining. It uses dual SSDs for a 1TB RAID 0 configuration (configurable to RAID 1 with Mac Disk Utility) [SSD, RAID]. With its 10-hour battery life, the new portable Fuel provides 1TB of storage that can be shared among five devices at once, creating its own network and serving as a Wi-Fi hotspot. For use with iOS devices and Mac computers (starting at $199) [HDD, P, Wi-Fi].
Lenovo. The Beacon is a personal cloud storage enclosure (add your own drives—up to 6TB—hot swappable) for wireless uploads, with Wi-Fi and Ethernet support and security features, starting at $199. It offers remote operation via any Android device, plus USB connectivity [HDD, Wi-Fi].
mLogic. Designed for Mac, the mBack is unique in that it attaches to the back of an aluminum iMac or the Apple display stand. Time Machine ready out of the box, it's bus powered via USB 3.0. It comes in 500GB ($79), 1TB ($149), and 2TB ($249) capacities [HDD, P].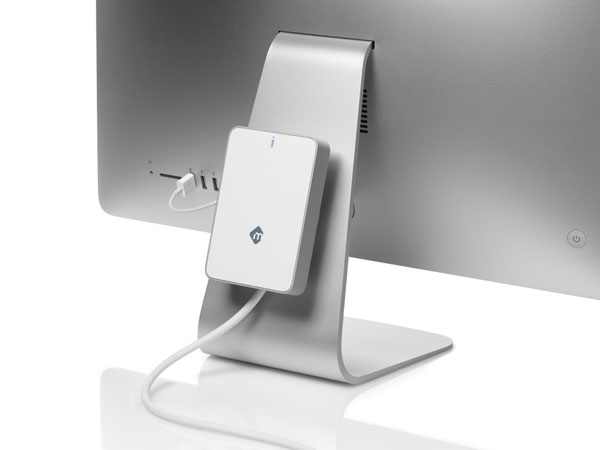 Netgear. ReadyNAS is a personal cloud-oriented NAS device designed to ease the workflow, with full Dropbox integration and support for Apple Time Machine out of the box, complete with free antivirus software, additional security, and a host of apps. ReadyNAS 100-series are available in 2-bay (to 8TB) and 4-bay (to 16TB) hot-swappable RAID enclosures, with USB 3.0 and eSATA ports. File sharing is supported across multiple platforms. Prices start at under $200 for the ReadyNAS 102 diskless 2-bay enclosure [HDD/SSD, RAID, NAS].
NewerTech. The miniStack (from $133/500GB HDD; $69 enclosure only) works with user-replaceable 3.5" HDD or, with an optional adapter, 2.5" HDD or SSD (drives sold separately), and features USB 3.0 and FireWire 800/400 ports, alongside eSATA. The readily stackable miniStack has a footprint to match the Mac mini. Backup and utility software is preinstalled [HDD/SSD].

Nexto Di. The ND 2730 backs up CF, SD, SDHC, SDXC and supports FireWire 800 and USB 2.0, while the 1.44" Color TFT LCD lets you preview still images. User-replaceable lithium-ion battery powers the unit in the field. Available with 500GB ($399) and 750GB ($449) drives [HDD, P, MC].
OWC. The Mercury Elite Pro Dual Thunderbolt is preconfigured, plug-and-play-ready in RAID 0 High-Performance mode, but can be user-reconfigured to RAID 1 or other modes to meet workflow needs. Available as enclosure-only ($299) and in a 2TB HDD ($429) option, up to 8TB HDD ($779). Also supports USB 3.0 connectivity [HDD, RAID]. Also new is the Mercury On-The-Go Pro Thunderbolt portable, with capacity from 500GB to 1.5TB (starting at $199) [HDD, P].
Rocstor. The Arcticroc-Hybrid 7T Thunderbolt 4-Bay RAID system can house a mix of HDD and SSD (to 16TB) inside its fan-cooled aluminum enclosure. Featuring dual Thunderbolt ports, it is compatible with Mac Disk Utility and configurable as a Fusion Drive, while supporting Time Machine backups [HDD/SSD, RAID].
SanDisk. The palm-size SanDisk Connect Wireless Media Drive is Wi-Fi password protected and offers a choice of 32GB ($79) or 64GB ($99) of solid-state storage, with USB connectivity to Mac/Windows computers and wireless support for iOS, Android, and Kindle Fire. You can plug an SDHC/SDXC memory card in the device and immediately review JPEG images with your client (note: shoot JPEG alongside Raw), or store files of any type (including JPEG, Raw) on this device or upload supported files onto a tablet/smartphone. Powered by internal lithium-ion battery [SSD, P, Wi-Fi].
Sanho. The HyperDrive ColorSpace UDMA2 is a memory-card backup device (supporting all popular Raw formats, plus JPEG) via CF, SD/SDHC/SDXC, and MMC slots, with copy verification. Includes 3.5" color LCD for playback/review. It serves as an ad hoc Wi-Fi network (via included Wi-Fi adapter) but also supports USB 2.0 and is powered by a user-replaceable lithium-ion battery ($332/160GB, $619/1TB—other capacities available) [HDD, P, Wi-Fi, MC].
Seagate. The new Backup Plus Fast is the world's first portable 4TB drive, running on USB 3.0. The RAID 0 drive is made of a tough metal design, comes with Seagate Dashboard backup software, and can share files between Windows and Mac computers. Also included is a mobile backup application that can be used with iOS or Android devices (MSRP: $269) [HDD, P, RAID].
Sony. Designated "shuttle drives," these new portable drives are toughened to withstand the rigors of the road, and come in HDD (500GB PSZ-HA50/$109; 1TB PSZ-HA1T/$149) and SSD (256GB PSZ-SA25/$285) versions. Each features one USB 3.0 and two FireWire 800 ports with splash/dust-resistant covers [HDD/SSD, P].
Transcend. The ESD200 employs a solid-state drive and is powered via USB 3.0. It is available in 128GB ($139) and 256GB ($254) capacities and features one-touch auto backup [SSD, P]. For the desktop, the 3TB StoreJet 35T3 (also USB 3.0) features a space-saving design and one-touch backup ($159) [HDD].
WD. The My Cloud lineup of cloud-oriented hard drives now includes the 4-bay My Cloud EX4 RAID NAS drive, which can be expanded via USB 3.0. The included WD Red drives are designed for utmost reliability, protecting data in the event of a power failure. Capacity to 16TB, or enclosure only. Special software allows remote access via iOS and Android devices (16TB/$1079; enclosure only/$349) [HDD, RAID, NAS]. Also available is the consumer-oriented and less ambitious My Cloud drive, in 2TB, 3TB, and 4TB capacities, starting at $149 [HDD, NAS].
Connectivity
Today's hardwire-connected drives are largely USB 3.0 (backward compatible with USB 2.0). Many drives continue to support FireWire 400 and/or 800, with a few also supporting eSATA. And there are an increasing number of Thunderbolt drives, which are also compatible with Windows machines equipped to handle them, not just Mac.
Given a choice, USB 3.0 beats out FireWire in speed and supports connection to a multi-device hub—but it tends to be finicky. Thunderbolt and FireWire, however, support daisy-chaining—that is, connecting a limited number of drives in series. While it certainly delivers on speed, eSATA support for sleep mode is in question, which may be a consideration. As for speed, Thunderbolt now takes a substantial lead above the rest. My reticence to invest in Thunderbolt is that it may be headed down the same road as FireWire, only to be replaced by a newer technology.
In contrast, USB, for all its failings, appears to be here for the long haul and, in one form or another, is found on practically every consumer device we use—even to the point of charging many of our devices. Add to that the expected and doubly fast USB 3.1 implementation in the coming months, with a smaller plug that will require an adapter to be backward compatible with USB 3.0 and 2.0, according to Internet sources. Then again, Thunderbolt 2 is beginning to appear, seriously topping all speeds.
On the flip side are wireless devices: NAS (Network-Attached Storage), Wi-Fi, and, by extension, what have come to be known as "cloud" drives. Wireless drives relieve your desktop of clutter and may provide access to your data from virtually anywhere. They can be used for backups as well as primary storage. Of course, for any of this to work, your computer must be properly equipped. Don't run out to buy a USB 3.1 drive, for example, if your computer only supports USB 3.0—the drive will work, but only at USB 3.0 speeds. For each port that you plan to use on the drive, there has to be a supporting port on the computer.
Cloud Service VS. Cloud Drive
The "cloud" is nebulous by definition, and has largely become a consumer catchphrase. Any way you look at it, it's a way to store and access data without being directly connected to it, often from a remote location, and hopefully securely. Its primary uses are sharing and backing up data—much of it images and streaming multimedia content (many cloud drives emphasize the streaming aspect).
When it comes to storing and backing up image files, one option is to utilize a cloud service. However, consider this: (1) free storage space is limited—typically only a few gigabytes, limiting you to JPEGs (and small movie files), along with more conventional data; (2) increasing storage capacity involves a monthly or yearly fee but may then allow you to store anything and everything, up to a defined limit (you might still not be able to back up your entire image library); (3) connection problems or a problem with your account might retard or block access; (4) security is a potential issue; (5) as we've seen in the past, services close down and all your data is forever lost to the ether. That doesn't mean you should not avail yourself of the service, especially if it's free. It does add a level of insurance in case something untoward happens to your home/studio storage system. And there are certainly services that have found ways around these limitations, in some fashion and to some degree.
The next option—your own cloud drive (usually NAS—Network-Attached Storage)—will cost more initially, but pays for itself over time. You own it, you control it, you always have access to it—from practically any device, and from anywhere in the world. Unlike a cloud service, you can store terabytes on top of terabytes of data, limited only by the capacity of the drive or expansion drives connected via USB port, for instance. It becomes immediately available to you, and to those you authorize to access it, often with built-in security.
What's A Raid Drive?
You can think of a RAID drive as perhaps the ultimate means for backup storage. These drives can be used as working drives, but they have built-in backup functionality that you should exploit to the fullest.
A RAID (Redundant Array of Independent Disks) enclosure houses two or more disk drives (hard disk or solid-state) with cost reflected in the size and level of redundancy, and type of disk. RAID drives are usually supplied with the required disks, although some are sold as diskless enclosures to which hard disk or solid-state drives are independently added—but all come with built-in monitoring and controllers to oversee operations.
Depending on the device, you can change the RAID mode on the drive itself or with a software utility (rarely is this a fixed state). Dual-disk configurations are generally sold as RAID 0, for improved performance, or RAID 1, for improved security. RAID 1 should be your first choice for valuable data because each disk mirrors the other, thereby functioning as an ongoing backup.
Because RAID 1 drives mirror each other, that effectively cuts total storage in half, so that a 2TB drive becomes a 1TB drive. RAID 0 allows you to maximize the full capacity of that drive, so that 2TB remains 2TB (minus space lost to system files in each case). Cost, total capacity, backup proficiency, and efficiency increase with an increasing number of disks inside the enclosure.
Product shots appear courtesy of the respective manufacturers/distributors.
Contacts
Apple: www.apple.com
Asustor: www.asustor.com
Buffalo Americas: www.buffalotech.com
Digital Foci: www.digitalfoci.com
Drobo: www.drobo.com
Elgato: www.elgato.com
G-Technology: www.g-technology.com
Glyph Production Technologies: www.glyphtech.com
HGST/Touro Pro: www.touropro.com
LaCie: www.lacie.com
Lenovo: www.lenovo.com
mLogic: www.mlogic.com
Netgear: www.netgear.com
NewerTech: www.newertech.com
Nexto Di: www.nextodiusa.com
OmegaBrandess (Sanho): www.omegabrandess.com
OWC: www.macsales.com
Rocstor: www.rocstor.com
SanDisk: www.sandisk.com
Sanho: www.hypershop.com
Seagate: www.seagate.com
Sony: www.sony.com
Transcend: www.transcend-info.com
WD: www.wdc.com

FEATURED VIDEO