Exploring The Visual Possibilities: The World In Black And White
"People can have the Model T in any color, so long as it's black."—Henry Ford
As a creative medium, traditionalists may call black-and-white photographs "monochrome" while some digital imagers may prefer the more computerese "grayscale," but there's more to this medium than just an absence of color. One of the reasons that purists prefer "monochrome" is that it's a more precise term that covers images created using sepia and other tones. Many digital cameras have Black and White or Sepia modes that let you capture images directly in monochrome but these photographs are really color (RGB) files without any color! If you prefer, you can capture your images in color then use any of the software I'll introduce this month to convert that color photograph into a monochromatic one. You'll also find a few useful hardware tools to make your photographic life a bit easier.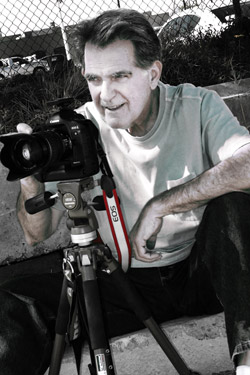 Affordable Image Enhancement
Adobe (www.adobe.com) Photoshop has not just gotten bigger and more complex, it's also gotten to be more expensive. Unless you can score a student discount—and even then it's far from cheap—it may be beyond reach in these cash-stressed times. My tip 'o the day: take a look at Photoshop Elements. At $99, Elements 10 features enhanced content-intelligent tools that are powered by the same engine that fuels Photoshop. And yes that includes useful monochrome conversion tools such as Convert to Black and White. The program's new "guided edits," like Depth of Field and Picture Stack, also help by providing real-time step-by-step help. Elements 10 offers the ability to add text that automatically follows the outline of a subject or along a custom path. You can even apply 30 new Smart Brush effects by simply brushing over a specific area of your photographs.
A built-in Organizer (think Elements' version of Bridge) lets you organize and manage image files and its Object Search feature makes finding photos based on what's in them as easy as drawing a box around that object. The ability to search for duplicate photos helps you group as well as delete photos you don't need. Elements 10 includes sharing capabilities for social networking sites or sharing services such as Facebook, Flickr, YouTube, Photoshop.com, or your own website. I installed a copy on my iMac and found it perfect for organizing, tweaking, and preparing images for the web.
Updates To Great B&W Software
Topaz Labs' (www.topazlabs.com) update to B&W Effects 1.1 includes new effects, bug fixes, and a bunch of features to improve your workflow. The Effects Collection now features a "My Collection" category where you can save and find your own presets. When saving your own custom presets you'll notice an option in the Save menu that will allow you to save the preset in "My Collection." If the "Save in: My Collection" option is disabled (unchecked) then the preset will automatically be saved to the effect category where you're currently working.
The Curve tool now has a histogram showing your image's tonal range. The Local Adjustment tab now includes easy access buttons so you can quickly Undo, Redo, and Reset any applied adjustments. You can also undo/redo up to four steps within a selected adjustment type. My favorite feature is a new collection based on the platinum palladium printing process. The platinum printing process was always highly regarded for its broad, delicate tonal ranges and the ability to hold important image detail and can range from warm black to silvery white and contains warm gray tones. Take a look at the images of Frederick Evans to see what I mean. In addition to the Platinum Collection, presets have been added to many of the other Effect Collections, producing a total of over 200 presets.
While it also can be used to produce color images, DxO Labs (www.dxo.com/us/photo) FilmPack 3 lets you "authentically" recreate the dozens of black-and-white film stocks. In addition to 10 new film looks and 10 new color filters, FilmPack 3 features new tools that provide you with full control of images, including producing customized film looks using hue/saturation/lightness sliders for additional color creative control along with a channel mixer for rendering black-and-white styles. There's also the ability to add vignetting along with a noise removal tool for more "authentic" (there's that word again) grain rendering. FilmPack 3 works as a stand-alone application or as an add-on to Photoshop CS4 and CS5, Lightroom 3, and Apple Aperture 3. Download a demo and give it a whirl.
Photoshop Actions Of The Month
Vivid Colors & Vignettes is the latest set of Photoshop Actions from Gavin Phillips' Photographers Photoshop (www.photoeffects.biz). The focus of these seven sets of Photoshop Actions is on a series of dreamy soft effects, unusual color tinting, and custom vignettes. Keeping up with this month's theme, there are some nice monochrome and spot color effects as well. Because you can paint in or out any of the effects' colors, the combinations are almost infinite but also completely controllable. Custom vignettes let you apply soft white borders or burned edges to your images and you can control where the vignette will be placed in your image and how much softness (feathering) is applied. This set of Photoshop Actions is compatible with Photoshop CS2, CS3, CS4, CS5, and later but does not work with Photoshop Elements or other software. Its price is $395 but Shutterbug readers get a 35 percent discount by entering the code "shutterbug" when ordering online.
A Clean iPad Is A Happy iPad
iPads and other tablets are getting more popular every day and there's one thing that comes with that touchscreen: smudgy fingerprints. Wiping it with a shirtsleeve isn't effective and sprays, tissues, and cloths are inconvenient and can make the mess even worse. LensPen (www.lenspen.com) certainly knows a thing or two about cleaning and I have one of their original LensPens in all my camera bags and backpacks. Their new SideKick is a screen-cleaning tool that's designed to remove fingerprints from iPads and tablet touchscreens. No tissues, cloths, sprays, or liquids are required. SideKick uses the company's trademark carbon technology that quickly and easily removes oily fingerprints. This carbon compound is similar to the one found in printer's ink, which is why newspapers have always been an effective way to clean windows. SideKick costs $19.95, and $14.95 for the package of two replacement pads. Each pad should give about 150 cleanings.
Flash Trigger For Canon EOS
The Phottix Odin TTL Flash Trigger (www.omegabrandess.com) forCanon EOS cameras lets you wirelessly trigger Canon Speedlites while retaining full TTL functions as well as remotely controlling their power and zoom settings. The basic Phottix Odin TTL Trigger system consists of an on-camera Transmitter and Control Unit (TCU) and receiver units for compatible hot shoe flashes. Additional separate receivers are available for multiple Speedlite setups.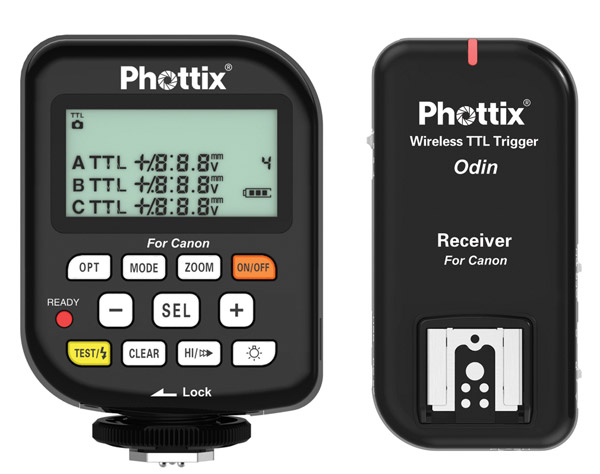 With four wireless channels and three control group designations, the Speedlites can be controlled in Canon's TTL ratio modes A:B with plus and minus EV adjustments of three stops. The Phottix Odin can also designate groups in TTL/Mixed mode and individual groups, A, B, C, can be controlled in TTL mode with plus and minus EV adjustments. Groups can also be set to Manual mode, with you adjusting power levels remotely or turning them off. Flash head zoom can automatically be changed while adjusting your lens or manually set from 24 to 105mm.
The Phottix Odin system also triggers compatible non-TTL flashes and even studio flash units. Both the Odin TCU and receivers can be upgraded via their USB port and downloadable software. A Nikon-compatible Phottix Odin system is expected to be available "real soon now."