Exploring The State Of The Art In Imaging Programs
What is the state of the art for imaging software? At PMA 2005 it seems concentrated at the low end (under $99) with just a few, OK maybe one product aimed at the high end. What's left is a Grand Canyon of opportunity in the middle that might just be filled with free open-source software such as The Gimp (www.gimp.org) that was originally developed for Linux but is now available for the Mac OS and Windows. Speaking of Linux, I asked every hardware company at the show if they supported this open-source operating system, but many don't seem interested in what is obviously a growing phenomenon. The canny few that did include HP, they included Linux drivers for their amazingly cool Photosmart 187 printer, and Konica Minolta with their awesome magicolor 5440 DL color laser printer.
Image Editing
Auto FX's Digital Delight Bundle is a suite of photo editing and graphic design software that includes Corel's Paint Shop Pro 9, Auto FX's Mystical Tint Tone and Color software, and nik multimedia's Color Efex Pro 2.0 Select Edition. Separately, these products have a suggested retail price of $500, but Digital Delight is available for $199. As interesting as this bargain may be to Windows users, when I asked Corel about a Mac OS version of Paint Shop Pro, I elicited an optimistic "maybe" response. As I just said, the opportunity is there, I hope Corel takes it.

On the surface, FxFoto seems like just another free image management, web sharing, and enhancement program, but it's a whole lot more. FxFoto also lets you annotate photographs and place them into collages and slide shows that you can send to anyone with Triscape's free viewer software. Image enhancement features include redeye and blemish removers and you can crop, frame, add text, accents, and even draw on your photographs. Upgrade to the Deluxe version ($29.99) and make panoramas stitched together from individual photos. The Pro Media Edition ($39.99) lets you can create movie and website files from your collages and slide shows.


KlearVision's Photo-D Charmer is an automatic photo enhancement Windows-based program designed for Sly's everyday people. When Charmer acquires a set of photos, it analyzes them as a human expert might do, looking for problems of under/overexposure, contrast, brightness, color, and details. Redeye correction is semiautomatic: the user points to the red eye and the system automatically corrects the eye to its natural color. The original and corrected photos are then displayed to the user on the same screen so you decide which one to keep.
Who's Afraid Of Big Bad iPhoto?
The answer is just about everybody. While iPhoto may be installed on every Mac OS computer sold, there are lots of people, including myself, who find it lacking in many areas. So what do the software companies do about it? Nada. If there was any software trend evident it was a further integration of desktop functionality with web-based photo sharing. Nero's PhotoShow is typical of this Windows-only genre to help you organize and manage your photo collection. It will automatically find all the photos on your computer and camera allowing you to fix color, brightness, and redeye with one click as well as print photos at home or through online services.


Trevoli's (www.trevoli.com) Windows-based Photo Finale lets you organize photos and folders on the desktop, find photos and files, share images in multiple ways with others, print from home, or send to print online. Sound familiar? Photo Finale offers a free version, so you can see how easy it is to use. If you like it, and you might, you can upgrade ($39.95 download) to Photo Finale Premium 3.0 for full-feature activation.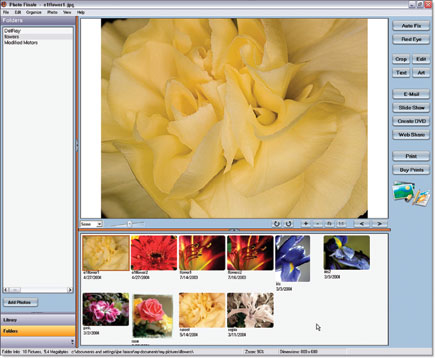 Silverwire's PhotoFit is still another Windows-only product. It is available in two versions: The Home version has edit and layout features, e-mail, and CD burning; PhotoFit Professional provides a picture database, photo-document wizard, automated photo-html pages, encrypted photo e-mails, and project management. Its Picture Browser offers database functionality, categories, and search features along with automatic filling of print pages and layout templates with photos and text. You can burn photos and photo layouts to CDs for archiving and giveaways and the bundled Silverwire CD-Viewer software lets you protect high-res images with a password.



FEATURED VIDEO