eTest: Top 10 Reasons You Want A Digital Rangefinder Camera; Shooting With Epson's R-D1 Page 2
It makes me wonder about the camera's 1.5x lens magnification ratio; empirically it seems smaller or those viewfinder lines are way off.


#6 Real world viewing The R-D1's 1.x viewfinder means that when you look through the viewfinder you see the exact same sized images as your other, non-shooting eye, making two eye shooting or switch back and forth much easier and allowing you to capture that decisive moment with "clarity and precision." People who haven't used rangefinder cameras will wonder what the big deal is; the rest of us will think it's cool.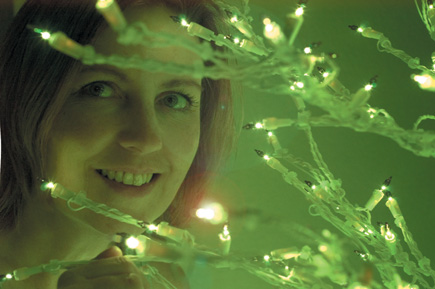 #5 Great image quality. The R-D1's 6.1-megapixel CCD sensor delivers extremely high quality images in two JPEGs or one proprietary Raw format, even at ISO settings up to 1600 and in low light. Epson provides a Photoshop compatible plug-in for Mac OS and Windows computers that lets Adobe Photoshop's Camera Raw open their Raw files. Window users also get Epson's Raw stand-alone software. Would I like to see a Mac OS version of this program? Yes, I would.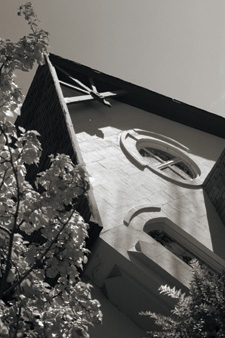 #4 Shoot images directly in black and white. The R-D1 offers digital filters including Yellow, Green, Orange, Red or "Standard" (none) that can be applied by the funky menus on the LCD screen. The monochrome quality from JPEG image files (only) is wonderful and seeing the results on the big preview screen in black and white, rather than converting from color in postproduction is not the same thing. I think this kind of immediate feedback helps you make better monochrome images. You can't sepia tone in camera like the Canon EOS 20D, but you can add it in Photoshop CS or your favorite image enhancement program.
#3 It has analog controls. Let's skip the confusing "chronometer-like" dials on top, but using the film advance lever to cock the shutter on the R-D1 is a fun experience. Same as having its rewind knob control lots of digital functions in reviewing images and in stepping through the Pokémon-like menu structures on the LCD.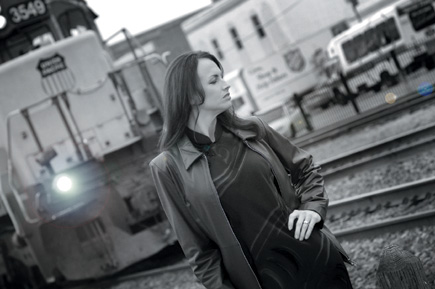 #2 It is the perfect stealth camera. If you want to make great images without looking conspicuous, the R-D1 can't be beat. Instead of being intimidated by a large SLR, its understated looks let people relax. With an unassuming-appearing camera, it's easier to catch people in the act of being themselves, as Cartier-Bresson once told me.

A safety note: I'm a fan of the railroad industry's Operation Lifesaver (www.oli.org). This image was made in a municipal parking lot, adjacent to railroad tracks. At no time was the model in jeopardy. In fact, the locomotive's crew waved when they came near where I was shooting this image with the R-D1 and 90mm Konica Hexar lens attached. Flare effects courtesy Adobe Photoshop.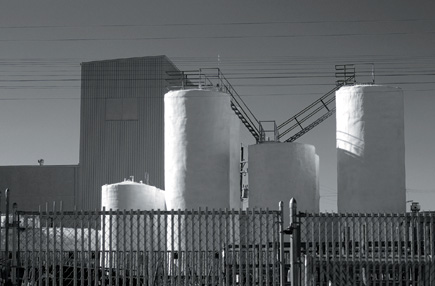 #1 It's the only game in town. Until Leica finally builds one, and I have every reason to believe they will--maybe even in 2005. At which point, the Epson R-D1's almost $3000 price tag will look like a bargain.
Facts
· Camera Type: Interchangeable lens digital Rangefinder camera
· Effective Pixels: 6.1 million
· File Format: JPEG (normal/high), Epson Raw
· Rangefinder: Split-image and coincident image
· Visual Field Frame: Angle setting: 28/35/50mm bright frames, auto parallax correction
· Lens Mount: EM mount (compatible with Leica M-mount), L screwmount when used with third-party adapter
· Shutter Speed: 1/2000--1 second, bulb
· Exposure Control: Aperture priority auto/manual, with AE lock function; exposure value adjustment (1/3 EV steps)
· Sensitivity: ISO 200/400/800/1600
· Metering: TTL screen surface direct actual-aperture center-weighted averaged metering
· LCD Monitor: 2"
· X Contact: For external flash (synchronizes at shutter speed 1/125 second or less)
· Color Setting: Color and monochrome (Standard black and white, Green, Yellow, Orange, Red filters)
· Storage: Secure Digital memory card (up to 1GB)
· Body Construction: Magnesium alloy
· Dimensions: 5.59x3.48x1.56" (WxHxD)
· Weight: 1.24 lb.
· Estimated Price: $2995
Contact
Epson America
(800) 463-7766
www.epson.com

LATEST VIDEO

SPONSORED VIDEO